Map of Cincinnati
If you're looking for a road map, reference map, or interactive map of Cincinnati (the Queen City), then you've come to the right place.
We also include a map of all the best things to do in Cincinnati. This includes the zoo, bridge, stadium, museum, and Fountain Square. All the prime spots to see in Cincinnati, Ohio.
This map collection provides an easy-to-use, comprehensive overview of Cincinnati, including the location and information you need to plan your trip. But first, let's get started with an interactive map of the city.
Jump To: Interactive Map | Printable Road Map | 10 Things to Do | Reference Map
Cincinnati map collection
Interactive Map of Cincinnati
Enjoy the best of Cincinnati with this map to help you find the best attractions and the best places to eat. Find out where the best shops and restaurants are, how to get there, and where to stay. With this interactive map, you will never get lost again in this city. With our Cincinnati map, you can find the best restaurants, parks, and attractions with ease.
Cincinnati Road Map
Find your way around the city with this detailed map. This map is the perfect companion to your trip to Ohio's Queen City and is available for free. Our Cincinnati road map provides you with a comprehensive bird's-eye view of the city, featuring points of interest and transportation routes. Otherwise, use the Ohio road map for any travel outside the city.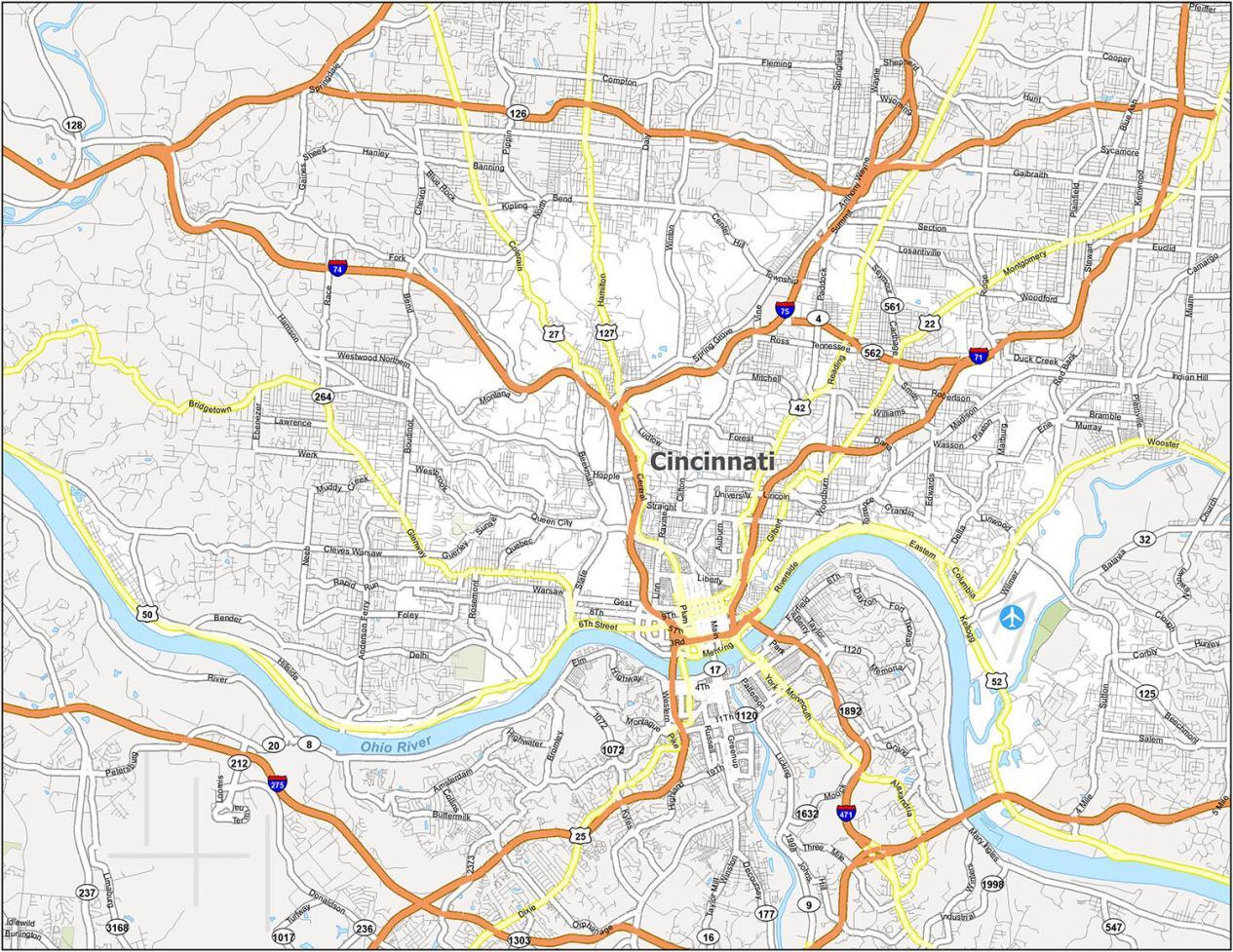 Interstate Highways: I-71, I-74, I-75, I-275, I-471
US Highways: 4, 22, 27, 32, 42, 50, 52, 126, 127, 562, 561
Parkways/Expressways: Central Pky, Columbia Pky
Major Roads: 3rd St, 5th St, 6th St, 7th St, 9th St, Bates Ave, Beechmont Ave, Broadway St, Central Ave, Colerain Ave, Delta Ave, Dorchester Ave, Eastern Ave, Eden Park Dr, Edmondson Rd, Edwards Rd, Elm St, Elsinore Ave, Elsinore Pl, English St, Ezzard Charles Dr, Freeman Ave, Gilbert Ave, Glenway Ave, Hamilton Ave, Hopple St, Kellogg Ave, Linwood Ave, Ludlow Ave, Main St, Montgomery Rd, Observatory Ave, Paddock Rd, Pete Rose Way, Plum St, Race St, Reading Rd, River Rd, Riverside Dr, Roebling Suspension Bridge, Rosa Parks St, Seymour Ave, State Ave, Sycamore St, Theodore M Barry, Vine St, Walnut St
10 Things To Do in Cincinnati
Cincinnati is a great place to travel. With this map, you can get a feel for the city and its top places to visit. This map will help you explore the city and locate attractions such as the Great American Ball Park, the Cincinnati Zoo, and the Cincinnati Art Museum.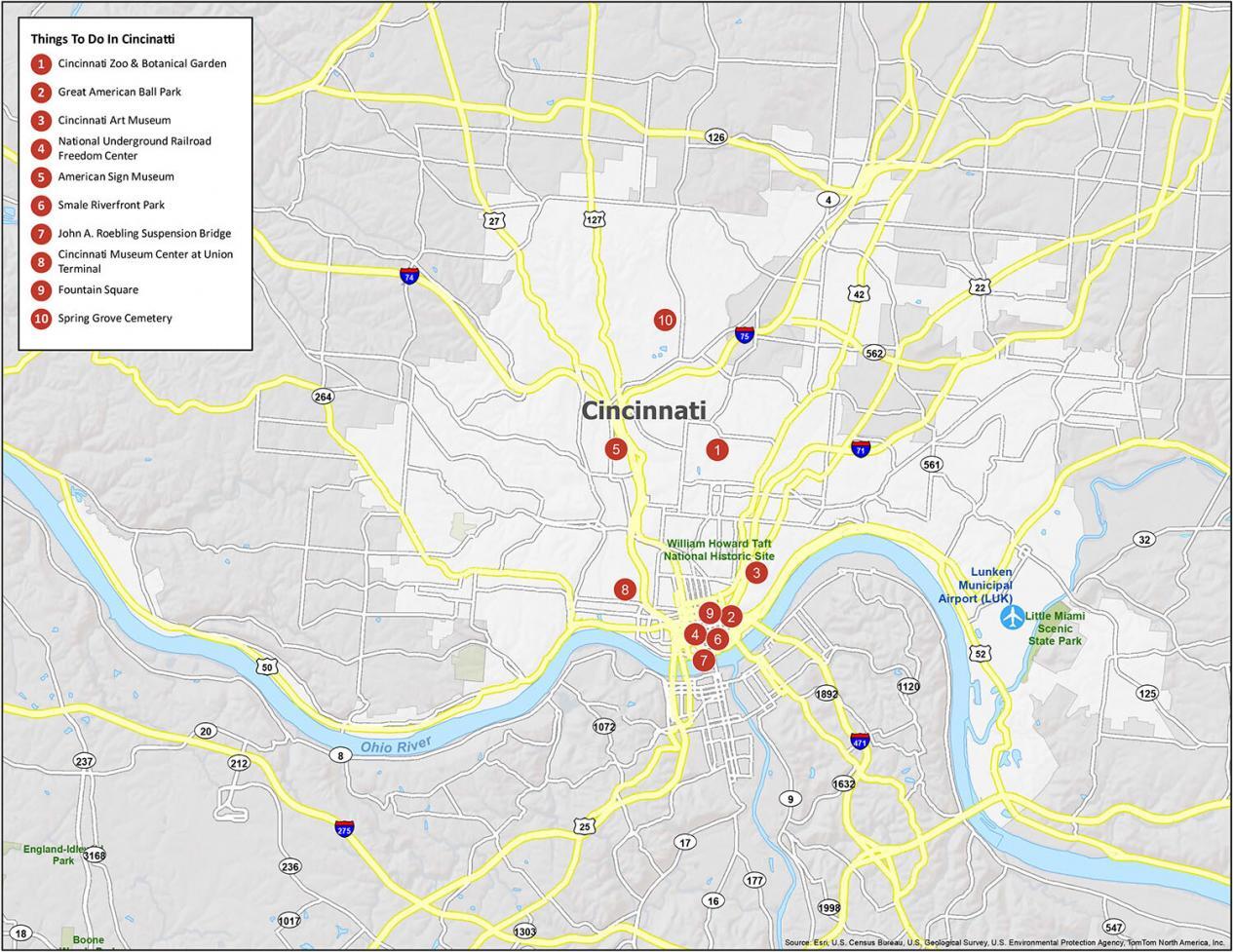 Cincinnati is Ohio's third-largest city and has a vibrant tourism industry. If you plan to go, we recommend these 10 sites to visit. Just find them on the map to plan out your trip.
Cincinnati Zoo & Botanical Garden
Great American Ball Park
Cincinnati Art Museum
National Underground Railroad Freedom Center
American Sign Museum
Smale Riverfront Park
John A. Roebling Suspension Bridge
Cincinnati Museum Center at Union Terminal
Fountain Square
Spring Grove Cemetery
Cincinnati Reference Map
Cincinnati is full of hidden gems that are well worth a visit. Discover a new part of our city that you might not have considered. With this map, you can explore the nearby communities, state parks, and historic sites that make Cincinnati a must-see destination. For population, it's the third-largest city after Columbus and Cleveland.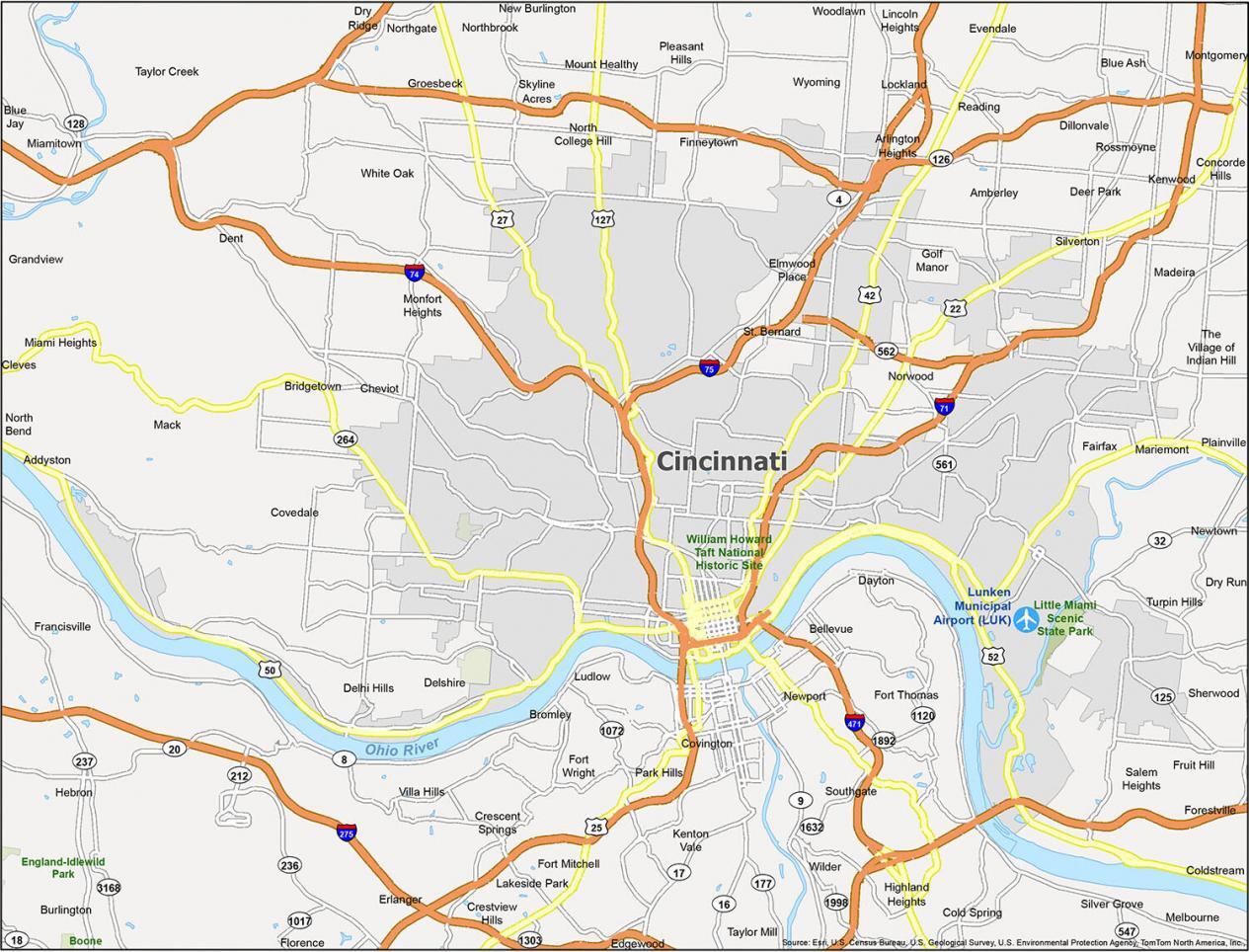 Cities: Bellevue, Blue Ash, Bromley, Cheviot, Cincinnati, Cold Spring, Covington, Crescent Springs, Crestview, Crestview Hills, Dayton, Deer Park, Edgewood, Erlanger, Florence, Fort Mitchell, Fort Thomas, Fort Wright, Highland Heights, Kenton Vale, Lakeside Park, Ludlow, Madeira, Melbourne, Montgomery, Mount Healthy, Newport, North College Hill, Norwood, Park Hills, Reading, Silver Grove, Southgate, Taylor Mill, The Village of Indian Hill, Villa Hills, Wilder, Woodlawn, Wyoming
Villages: Addyston, Amberley, Arlington Heights, Cleves, Elmwood Place, Evendale, Fairfax, Golf Manor, Lincoln Heights, Lockland, Mariemont, Newtown, North Bend, Silverton, St. Bernard, Woodlawn
Census-designated place (CDP): Blue Jay, Bridgetown, Burlington, Coldstream, Concorde Hills, Covedale, Delhi Hills, Delshire, Dent, Dillonvale, Dry Ridge, Dry Run, Finneytown, Forestville, Francisville, Fruit Hill, Grandview, Groesbeck, Hebron, Kenwood, Mack, Miami Heights, Miamitown, Monfort Heights, New Burlington, Northbrook, Northgate, Plainville, Pleasant Hills, Rossmoyne, Salem Heights, Sherwood, Skyline Acres, Taylor Creek, Turpin Hills, White Oak