Map of Columbus
Check out this Columbus map collection that features major roads, surrounding areas, and things to do. This beautiful city is named after the first European American explorer to reach the Americas, Christopher Columbus.
Columbus is not only known for being the capital of Ohio, but it also hovers around the 14th most populous city in the United States! This makes it the most populous city in the state of Ohio.
Columbus is a treasure trove of things to do, places to see, and experiences to have. Home to more than 370 parks and nature preserves, more than 345 historic sites, and hundreds of miles of trails, you'll never get bored in this city.
Jump To: Interactive Map | Printable Road Map | 10 Things to Do | Reference Map
Columbus map collection
Interactive Map of Columbus
Discover the sights and sounds of our beautiful city with this interactive map. You can find the best things to do and places to go in Columbus, Ohio. Find the best route to your destination, learn about the city, and discover its best attractions on our interactive map.
Columbus Road Map
If you are looking for an Ohio map of Columbus, then you have come to the right place. The following map of Columbus, Ohio will help you find your way around and will also give you the best driving directions. Best of all, the map is free. Columbus is located in the central part of the state of Ohio and is the capital of Ohio. Use this Ohio road map, if you're going to get outside the city.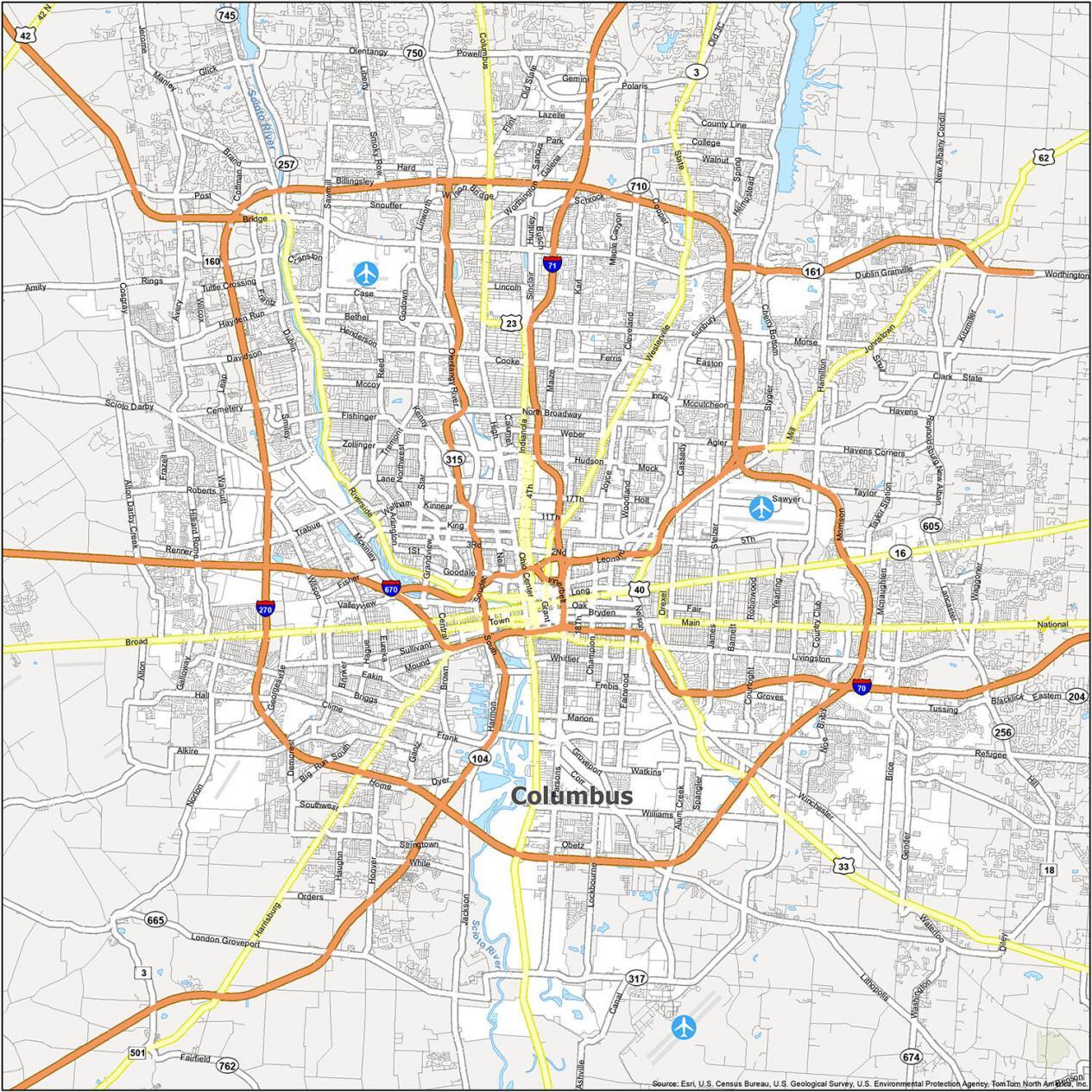 Interstate Highways: I-70, I-71, I-270, I-670
US Highways: 3, 16, 23, 33, 40, 62, 104, 161, 315, 317, 605
Freeways: Innerbelt, South Fwy
Major Roads: 3rd St, 4th St, 5th Ave, Alum Creek Dr, Avery Rd, Belle St, Bethel Rd, Brice Rd, Broad St, Central Ave, Cleveland Ave, College Ave, Dublin Granville Rd, Dublin Rd, Easton Way, Frank Rd, Frantz Rd, Front St, Fulton St, Gender Rd, Glenwood Ave, Hamilton Rd, Harrisburg Pike, Hayden Rd, Hayden Run Rd, High St, Hilliard Rome Rd, Hudson St, Indianola Ave, Jackson Pike, Johnstown Rd, Lancaster Ave, Livingston Ave, London Groveport Rd, Long St, Main St, Morse Rd, Mound St, Nelson Rd, Olentangy River Rd, Refugee Rd, Reynoldsburg New Alban Rd, Rich St, Riverside Dr, Sinclair Rd, Snowden Aly, Spring St, Starling St, Stelzer Rd, Sullivant Ave, Summit St, Town St, Tuttle Crossing Blvd, Washington Blvd, Westerville Rd
10 Things To Do in Columbus
Columbus, Ohio is home to a number of fascinating historical sites and communities. From the early settlement of the area in 1812 to the present day, this city has seen its share of turbulence and progress. Its current major attractions include shopping centers, botanical gardens, and theaters. Whether you're in town for business or for pleasure, you'll find something to love about Columbus.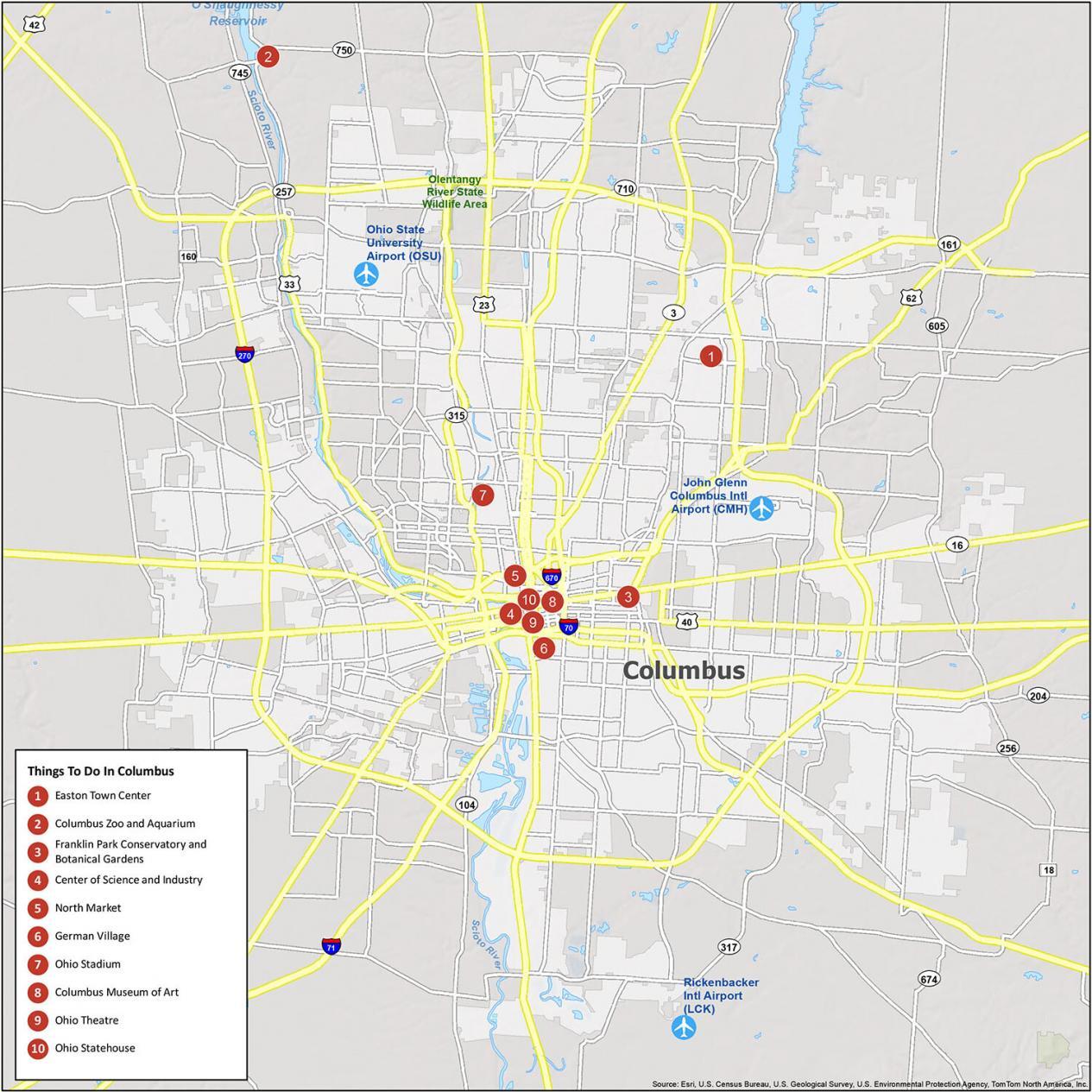 Here are our top 10 travel recommendations when you visit the capital city of Ohio, Columbus. Highlights include the Easton Town Center, Columbus Zoo, and the Franklin Park Conservatory.
Easton Town Center
Columbus Zoo and Aquarium
Franklin Park Conservatory and Botanical Gardens
Center of Science and Industry
North Market
German Village
Ohio Stadium
Columbus Museum of Art
Ohio Theatre
Ohio Statehouse
Columbus Reference Map
If you're looking to learn more about the city's history and culture, there are many great places to visit. From historic districts to the Columbus Zoo, there is plenty to see in the city. Conveniently learn about the city and find nearby attractions by viewing the city's points of interest, such as parks, neighborhoods, and rivers like the Scioto River that cut through the city.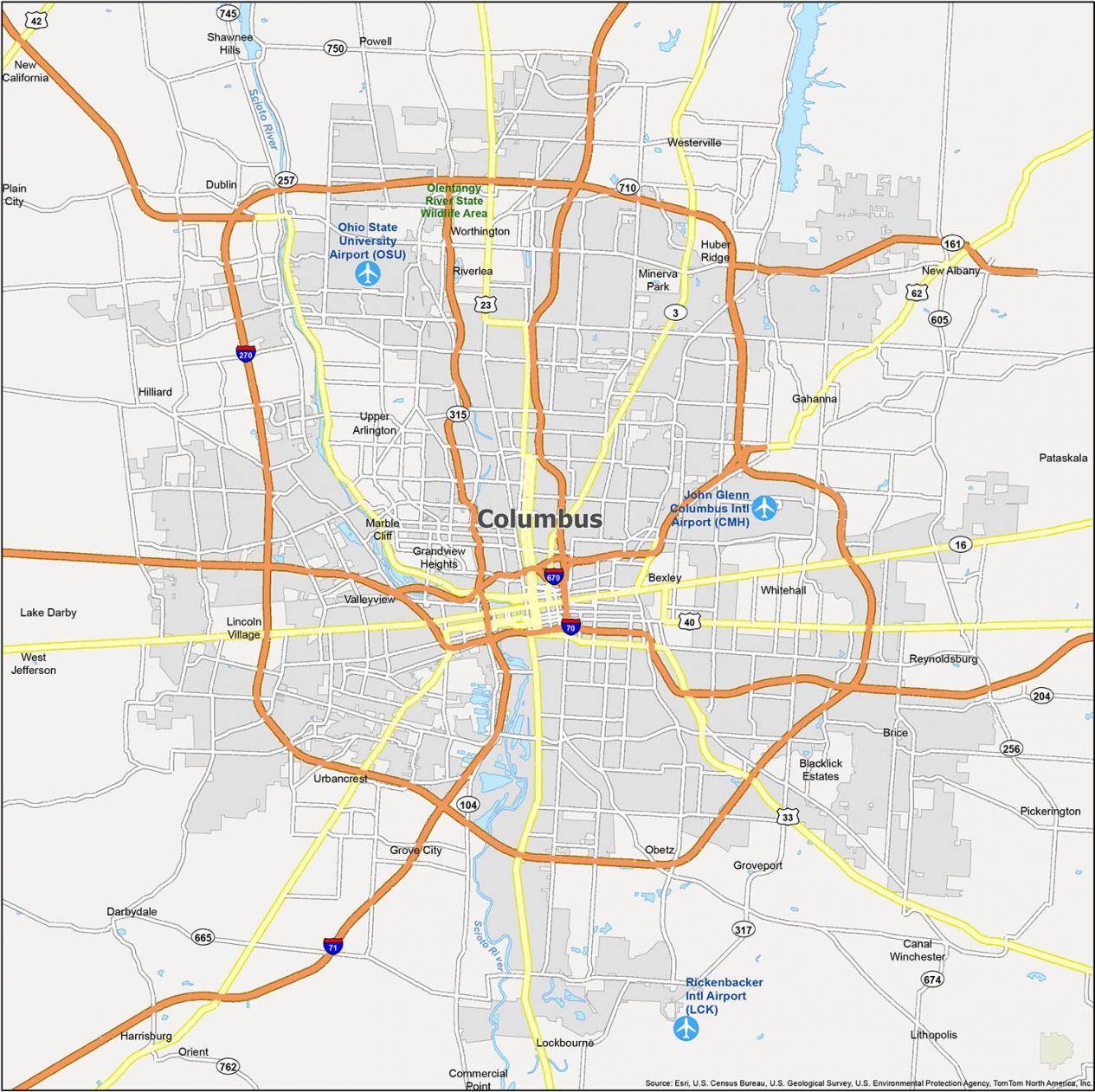 Airport: John Glenn Columbus International Airport (CMH)
Cities: Bexley, Canal Winchester, Columbus, Dublin, Gahanna, Grandview Heights, Grove City, Groveport, Hilliard, New Albany, Pataskala, Pickerington, Powell, Reynoldsburg, Upper Arlington, Westerville, Whitehall, Worthington
Villages: Brice, Commercial Point, Harrisburg, Lithopolis, Lockbourne, Marble Cliff, Minerva Park, Obetz, Plain City, Riverlea, Shawnee Hills, Urbancrest, Valleyview, West Jefferson
Census-designated place (CDP): Blacklick Estates, Darbydale, Huber Ridge, Lake Darby, Lincoln Village, New California, Orient
Columbus map collection
Ohio map collection
References