Ohio State Map – Places and Landmarks
Ohio Maps
City Maps in Ohio
About the map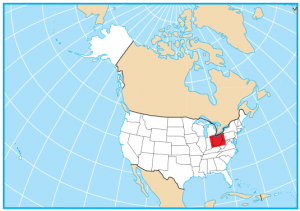 This Ohio State Map shows major landmarks and places in Ohio like national parks, forests, military bases, wildlife preserves, and federal lands in Ohio.
The Cuyahoga Valley National Park is just a short distance away from Cleveland, you can escape to the winding Cuyahoga River or ride the Towpath Trail to follow the historic route of the Ohio & Erie Canal.
The Hopewell Culture National Historical Park is a sacred space with mounds built by Native American hands almost 2,000 years ago.
Federal lands
National Park (NP)
Cuyahoga Valley National Park
Hopewell Culture National Historical Park
National Forests (NF)
Wayne National Forest
National Wildlife Refuge (NWR)
Ottawa NWR
Cedar Point NWR
Ohio lakes, rivers and reservoirs
Lakes and reservoirs
Michael J. Kirwan Reservoir
Mosquito Creek Lake
Berlin Lake
Charles Mill Lake
Beach City Lake
Atwood Lake
Leesville Lake
Pleasant Hill Lake
Tappan Lake
Mohawk Reservoir
Paint Creek Lake
Willam H. Harsha Lake
Clendening Lake
Piedmont Lake
Alum Creek Lake
Wills Creek Lake
Dillon Lake
Senecaville Lake
Clarence J. Brown Reservoir
Burr Oak Lake
Deer Creek Lake
Caesar Creek Lake
Rivers and streams
Scioto River
Lake Erie
Ohio River
Ravenna Arsenal
Defense Construction Supply Center
Wright-Patterson Air Force Base
Ohio populated places
Akron
Cincinnati
Dayton
Toledo
Cleveland
Columbus
Beavercreek
Bowling Green
Canton
Elyria
Euclid
Fairfield
Findlay
Hamilton
Kettering
Lancaster
Lima
Lorain
Mansfield
Marion
Massillon
Middletown
Parma
Sandusky
Springfield
Westerville
Youngstown
Zanesville
Alliance
Ashtabula
Athens
Bellefontaine
Cambridge
Coshocton
Defiance
East Liverpool
Fostoria
Gallipolis
Greenville
Ironton
Marietta
New Philadelphia
Portsmouth
Sidney
Steubenville
Van Wert
Wooster
Fremont
Norwalk
Mt Vernon
Jackson
State capital
Columbus
References
Check out the US temperature map to visualize how climate varies across the United States of America. Each one is derived from NESDIS, a branch of NOAA.
From Alabama to Wyoming, we display all 50 US states and capital cities. This United States map with capitals is a simple representation of continental US.
Download our lakes and rivers map of the United States. It's free to use for any purpose. Or select from any of the 50 states for detailed lakes and rivers.
Free US Maps
Select a state to view its map