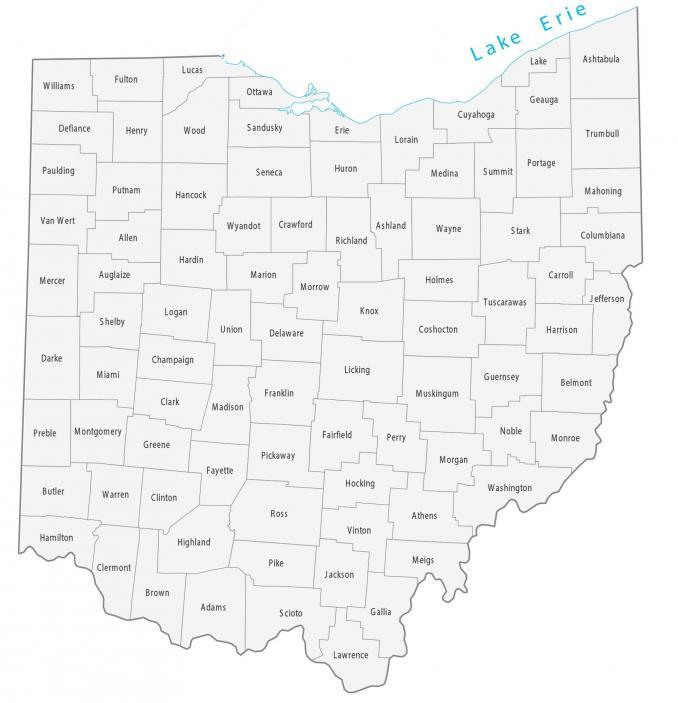 About the map
This Ohio county map displays its 88 counties. Ohio's 88 counties rank as the 13th highest out of all states. The state capital, Columbus is located in Franklin, Ohio. This is the most populated county with over 1.3 million residents.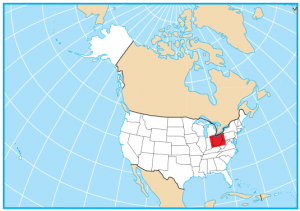 In fact, both Franklin County and Cuyahoga County are in the top 50 for the highest population in the United States. The least populated county in Ohio is Vinton County with just over 13,000 residents.
For size, counties in Ohio are quite uniform in area. They really don't have any stand-outs for size and range anywhere between 200 to 750 square miles. While Lake County is the smallest county in Ohio, Ashtabula County is the largest.
Ohio map collection
You are free to use our county map of Ohio for educational and commercial uses. Attribution is required. How to attribute?
Ohio County List
| County Name | Population (2020 est) | County Map | Area (sq mi) | Locator Map | FIPS Code |
| --- | --- | --- | --- | --- | --- |
| Adams County | 27,531 | Adams County | 589.7 | Adams County Map | 39001 |
| Allen County | 101,980 | Allen County | 406.9 | Allen County Map | 39003 |
| Ashland County | 53,362 | Ashland County | 426.8 | Ashland County Map | 39005 |
| Ashtabula County | 96,513 | Ashtabula County | 709.2 | Ashtabula County Map | 39007 |
| Athens County | 65,481 | Athens County | 508.5 | Athens County Map | 39009 |
| Auglaize County | 45,680 | Auglaize County | 401.9 | Auglaize County Map | 39011 |
| Belmont County | 65,932 | Belmont County | 544 | Belmont County Map | 39013 |
| Brown County | 43,414 | Brown County | 495.4 | Brown County Map | 39015 |
| Butler County | 385,648 | Butler County | 469.6 | Butler County Map | 39017 |
| Carroll County | 26,897 | Carroll County | 399 | Carroll County Map | 39019 |
| Champaign County | 38,960 | Champaign County | 429.8 | Champaign County Map | 39021 |
| Clark County | 133,593 | Clark County | 401.6 | Clark County Map | 39023 |
| Clermont County | 207,449 | Clermont County | 459.8 | Clermont County Map | 39025 |
| Clinton County | 41,921 | Clinton County | 412.2 | Clinton County Map | 39027 |
| Columbiana County | 101,118 | Columbiana County | 535.6 | Columbiana County Map | 39029 |
| Coshocton County | 36,449 | Coshocton County | 567.5 | Coshocton County Map | 39031 |
| Crawford County | 41,338 | Crawford County | 402.7 | Crawford County Map | 39033 |
| Cuyahoga County | 1,227,883 | Cuyahoga County | 459.5 | Cuyahoga County Map | 39035 |
| Darke County | 51,205 | Darke County | 599.8 | Darke County Map | 39037 |
| Defiance County | 37,778 | Defiance County | 414.2 | Defiance County Map | 39039 |
| Delaware County | 213,554 | Delaware County | 457.3 | Delaware County Map | 39041 |
| Erie County | 73,719 | Erie County | 255.2 | Erie County Map | 39043 |
| Fairfield County | 159,709 | Fairfield County | 508.6 | Fairfield County Map | 39045 |
| Fayette County | 28,579 | Fayette County | 407 | Fayette County Map | 39047 |
| Franklin County | 1,324,624 | Franklin County | 543.5 | Franklin County Map | 39049 |
| Fulton County | 41,889 | Fulton County | 407 | Fulton County Map | 39051 |
| Gallia County | 29,802 | Gallia County | 473.4 | Gallia County Map | 39053 |
| Geauga County | 93,271 | Geauga County | 408.3 | Geauga County Map | 39055 |
| Greene County | 170,122 | Greene County | 416.2 | Greene County Map | 39057 |
| Guernsey County | 38,779 | Guernsey County | 528.3 | Guernsey County Map | 39059 |
| Hamilton County | 817,985 | Hamilton County | 413.5 | Hamilton County Map | 39061 |
| Hancock County | 75,407 | Hancock County | 533.7 | Hancock County Map | 39063 |
| Hardin County | 31,469 | Hardin County | 470.6 | Hardin County Map | 39065 |
| Harrison County | 15,014 | Harrison County | 410.8 | Harrison County Map | 39067 |
| Henry County | 26,904 | Henry County | 419.8 | Henry County Map | 39069 |
| Highland County | 43,304 | Highland County | 558 | Highland County Map | 39071 |
| Hocking County | 28,095 | Hocking County | 423.6 | Hocking County Map | 39073 |
| Holmes County | 44,004 | Holmes County | 424 | Holmes County Map | 39075 |
| Huron County | 57,979 | Huron County | 496 | Huron County Map | 39077 |
| Jackson County | 32,493 | Jackson County | 421.5 | Jackson County Map | 39079 |
| Jefferson County | 64,939 | Jefferson County | 412.9 | Jefferson County Map | 39081 |
| Knox County | 62,423 | Knox County | 529.6 | Knox County Map | 39083 |
| Lake County | 229,569 | Lake County | 231.2 | Lake County Map | 39085 |
| Lawrence County | 59,091 | Lawrence County | 459.3 | Lawrence County Map | 39087 |
| Licking County | 178,100 | Licking County | 687.5 | Licking County Map | 39089 |
| Logan County | 45,326 | Logan County | 466.8 | Logan County Map | 39091 |
| Lorain County | 312,172 | Lorain County | 493.5 | Lorain County Map | 39093 |
| Lucas County | 428,294 | Lucas County | 347.1 | Lucas County Map | 39095 |
| Madison County | 44,559 | Madison County | 467.5 | Madison County Map | 39097 |
| Mahoning County | 226,075 | Mahoning County | 423.7 | Mahoning County Map | 39099 |
| Marion County | 64,820 | Marion County | 404.1 | Marion County Map | 39101 |
| Medina County | 180,912 | Medina County | 423.2 | Medina County Map | 39103 |
| Meigs County | 22,678 | Meigs County | 436.2 | Meigs County Map | 39105 |
| Mercer County | 41,274 | Mercer County | 473.4 | Mercer County Map | 39107 |
| Miami County | 107,516 | Miami County | 409.6 | Miami County Map | 39109 |
| Monroe County | 13,586 | Monroe County | 458.9 | Monroe County Map | 39111 |
| Montgomery County | 531,610 | Montgomery County | 464.4 | Montgomery County Map | 39113 |
| Morgan County | 14,305 | Morgan County | 421.9 | Morgan County Map | 39115 |
| Morrow County | 35,411 | Morrow County | 407.2 | Morrow County Map | 39117 |
| Muskingum County | 86,020 | Muskingum County | 672.6 | Muskingum County Map | 39119 |
| Noble County | 14,364 | Noble County | 404.6 | Noble County Map | 39121 |
| Ottawa County | 40,253 | Ottawa County | 260.3 | Ottawa County Map | 39123 |
| Paulding County | 18,648 | Paulding County | 418.8 | Paulding County Map | 39125 |
| Perry County | 36,215 | Perry County | 412.4 | Perry County Map | 39127 |
| Pickaway County | 58,658 | Pickaway County | 506.6 | Pickaway County Map | 39129 |
| Pike County | 27,695 | Pike County | 444 | Pike County Map | 39131 |
| Portage County | 162,583 | Portage County | 506.4 | Portage County Map | 39133 |
| Preble County | 40,836 | Preble County | 426.4 | Preble County Map | 39135 |
| Putnam County | 33,654 | Putnam County | 484.3 | Putnam County Map | 39137 |
| Richland County | 120,891 | Richland County | 500.1 | Richland County Map | 39139 |
| Ross County | 76,420 | Ross County | 692.9 | Ross County Map | 39141 |
| Sandusky County | 58,351 | Sandusky County | 411.7 | Sandusky County Map | 39143 |
| Scioto County | 74,347 | Scioto County | 619.1 | Scioto County Map | 39145 |
| Seneca County | 54,938 | Seneca County | 552.8 | Seneca County Map | 39147 |
| Shelby County | 48,337 | Shelby County | 410.7 | Shelby County Map | 39149 |
| Stark County | 369,772 | Stark County | 580.4 | Stark County Map | 39151 |
| Summit County | 538,866 | Summit County | 419.8 | Summit County Map | 39153 |
| Trumbull County | 196,800 | Trumbull County | 635.5 | Trumbull County Map | 39155 |
| Tuscarawas County | 91,776 | Tuscarawas County | 571.5 | Tuscarawas County Map | 39157 |
| Union County | 60,021 | Union County | 436.8 | Union County Map | 39159 |
| Van Wert County | 28,159 | Van Wert County | 410.4 | Van Wert County Map | 39161 |
| Vinton County | 12,972 | Vinton County | 415 | Vinton County Map | 39163 |
| Warren County | 238,412 | Warren County | 407.1 | Warren County Map | 39165 |
| Washington County | 59,652 | Washington County | 644.3 | Washington County Map | 39167 |
| Wayne County | 115,694 | Wayne County | 556.9 | Wayne County Map | 39169 |
| Williams County | 36,565 | Williams County | 423.1 | Williams County Map | 39171 |
| Wood County | 131,113 | Wood County | 620.6 | Wood County Map | 39173 |
| Wyandot County | 21,711 | Wyandot County | 407.6 | Wyandot County Map | 39175 |
References