About the map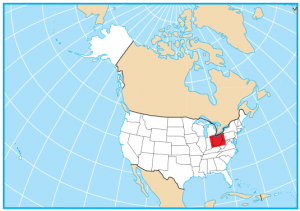 This Ohio map contains cities, towns, roads, rivers and lakes. For example, Columbus, Cleveland and Cincinnati are major cities shown in this map of Ohio.
Ohio is located in the north-east of the United States. It borders Michigan, Indiana, Kentucky, West Virginia, Pennsylvania and Lake Erie in the north.
A lot of people picture Ohio as your plain Jane American experience. For example, picture eating corn dogs, fireflies in the summer with fireworks and carnivals. Also notable, Ohio has the largest Amish population in the United States.
State capital
Columbus
Major cities and towns
Columbus
Cleveland
Cincinnati
Dayton
Toledo
Akron
Barberton
Beavercreek
Bowling Green
Canton
Cuyahoga Falls
Elyria
Euclid
Fairfield
Findlay
Hamilton
Kent
Kettering Lancaster
Lima
Lorain
Mansfield
Marion
Massillon
Middletown
Newark
Parma
Sandusky
Springfield
Warren
Westerville
Youngstown
Zanesville
Upper Arlington
Strongsville
Gahanna
Alliance
Ashtabula
Athens
Bellefontaine
Bucyrus
Cambridge
Chillicothe
Circleville
Coshocton
Defiance
East Liverpool
Fostoria
Gallipolis
Greenville
Hillsboro
Ironton
Marietta
New Philadelphia
Portsmouth
Sidney
Steubenville
Van Wert
Washington Court House
Wooster
Fremont
Norwalk
Ashland
Mt Vernon
Jackson
References
Free US Maps
Select a state to view its map