Map of Colorado Springs
This Colorado Springs map collection shows roads, highways, and things to do. It's located beside the Rocky Mountains so it's filled with beautiful trails, parks, and hiking.
One of the best things about it is its unique geological formations. Just a stone's throw away from geological icons like Pikes Peak and Garden of the Gods Park, it's perfect for nature lovers everywhere.
Find your way around the city with ease. With our detailed map collection, you will know where to go, how to get there, and which attractions to enjoy.
Jump To: Interactive Map | Printable Road Map | 10 Things to Do | Reference Map
Colorado Springs map collection
Interactive Map of Colorado Springs
This interactive map is full of attractions and activities to help you plan your vacation. From places to eat to attractions, this map is your guide to the best of Colorado Springs. With just a few clicks on our map of Colorado Springs, you can explore the city's most iconic attractions and get the lay of the land.
Colorado Springs Road Map
Explore Colorado Springs with this road map. With this handy map, you can find your way around the city like a pro and get to where you need to go. Whether you want to travel on the interstate (I-25), US state highways, or any parkway, use this map as a convenient one-page guide. Or explore outside the city with this Colorado road map.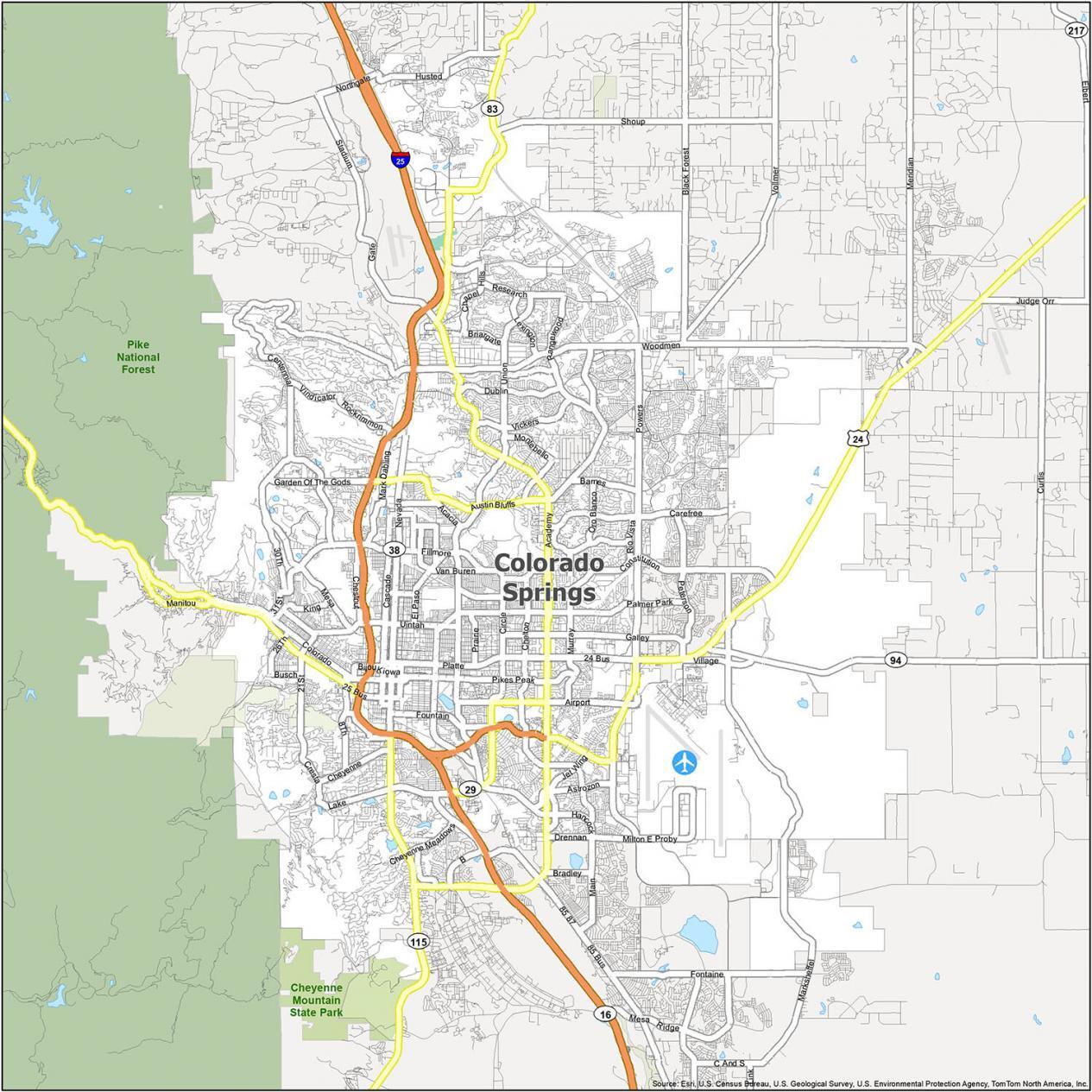 Interstate Highways: I-25
US Highways: 24, 29, 38, 83, 94, 115, 122
Parkways: Austin Bluffs Pky, Briargate Pky
Major Roads: 21st St, Academy Blvd, Airport Rd, Bijou St, Cimarron St, Circle Dr, Constitution Ave, Cresta Rd, Fillmore St, Fountain Blvd, Garden Of The Gods Rd, Kiowa St, Lake Ave, Lake Cir, Mesa Ave, Nevada Ave, Platte Ave, Powers Blvd, Sierra Madre St, Uintah St, Union Blvd, Venetucci Blvd, Wahsatch Ave
10 Things To Do in Colorado Springs
Spend time in some of Colorado Springs' best-known landmarks like Pikes Peak, Garden of the Gods, and Manitou Springs. This map is perfect for the traveler and the tourist because you can find some of the top attractions to see in the city.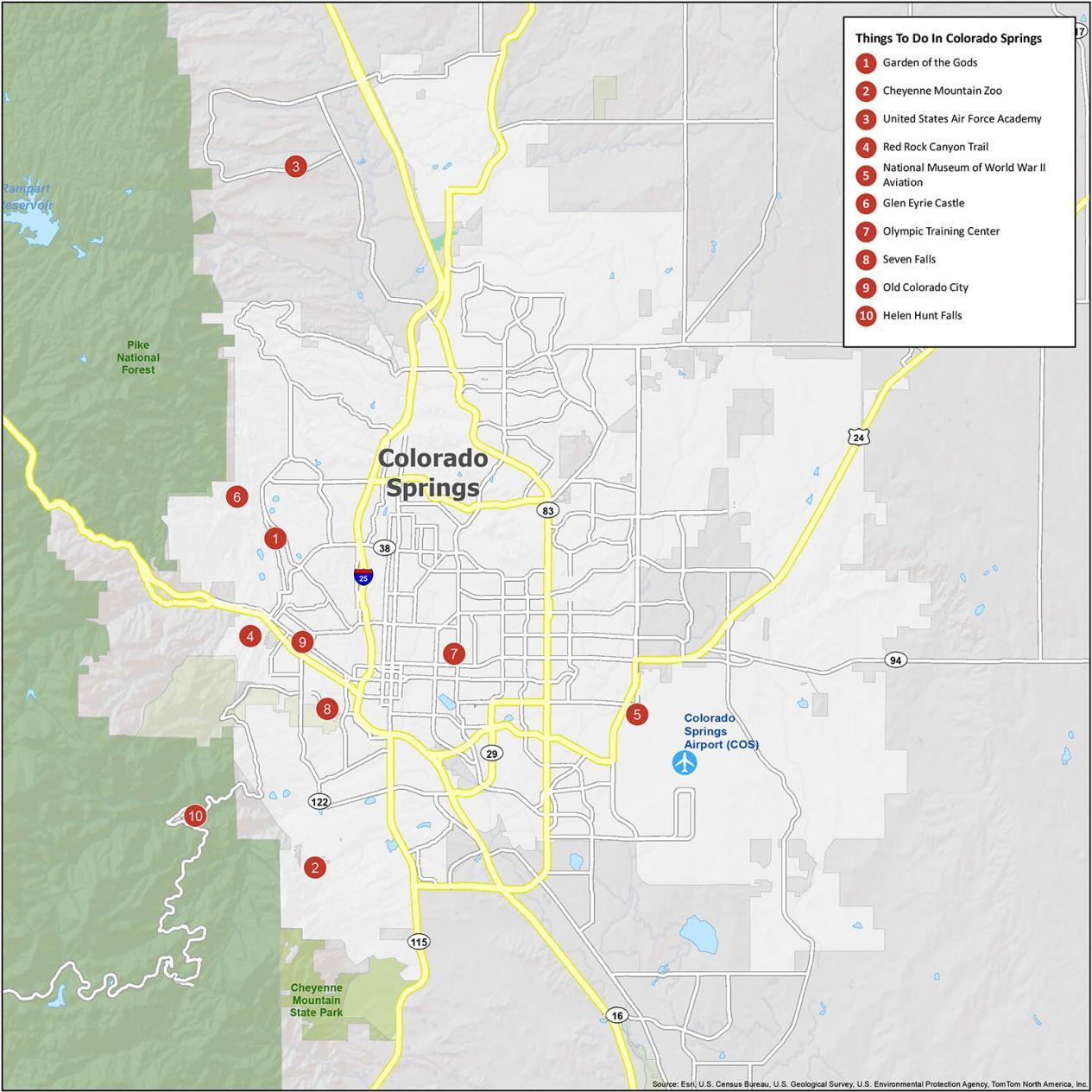 Colorado Springs is located next to the Rocky Mountains so it's a list of things to do surrounding beautiful scenery and nature. For example, it includes trails, parks, and unique geologic formations like the Garden of the Gods and Red Rock Canyon Trail.
Garden of the Gods
Cheyenne Mountain Zoo
The United States Air Force Academy
Red Rock Canyon Trail
National Museum of World War II Aviation
Glen Eyrie Castle
Olympic Training Center
Seven Falls
Old Colorado City
Helen Hunt Falls
Colorado Springs Reference Map
Colorado Springs is a vibrant and welcoming city. With this map in hand, you will be able to take advantage of everything Colorado Springs has to offer. Discover the natural beauty Colorado Springs has to offer by learning about its parks and surrounding places.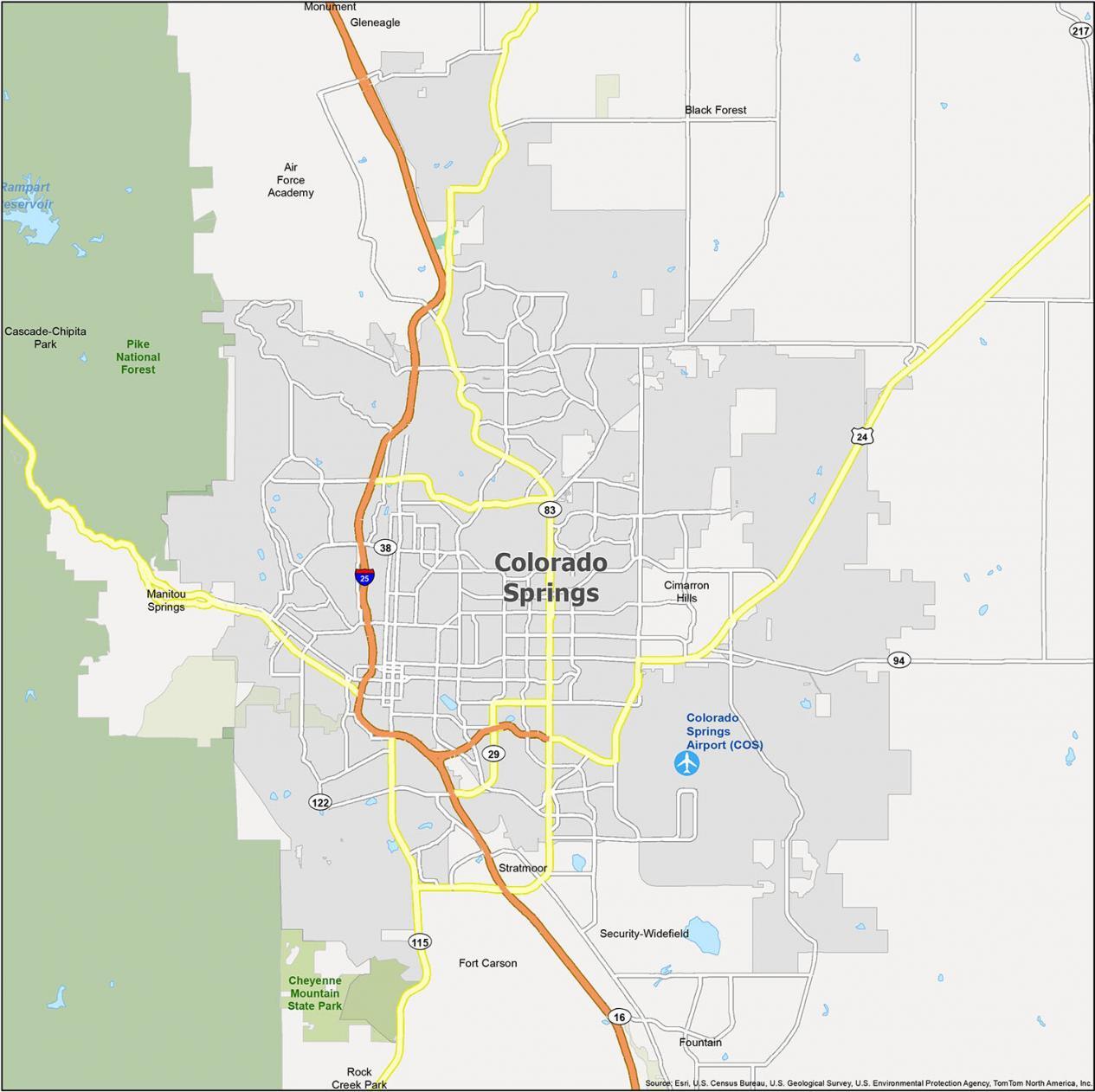 Airport: Colorado Springs Airport (COS)
Cities: Colorado Springs, Fountain, Manitou Springs
Towns: Monument
Census-designated place (CDP): Air Force Academy, Black Forest, Cascade-Chipita Park, Cimarron Hills, Fort Carson, Gleneagle, Rock Creek Park, Security-Widefield, Stratmoor
Colorado Springs maps
Colorado map collection