Columbus Neighborhood Map (Ohio)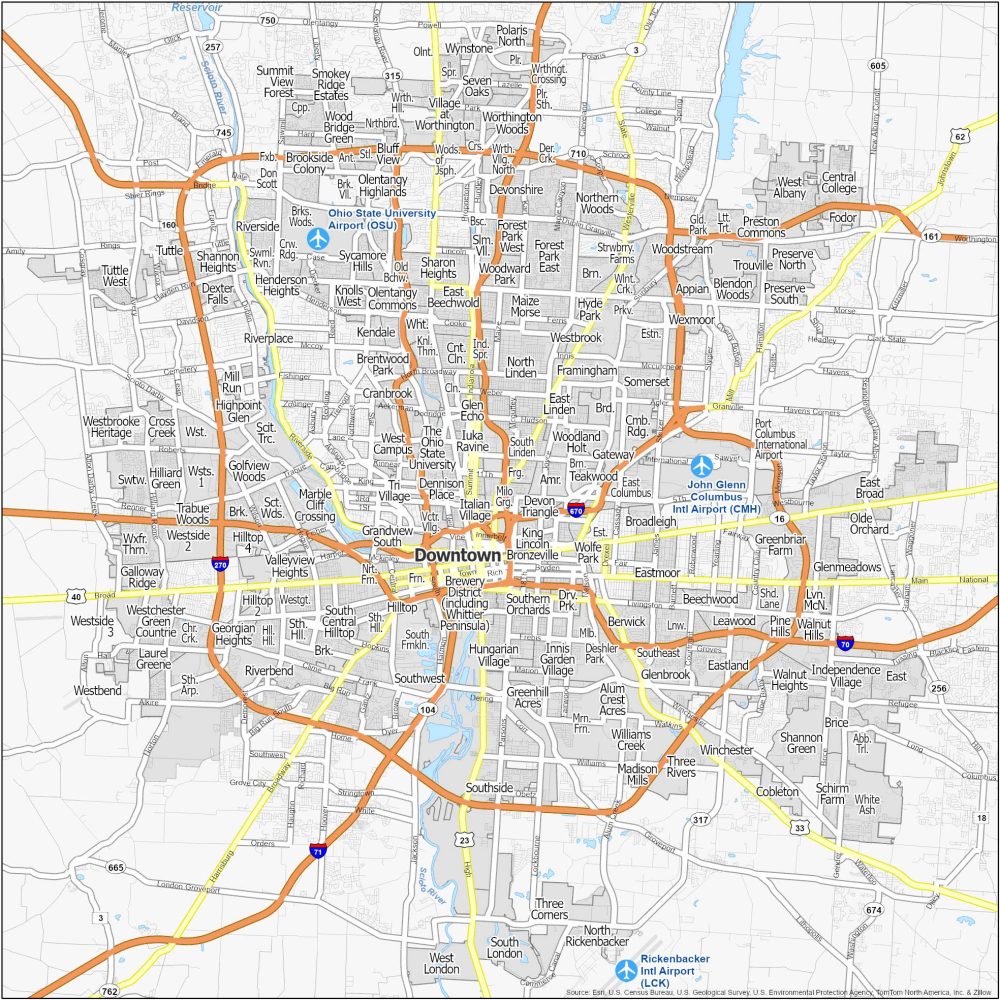 Neighborhoods in Columbus
Get to know the neighborhoods of Columbus with this map. Whether you're seeking a bustling urban atmosphere, family-friendly suburbs, or eclectic cultural enclaves, download our Columbus neighborhood map today.
Short North
Located just north of downtown, Short North is home to the monthly Gallery Hop, where art galleries open their doors to the public. Plus, it features a wide range of dining options, from cozy cafes to upscale restaurants. See our road map of Columbus for street information.
Clintonville
Located north of Ohio State University, Clintonville is a laid-back and family-friendly neighborhood. It has a variety of independent shops, farmer's markets, and cozy cafes. The scenic Whetstone Park and the Columbus Park of Roses are popular outdoor destinations in Clintonville.
Italian Village
Adjacent to the Short North, Italian Village is a dynamic neighborhood known for its mix of historic homes and modern developments. It is also home to the historic Columbus Italian Festival, celebrating the neighborhood's Italian heritage.
Brewery District
Situated just south of downtown, the Brewery District is a historic neighborhood that pays homage to Columbus's brewing heritage. The district is also home to the annual Columbus Summer Beerfest and provides easy access to nearby entertainment venues.
German Village
Nestled just south of downtown, German Village is a historic neighborhood with beautifully preserved brick houses and cobblestone streets. Schiller Park, the neighborhood's centerpiece, provides a serene green space for outdoor activities.
Grandview Heights
Situated west of downtown, Grandview Heights is a walkable neighborhood known for its commercial district along Grandview Avenue. The neighborhood also offers easy access to the scenic Scioto River and hosts community events like the annual Grandview Hop.
Upper Arlington
Located northwest of downtown, Upper Arlington is a well-established suburb. It contains manicured parks, excellent schools, upscale amenities, and a variety of recreational facilities. The neighborhood's vibrant shopping and dining district along Lane Avenue adds to its appeal.
University District
Home to the Ohio State University, the University District buzzes with energy. It contains live music venues and access to recreational areas like the Olentangy River Trail. The district also hosts events such as football games at the Ohio Stadium and the popular Arts Festival.