Fort Collins Map, Colorado
Map of Fort Collins
This Fort Collins map features highways/roads, landmarks, and a list of things to do. If you want to interactively explore the city, then check out this Google Map of Fort Collins.
Fort Collins has a lot to offer. For example, it's filled with lakes like Warren Lake, Fossil Creek Reservoir, and Boyd Lake. You can't miss Horsetooth Reservoir, which is just a stone's throw away in the west of Fort Collins.
Fort Collins is a small city of more than 165,000 people, nestled in the heart of Colorado's Rocky Mountain foothills. Get to know Fort Collins Colorado with this detailed map collection.
Jump To: Interactive Map | Printable Road Map | 10 Things to Do | Reference Map
Fort Collins map collection
Interactive Map of Fort Collins
This map is a guide to the best places to visit in Fort Collins Colorado. It includes a list of top attractions, hotels, museums, and more. Search for the perfect place to go and find it with ease. With our interactive map, you can learn about the city's history, top attractions, and the best restaurants in Fort Collins Colorado.
Fort Collins Road Map
With mountains, valleys, and beautiful lakes, the area has a lot to offer. Life here is simple but exciting. Find your way around with this printable road map of the city. Save time and gas by seeing the best places to visit and the best routes to get there. Discover the best Fort Collins Colorado has to offer and its road network with this map. But if you're exploring outside the city, then make sure to download our free Colorado road map.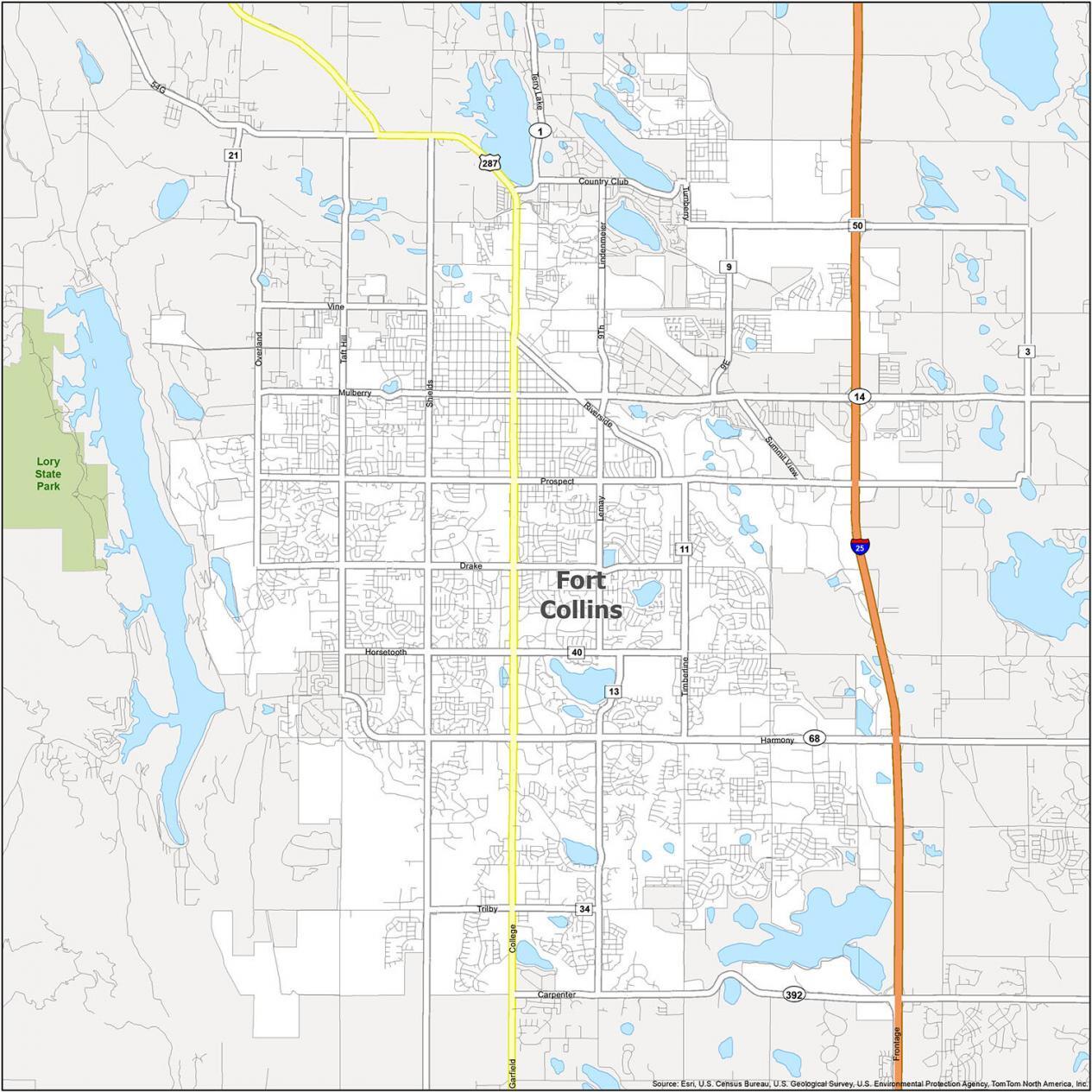 Interstate Highways: I-25
US Highways: 14, 68, 287, 392
Major Roads: 9th St, Carpenter Rd, College Ave. Drake Rd, Frontage Rd, Harmony Rd, Horsetooth Rd, Jefferson St, Lemay Ave, Lindenmeier Rd, Mulberry St, Overland Trl, Prospect Rd, Riverside Ave, Shields St, Taft Hill Rd, Timberline Rd, Trilby Rd, Turnberry Rd, Vine Dr
10 Things To Do in Fort Collins
See Fort Collins, Colorado's attractions at your fingertips. This map is the perfect choice for planning a vacation or business trip to the city. Our map includes all the best places to visit and things to do in Fort Collins Colorado. This includes its museums, parks, and open spaces. It's the perfect way to plan your next vacation in a city that has everything.
Think of Fort Collins as a family-friendly city in northern Colorado. It has the iconic Horsetooth Reservoir just minutes to the west of the city. If you travel to the family-friendly city of Fort Collins, here are our top 10 travel recommendations.
Horsetooth Reservoir
Lory State Park
Fort Collins Museum of Discovery
Horsetooth Mountain Open Space
Boyd Lake State Park
Devil's Backbone Open Space
Cache la Poudre River
Colorado State University
Spring Canyon Park
Gardens on Spring Creek
Fort Collins Reference Map
Now you can explore the city at your own pace. Get a bird's eye view of the city's attractions and landmarks, or share your discoveries with friends. The city of Fort Collins is in north-central Colorado, on the eastern plains of the Rocky Mountains. It's a great place to raise a family, where you can find world-class outdoor adventure, beautiful natural resources, and plenty of friendly people. Get to know the city and discover the best places to visit.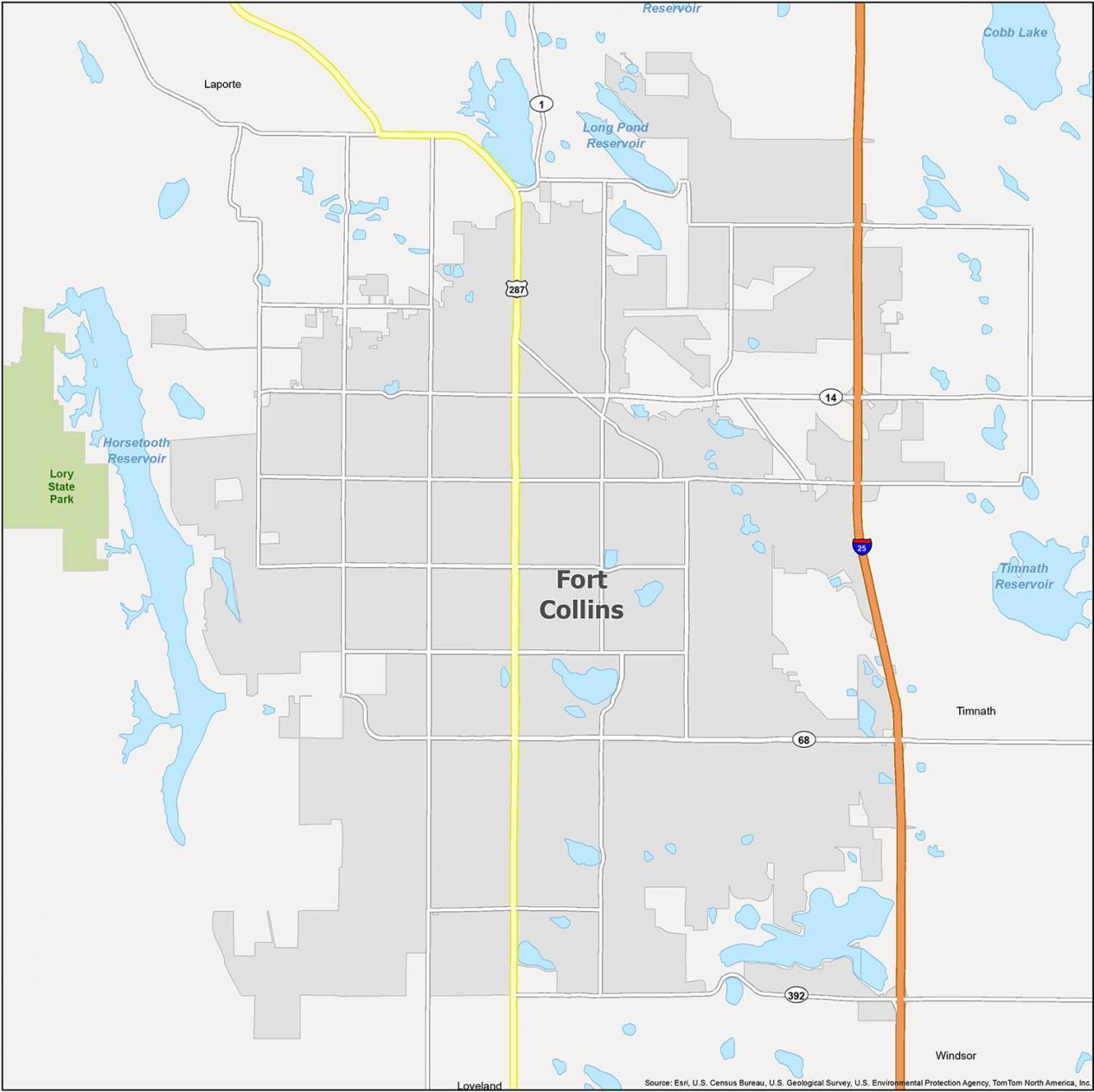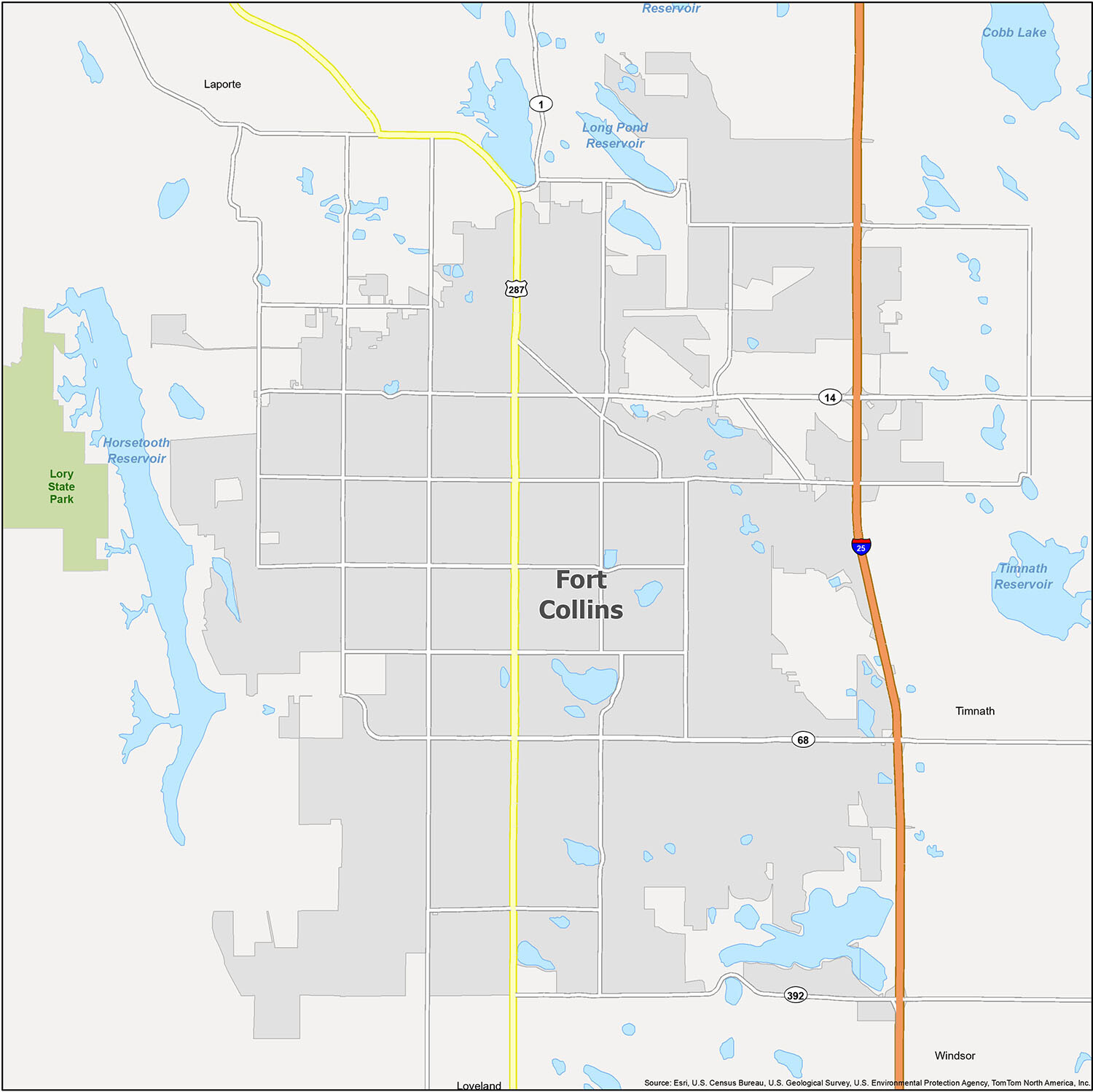 Cities: Fort Collins, Loveland
Towns: Timnath, Windsor
Census-designated place (CDP) Laporte
Colorado map collection
References