Fort Lauderdale Map, Florida

Map of Fort Lauderdale
If you want a map of Fort Lauderdale, then check out our collection of highway/road, reference information, things to do, and an interactive map.
The city of Fort Lauderdale is home to more than 180,000 people. The city is known for the Intracoastal Waterway, a water channel that zigzags through the city into the Atlantic Ocean.
Fort Lauderdale is a uniquely different city and just 30 miles (50 km) away from Miami via I-95. It's also famous for its beaches, culture, and parks. Find out more about this city nicknamed the Venice of America.
Jump To: Interactive Map | Printable Road Map | 10 Things to Do | Reference Map
Fort Lauderdale map collection
Interactive Map of Fort Lauderdale
Wondering which beaches are near you? Which neighborhoods would suit your tastes? This interactive map lets you find that out and more. This map is designed to give you an overview of the city. It's very easy to use and it will take you everywhere you need to go in a quick and easy fashion. With the help of this map, you can explore the best the city has to offer in just a few clicks.
Fort Lauderdale Road Map
The best way to explore a new city is to explore it with a map. This map gives you all the details you need to know about Fort Lauderdale's road network in a single printable road map. For example, it shows US Highway 1 and Dixie Hwy. Using our free Fort Lauderdale FL map as a guide, you'll never be lost again. But for travel outside the city, take a look at our Florida road map that you can download for free.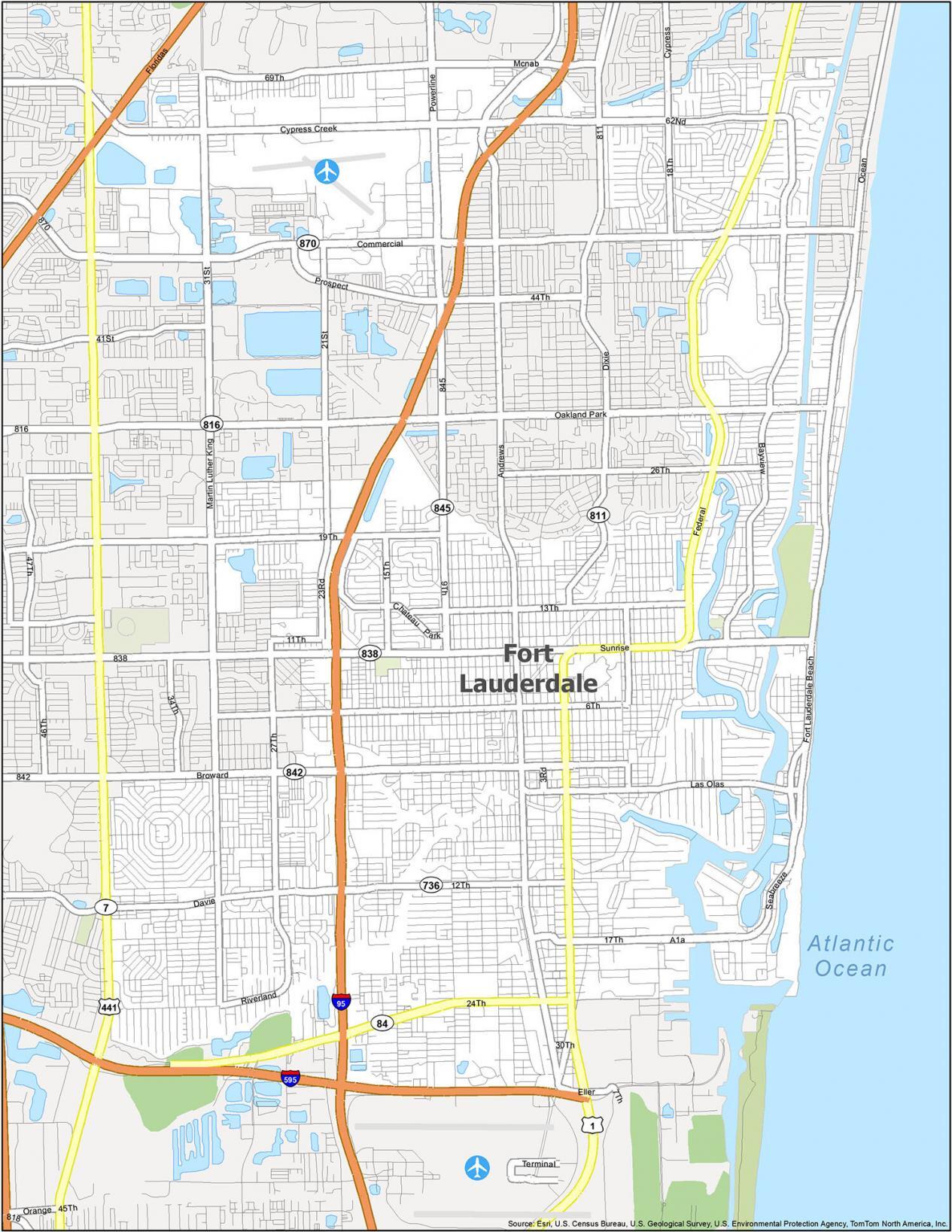 US Highways: 1, 441, Dixie Hwy (SR-811), Federal Hwy
Major Roads: 3rd Ave, 6th St, 9th Ave, 11th St, 12th St, 13th St, 15th Ave, 17th St, 18th Ave, 19th St, 21st Ave, 23rd Ave, 24th St, 26th St, 27th Ave, 30th St, 31st Ave, 34th Ave, 62nd St, 69th St, Andrews Ave, Bayview Dr, Broward Blvd (FL-842), Chateau Park Dr, Commercial Blvd (FL-870), Cypress Creek Rd, Davie Blvd (FL-736), Eller Dr, Fairmont Ave, Fort Lauderdale Beach Blvd, J W Mclaughlin Ave, Las Olas Blvd, Lauderdale Manor Dr, Martin Luther King Ave, Mcnab Rd, Oakland Park Blvd (FL-816), Ocean Blvd, Powerline Rd (FL-845), Prospect Rd, Riverland Rd, Seabreeze Blvd, Sistrunk Blvd, State Road 84, Sunrise Blvd (FL-838), Terminal Dr
10 Things To Do in Fort Lauderdale
The map includes information on all major attractions and points of interest in the city. Whether you are looking for a park to relax in, or just a great place to explore, our map of Fort Lauderdale will help you find the destination you are looking for.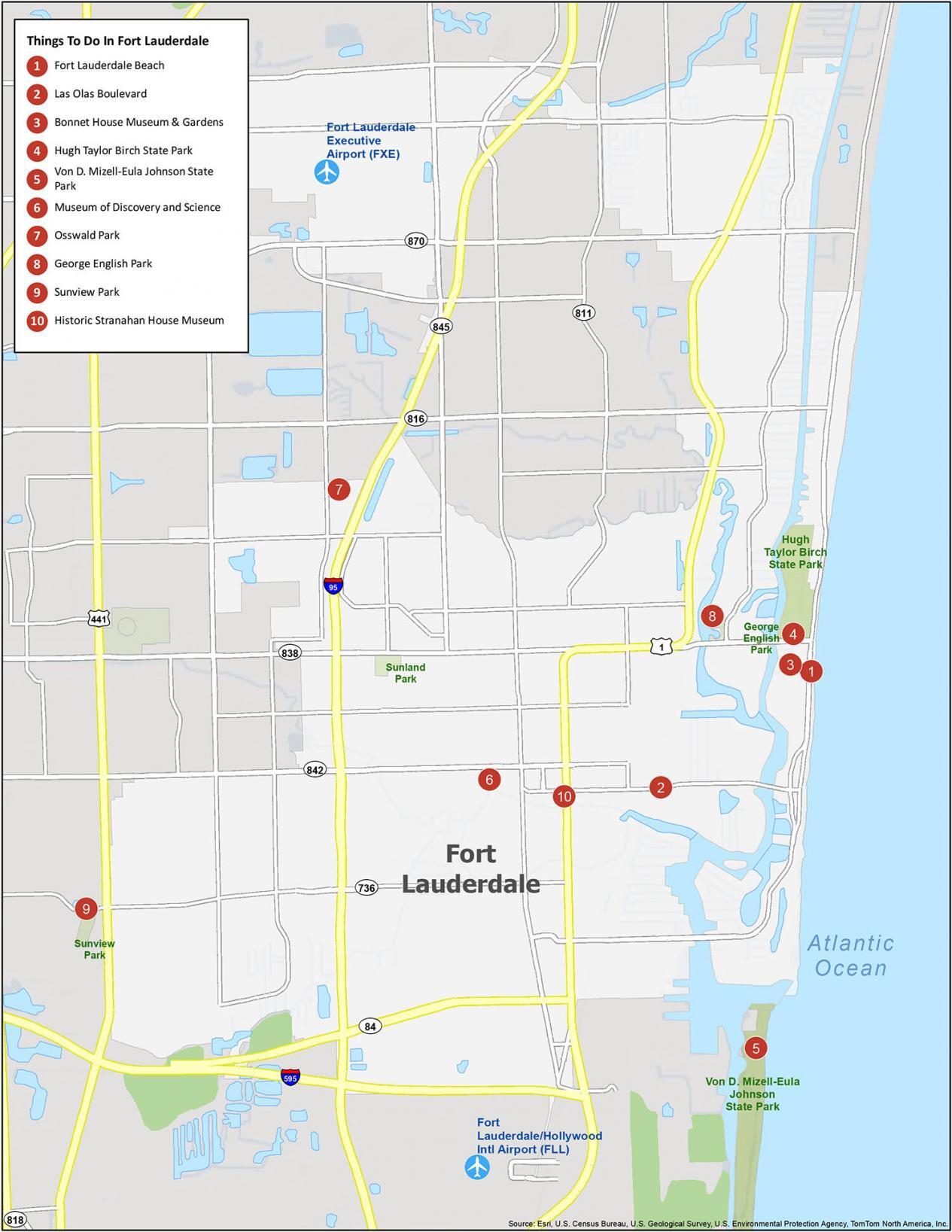 Fort Lauderdale is a beach city with a mix of art, culture, and nightlife. It's a special place to visit with everything. From gondola rides in Las Olas to its pristine parks and sanctuaries, check out our top 10 travel recommendations.
Fort Lauderdale Beach
Las Olas Boulevard
Bonnet House Museum & Gardens
Hugh Taylor Birch State Park
Von D. Mizell-Eula Johnson State Park
Museum of Discovery and Science
Osswald Park
George English Park
Sunview Park
Historic Stranahan House Museum
Fort Lauderdale Reference Map
We are offering a new and exciting way to see the city of Lauderdale. With this map, you can explore this beautiful city with ease. This reference map includes all the parks, neighborhoods, and populated areas that are essential to knowing Fort Lauderdale. So when you're looking for somewhere to go, you'll know right where to start.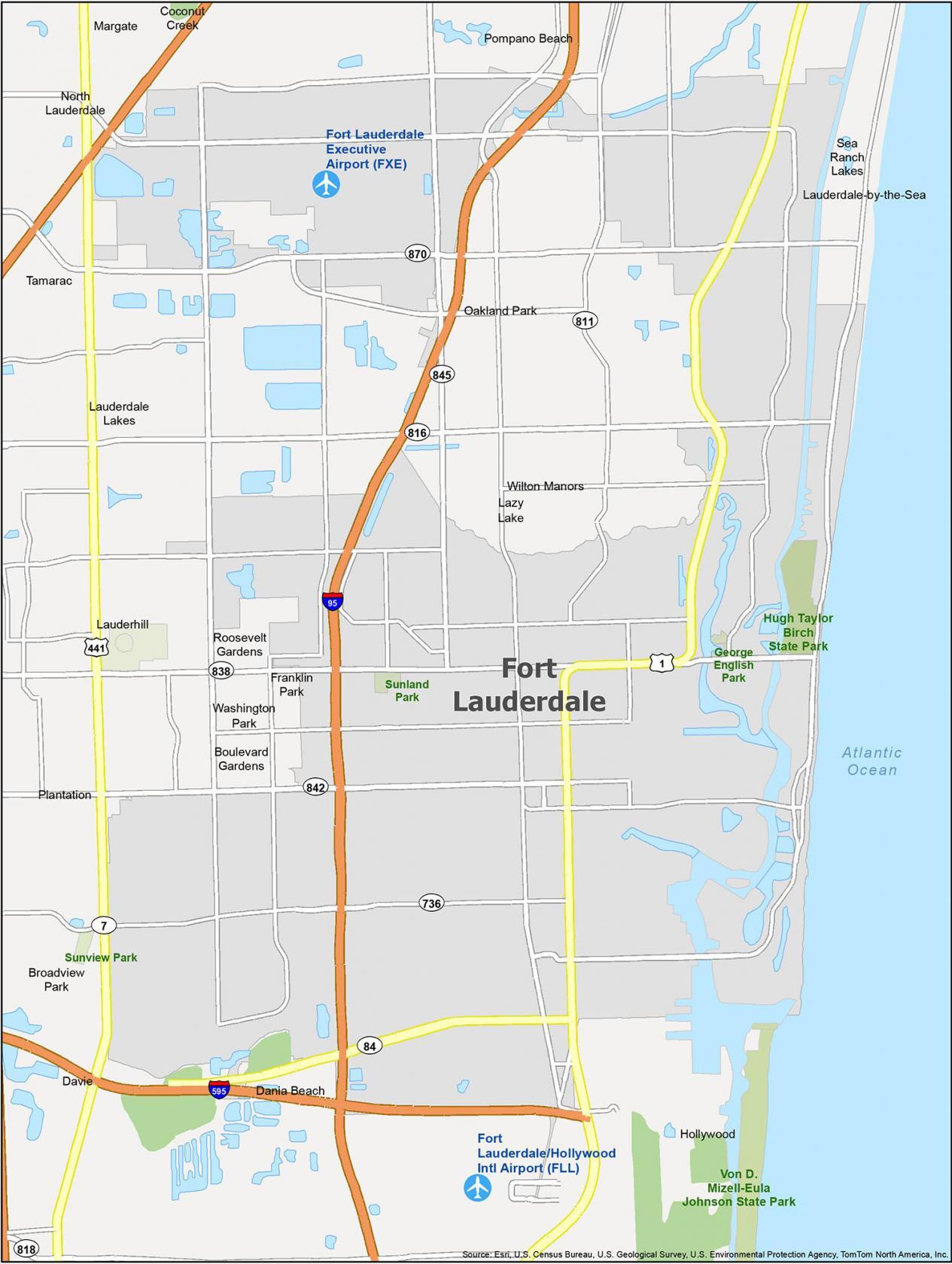 Airports: Fort Lauderdale-Hollywood International Airport (FLL)
Cities: Coconut Creek, Dania Beach, Fort Lauderdale, Hollywood, Lauderdale Lakes, Lauderhill, Margate, North Lauderdale, Oakland Park, Plantation, Pompano Beach, Tamarac, Wilton Manors
Towns: Davie, Lauderdale-by-the-Sea
Villages: Lazy Lake, Sea Ranch Lakes
Census-designated place (CDP) Boulevard Gardens, Broadview Park, Franklin Park, Roosevelt Gardens, Washington Park
Fort Lauderdale, Florida maps
Florida map collection
References