Map of Wyoming – Cities and Roads
About the map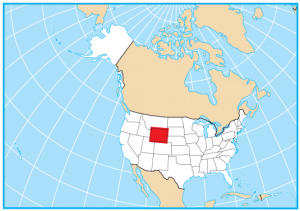 This Wyoming map contains cities, roads, rivers, and lakes. For example, Casper, Laramie, and Cheyenne are major cities on this map of Wyoming. In addition, this Wyoming Map shows major mountain chains like the Big Horn Mountains and the Absaroka Range.
Wyoming is home to Yellowstone, which has waterfalls, geysers, and hot springs. The state has tons of Buffalo and is a training ground for actual cowboys.
If you drive through Wyoming, you can't miss its iconic license plates. It's a man riding a bronco with his cowboy hat in the air. Its rich history which can be traced back to 1918 is why Wyoming is also nicknamed the Cowboy State.
State capital
Cheyenne
Major cities and towns
Casper
Laramie
Cheyenne
Afton
Alpine
Big Piney
Buffalo
Cody
Evanston
Fort Laramie
Gillette
Green River
Greybull
Jackson
Kemmerer
Lander
Lovell
Lusk
Medicine Bow
Moorcroft
Newcastle
Pinedale
Powell
Rawlins
Riverton
Rock Springs
Saratoga
Sheridan
Shoshoni
Sundance
Thermopolis
Torrington
Wheatland
Worland
Wright
Douglas
Farson
Interstate highways
Interstate-25 (I-25)
Interstate-80 (I-80)
Interstate-90 (I-90)
Lakes, rivers and creeks
Yellowstone Lake
Jackson Lake
Palisades Reservoir
Bighorn River
Powder River
Flaming Gorge Reservoir
Seminoe Reservoir
Pathfinder Reservoir
Boysen Reservoir
Sweetwater River
Glendo Reservoir
North Platte River
Green River
Belle Fourche River
Mountains in Wyoming
Absaroka Range
Wind River Range
Teton Range
Owl Creek Mountains
Bighorn Mountains
Wyoming Range
Granite Mountains
Laramie Mountains
Medicine Bow Mountains
Bridger Peak
Cloud Peak
Gannett Peak
Grand Teton
References
A US national parks map that displays the 5 regions and 62 national parks of the United States. Hawaii and Alaska have inset maps with outlines and names.
A USA map with states and cities that colorizes all 50 states in the United States of America. It includes selected major, minor and capital cities.
A physical map of the United States that features mountains, plateaus, lakes, rivers, cities and capitals. It includes inset maps for Hawaii and Alaska.
US State Maps
Select a state to view its map