Map of Knoxville, Tennessee

Map of Knoxville
This Knoxville map collection features highways, roads, things to do, and reference information. Knoxville Tennessee is located in East Tennessee, along the Tennessee River. It is the third most populous city in Tennessee (after Memphis and Nashville) and is located next to the Great Smoky Mountains to the east.
Knoxville Tennessee Map is a beautiful place to visit and explore. With so much to see and do, you can visit Knoxville Tennessee Map for a day trip, a week, or an entire month. Whether you're looking for a quick getaway or a longer vacation, get started planning your trip to Knoxville Tennessee Map today.
Find out all there is to know about the City of Knoxville. But first, if you want to dig a bit deeper, then check out the interactive Google Map of Knoxville, Tennessee just below.
Jump To: Interactive Map | Printable Road Map | 10 Things to Do | Reference Map
Knoxville map collection
Interactive Map of Knoxville
The city is home to many parks and green spaces, including the Arboretum, the Botanical Gardens, and Zoo Knoxville. With this map, you'll always know where the best attractions and restaurants are in your area. Whether you're planning a vacation or a business trip, this map is your go-to with the latest updated information.
Knoxville Road Map
Knoxville is a city in Tennessee that hosts a variety of fun activities and beautiful natural sights. But traveling can be easier than ever with the help of a Knoxville Tennessee road map. Our map provides the perfect navigation tool to help you find your way around Knoxville with interstates like I-40, I-75, I-140, I-275, I-640, highways, and road information. But for any travel outside the city, check out this Tennessee road map with statewide information.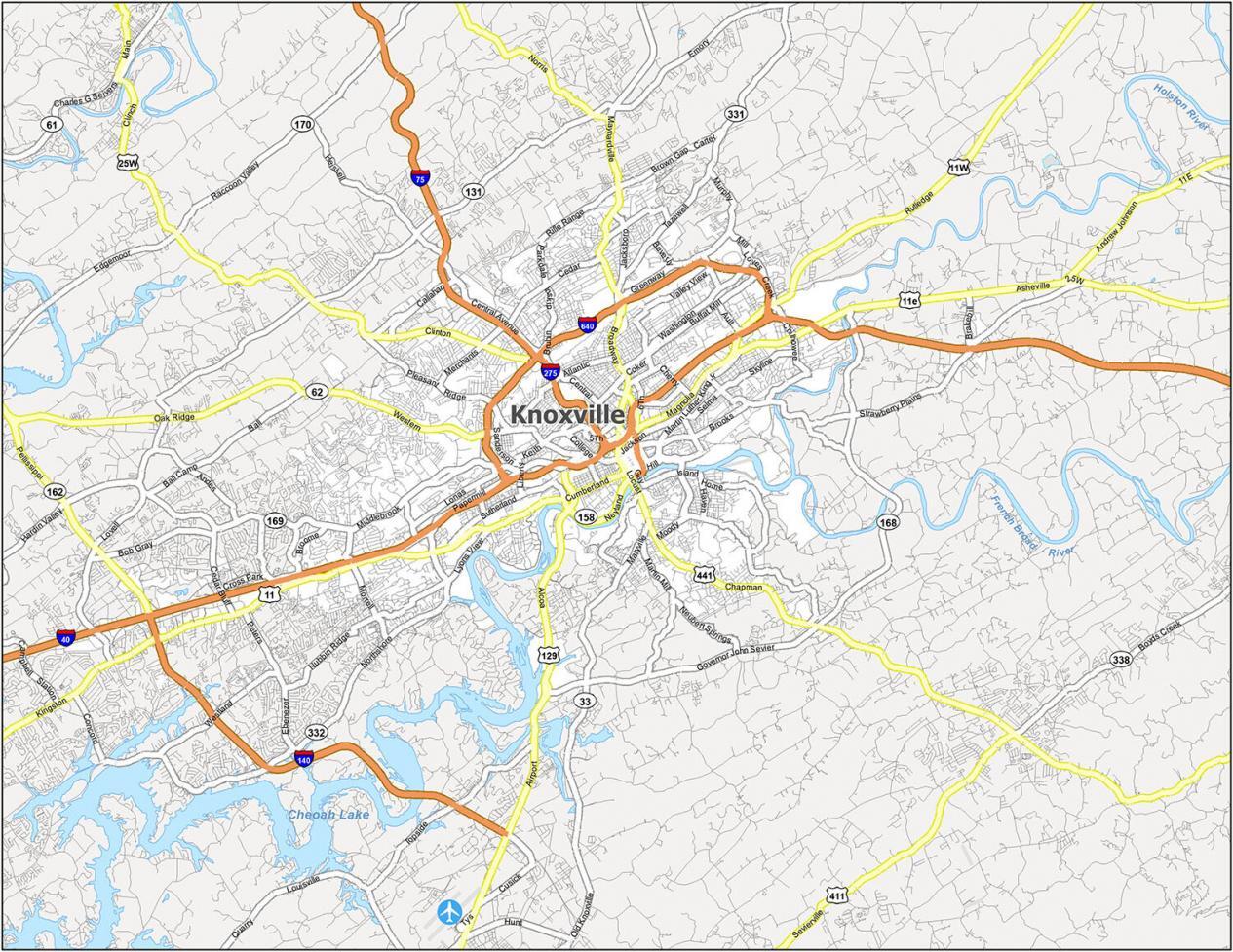 Interstate Highways: I-40, I-75, I-140, I-275, I-640
US Highways: 11, 11E, 11W, 25W, 62, 129, 131, 140, 158, 162, 168, 332, 441, Alcoa Hwy, Asheville Hwy, Chapman Hwy, Clinton Hwy, Governor John Sevier Hwy, Kingston Pike, Oak Ridge Hwy, Maryville Pike, Maynardville Pike, Rutledge Pike
Major Roads: Broadway St, Cumberland Ave, Emory Rd, Hall Of Fame Dr, Henley St, Lovell Rd, Magnolia Ave, Main St, Neyland Dr, Northshore Dr, Western Ave
10 Things To Do in Knoxville
If you're looking for a way to explore Knoxville, Tennessee, but aren't sure what to do or where to go, then you've come to the right place! Whether you're a visitor to the area or you're a local, there are plenty of ways to enjoy the sights and sounds of Knoxville, Tennessee. In this map, we'll show you the best places to visit in Knoxville and the surrounding area, as well as explain how you can get there.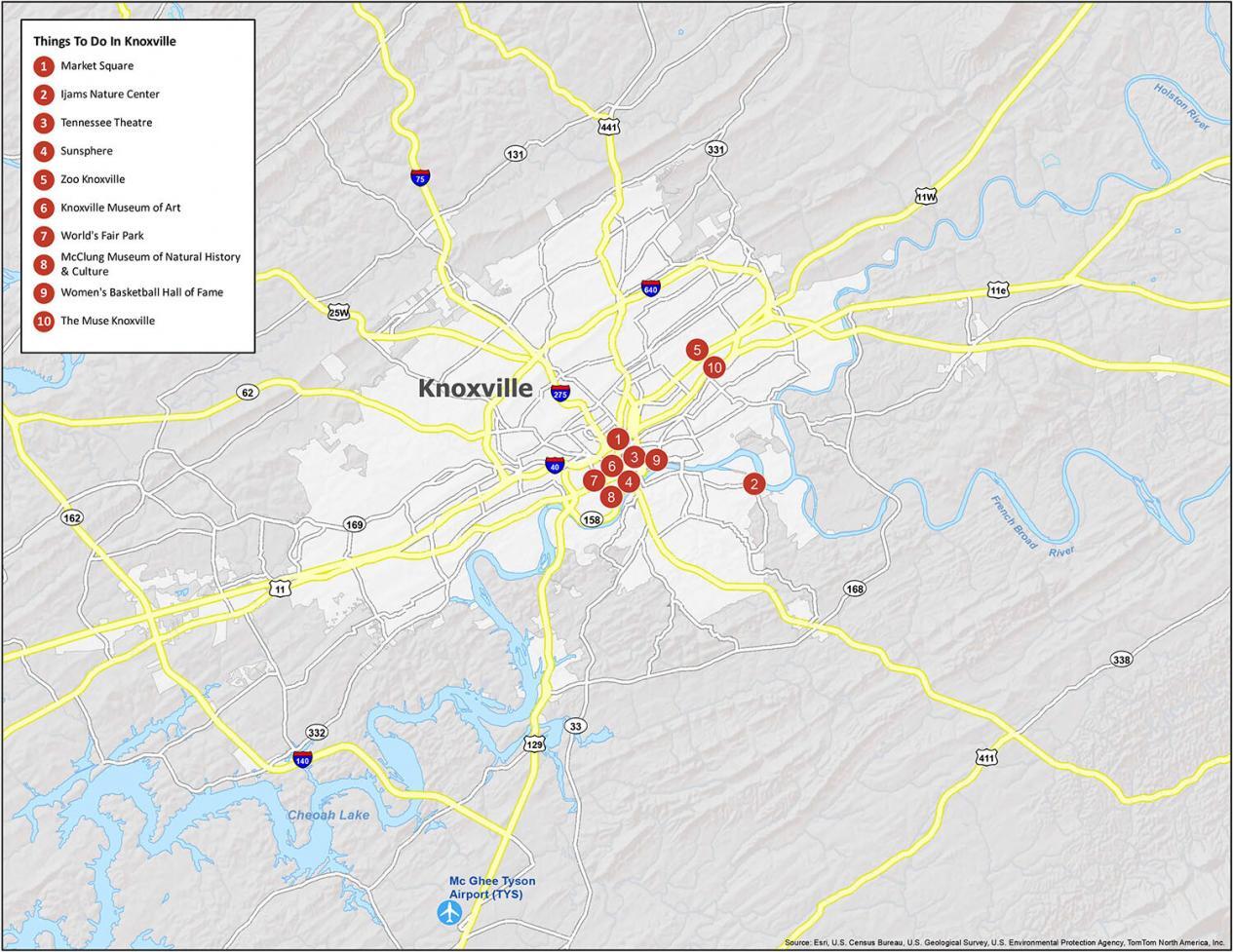 Knoxville is known for its festivals, nature, and music. If you ever plan to go, check out our list of travel recommendations for Key West.
Market Square
Ijams Nature Center
Tennessee Theatre
Sunsphere
Zoo Knoxville
Knoxville Museum of Art
World's Fair Park
McClung Museum of Natural History & Culture
Women's Basketball Hall of Fame
The Muse Knoxville
Knoxville Reference Map
One of the best things about Knoxville is that there is so much to see. If you are planning a trip and want to know where you are going, this map is perfect! This map offers reference information and includes lakes, rivers, points of interest, and more for easy navigation around the city.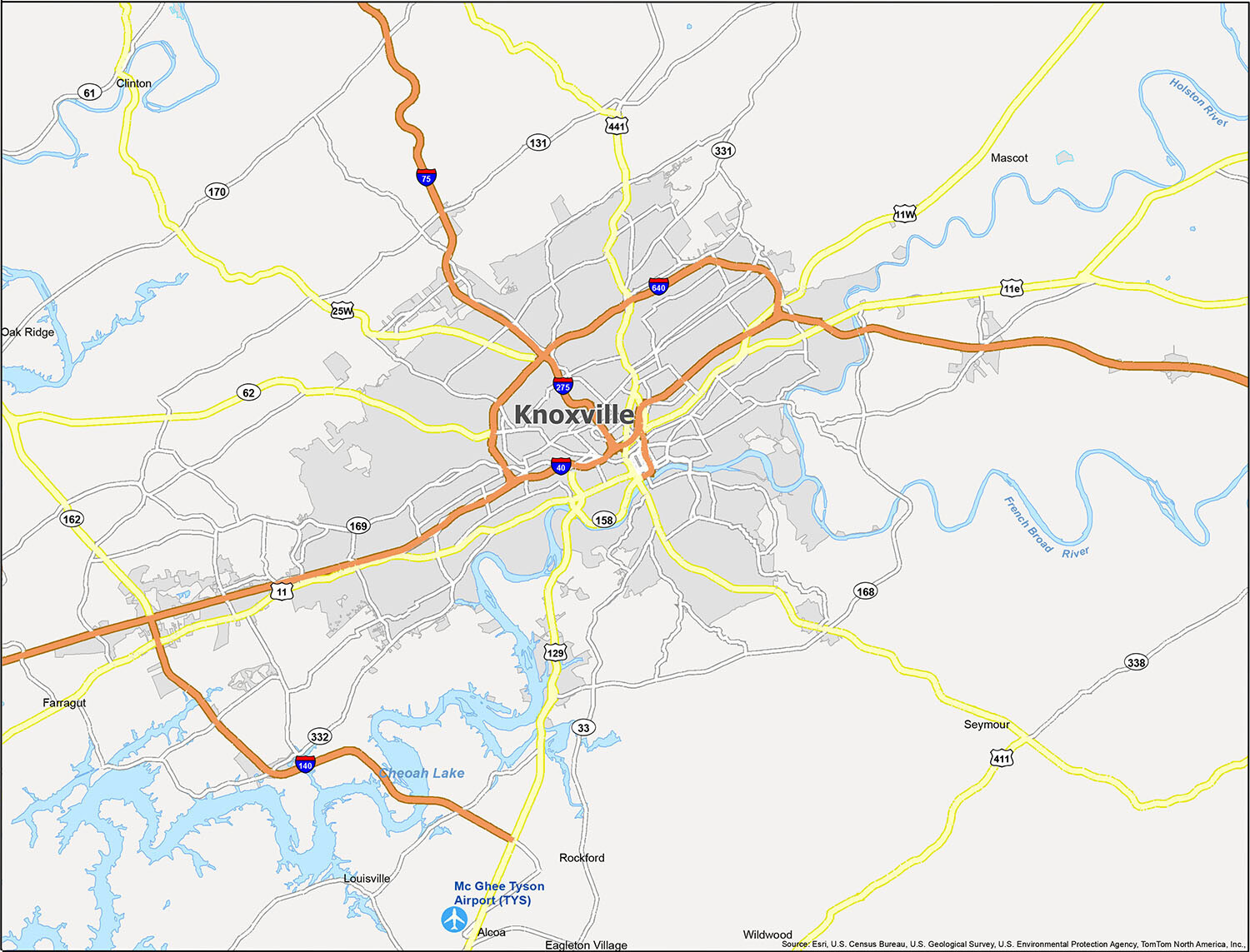 Airports: McGhee Tyson Airport (TYS)
Cities: Alcoa, Clinton, Knoxville, Louisville, Oak Ridge, Rockford
Census-designated place (CDP): Eagleton Village, Mascot, Seymour, Wildwood
Towns: Farragut
Water Features: Cheoah Lake, French Broad River, Holston River
Tennessee map collection
References