Map of Nashville
Check out this Nashville map featuring highways, roads, places, and major landmarks. Nashville is located in central Tennessee. Explore the city with our interactive map provided by Google Maps.
Nashville is the home of country music. No wonder why its nickname is "Music City". It's one of the fastest-growing cities in the country and the most populous city in Tennessee, just higher than Memphis.
Although it's known for its country music scene, it's also an excellent place to visit for foodies and nature lovers alike. Whether you're a local or just looking for something new to do in Tennessee, here is a Nashville map collection of what you need to know about the city.
Jump To: Interactive Map | Printable Road Map | 10 Things to Do | Reference Map
Nashville map collection
Interactive Map of Nashville
Use this Nashville Tennessee map as your guide to help you get around, find things to do, and plan your trip. This interactive map shows the best attractions, sights, and restaurants. Also, find everything from the best shopping in town and even the best nightlife. With this interactive map, you can explore Nashville and plan your journey to some of the most important landmarks. This tool is a must-have for all visitors to the city.
Nashville Road Map
Don't worry about getting lost or missing out on what the city has to offer. This Nashville road map covers all of Nashville, Tennessee, and is perfect for first-time visitors. It features detailed street labels of major roads and color-coded interstates and highways. Plus, all the major interstates, highways, and roads are conveniently located on this single printable map. But for any travel outside the city, refer to our Tennessee road map with interstates and highway information.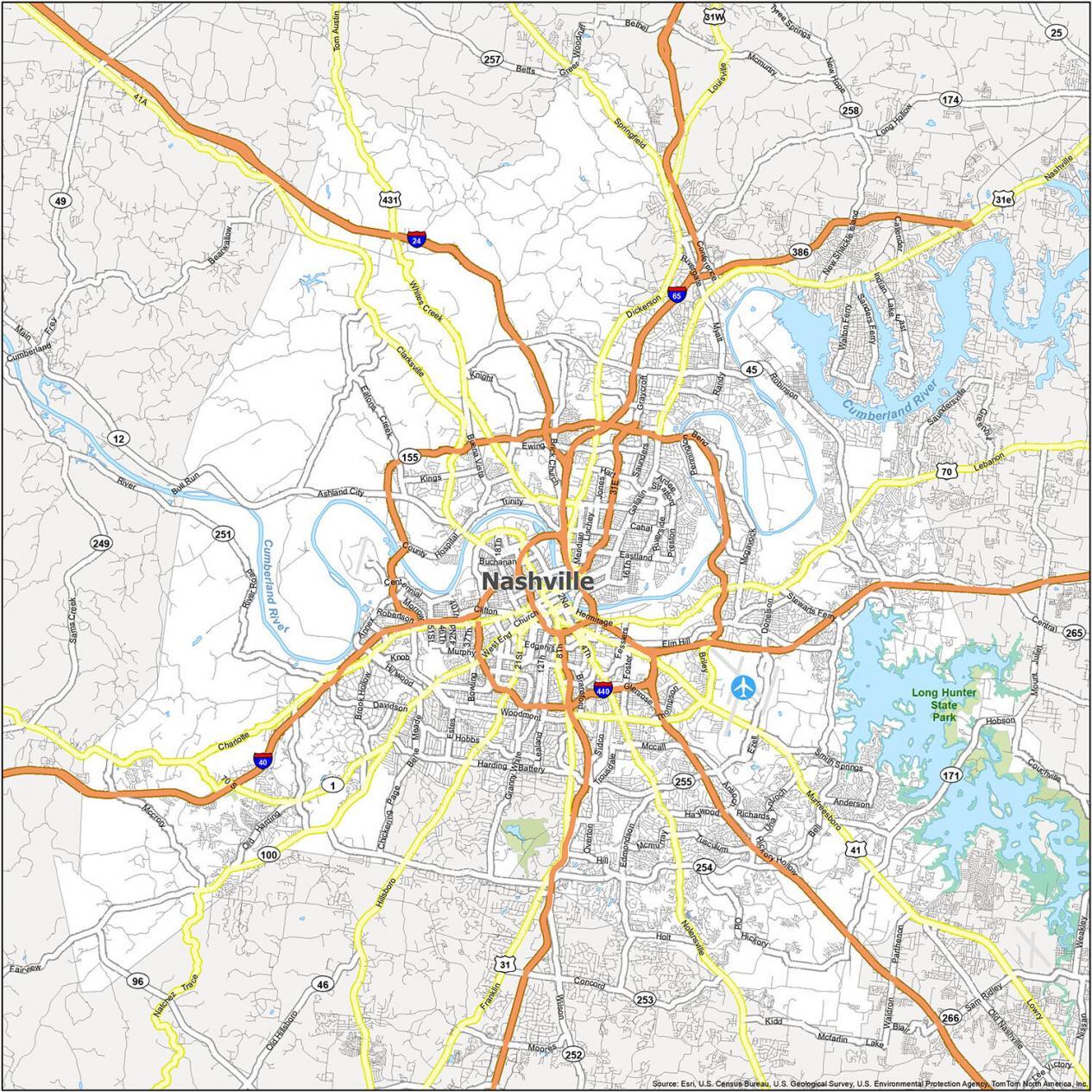 Interstate Highways: I-24, I-40, I-65, I-440
US Highways: 12, 31, 31E, 31W, 41, 45, 70, 96, 100, 155, 171, 254, 255, 265, 386, 431, Ashland City Hwy, Brick Church Pike, Charlotte Pike, Clarksville Hwy, Clarksville Pike, Dickerson Pike, Donelson Pike, Franklin Pike, Gallatin Pike, Harding Pike, Hillsboro Pike, Hobson Pike, Lebanon Pike, Murfreesboro Pike, Nolensville Pike, Springfield Hwy, Tom Austin Hwy, White Bridge Pike, Whites Creek Pike
Parkways: Briley Pky, Ellington Pky, James Robertson Pky, Natchez Trace Pky,
Major Roads: 1st Ave, 2nd Ave, 4th Ave, 8th Ave, 10th St, 14th Ave, 21st Ave, 46th Ave, 51st Ave, Alabama Ave, Baptist World Center Dr, Bell Rd, Broadway, Bull Run Rd, Central Pike, Charlotte Ave, Concord Rd, Conference Dr, Delaware Ave, Dickerson Rd, Ensley Blvd, Franklin Rd, Gallatin Ave, George L Davis Blvd, Grove Ave, Halls Ln, Harding Pl, Hermitage Ave, Hillsboro Rd, Jefferson St, Lafayette St, Lebanon Rd, Main St, Metrocenter Blvd, Murfreesboro Rd, Nolensville Rd, Old Hickory Blvd, Robinson Rd, Sidco Dr, Spring St, Terminal Dr, Thompson Ln, Trinity Ln, Wedgewood Ave, West End Ave, White Bridge Rd, Woodmont Blvd
10 Things To Do in Nashville
From the Country Music Hall of Fame to the Grand Ole Opry, get the best experience in Nashville. With this map, you can explore the city and uncover new places and things to do. This map will help you plan your next trip to the "Music City". Download this map to have your hands free and be able to explore the best of Nashville in no time.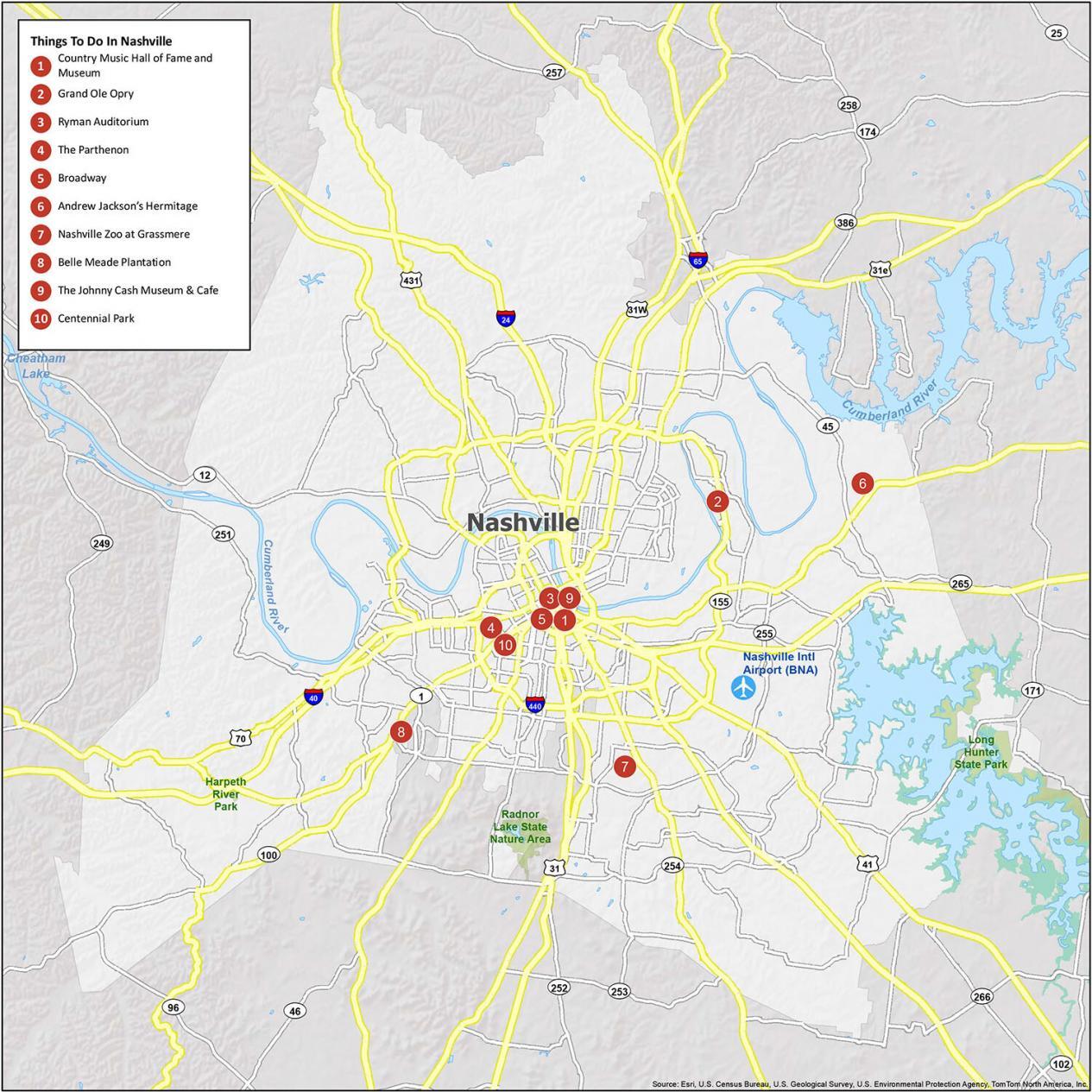 Cumberland River and J Percy Priest Reservoir are two prominent water features in Nashville. Although the city offers a lot of nature sightseeing opportunities, Nashville is mostly built for country music venues like the Country Music Hall of Fame, Grand Ole Opry, and Ryman Auditorium. If you ever go there, here are our recommendations for the top 10 things to do.
Country Music Hall of Fame and Museum
Grand Ole Opry
Ryman Auditorium
The Parthenon
Broadway
Andrew Jackson's Hermitage
Nashville Zoo at Grassmere
Belle Meade Plantation
The Johnny Cash Museum & Cafe
Centennial Park
Nashville Reference Map
This map is a simple reference map and is a great way to explore Nashville. It's easy to follow, and it provides great detail on the rivers, lakes, parks, and natural areas of Nashville. Overall, this map is the perfect way to get a lay of the land. The world is your playground. Don't wait to explore Nashville, get the map and see it for yourself.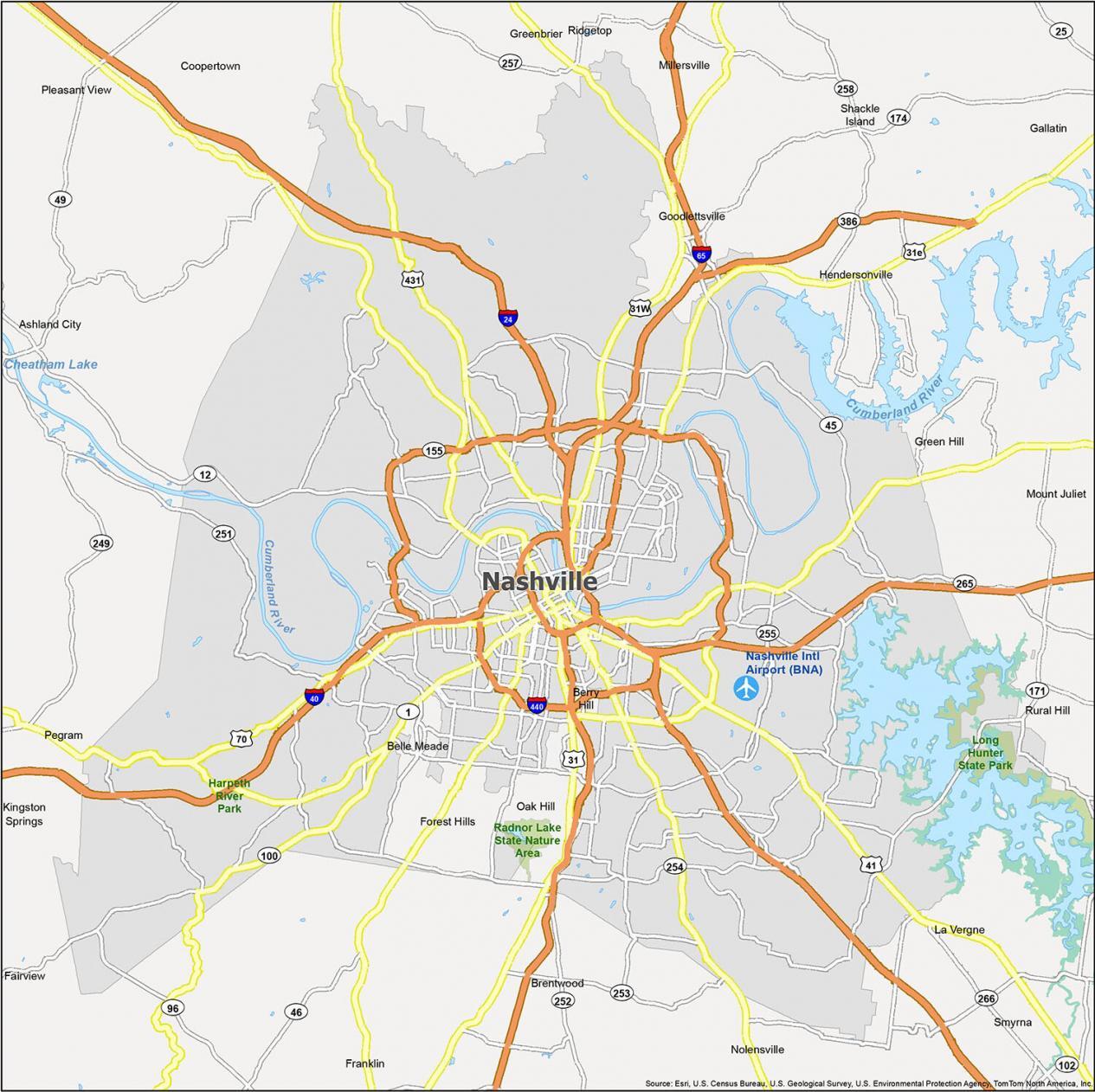 Airports: Nashville International Airport (BNA)
Cities: Belle Meade, Berry Hill, Brentwood, Fairview, Forest Hills, Franklin, Gallatin, Goodlettsville, Hendersonville, La Vergne, Millersville, Mount Juliet, Oak Hill, Pleasant View, Ridgetop
Towns: Ashland City, Coopertown, Greenbrier, Kingston Springs, Nolensville, Pegram, Smyrna
Census-designated place (CDP): Green Hill, Rural Hill, Shackle Island
Nashville map collection
Tennessee map collection
References