Map of Madison
If you're in need of a map of Madison Wisconsin, then check out our comprehensive map collection. They feature major highways, roads, places of interest, parks, and things to do.
Five major lakes stand out which include Lake Mendota, Lake Monona, Lake Waubesa, Lake Wingra, and Lake Kegonsa. Together, their combined area spans 29 square miles, which is close to 3/10 the size of the City of Madison.
Madison is the capital of Wisconsin with a population of 233,000 people. This makes it the 2nd biggest city in Wisconsin, larger than Green Bay, but smaller than Milwaukee. Let's start exploring Madison, WI with our interactive map.
Jump To: Interactive Map | Printable Road Map | 10 Things to Do | Reference Map
Madison map collection
Interactive Map of Madison
Madison is home to many historical, cultural, and recreational attractions, including museums, parks, theaters, and the Wisconsin State Capitol. With the help of Google Maps and the road network it provides, you can find your way to and around Madison, Wisconsin, whether you're a local or a tourist.
Madison Road Map
If you're visiting Madison Wisconsin, this road map will help you find where you need to go. It includes I-39, I-94, state highways, and major roads. Whether you're looking for a family-friendly getaway or an adventurous vacation, there's a Madison, Wisconsin getaway for everyone. But if you're going to travel outside the city, then this Wisconsin road map can help find all the interstates and highways in the state.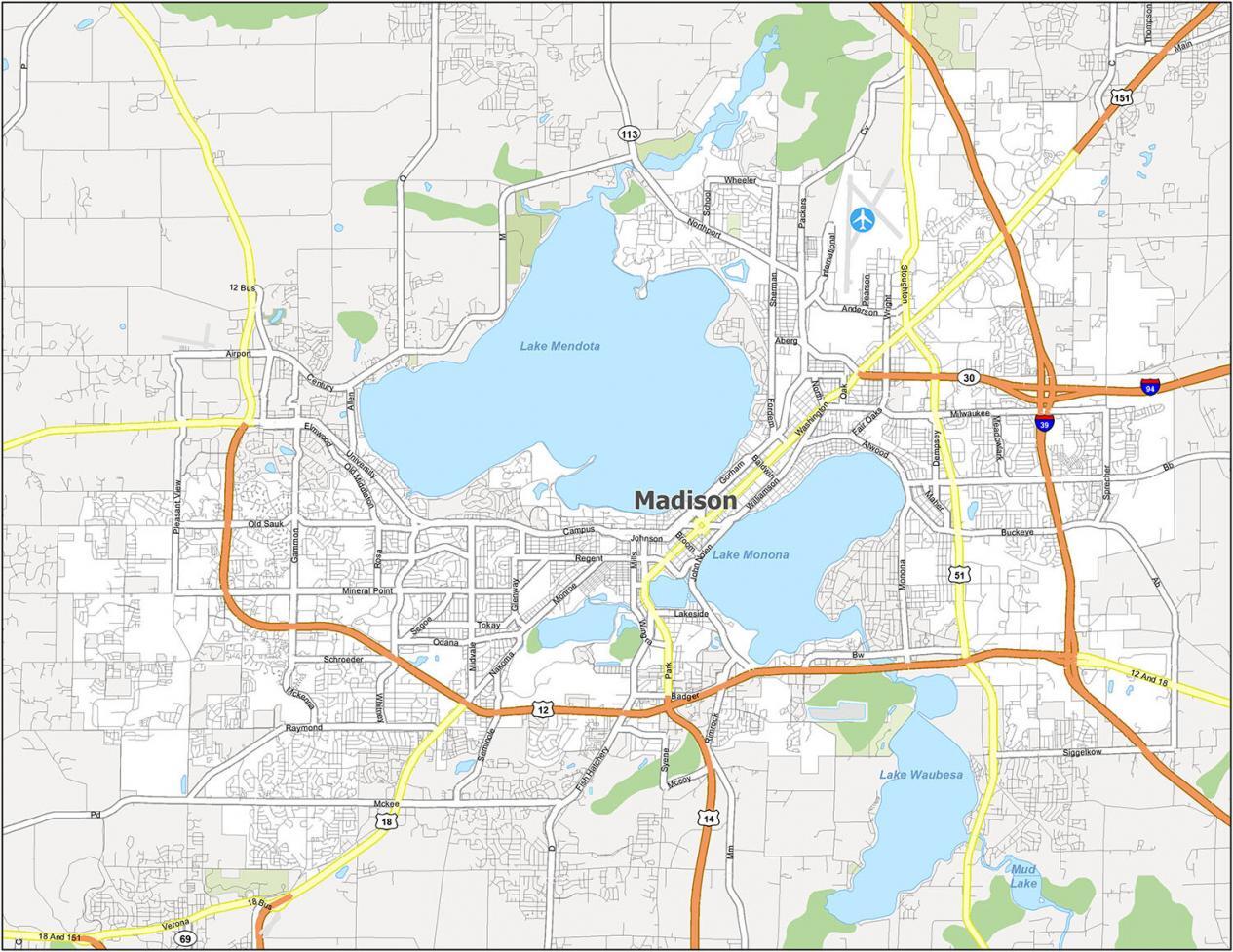 Interstate Highways: I-39, I-94
US Highways: 12, 13, 14, 18, 30, 51, 113, 151, Seminole Hwy
Major Roads: Aberg Ave, Broadway, Carroll St, Glenway St, John Nolen Dr, Main St, Mifflin St, Milwaukee St, Park St, Northport Dr, Packers Ave, Pinckney St, Stoughton Rd, Washington Ave, Williamson St
10 Things To Do in Madison
We have compiled all of the most important features of Madison Wisconsin including attractions, universities, gardens, the zoo, and more. Whether you want to spend a day strolling down the streets of Madison or just find your way around, this map is a great companion.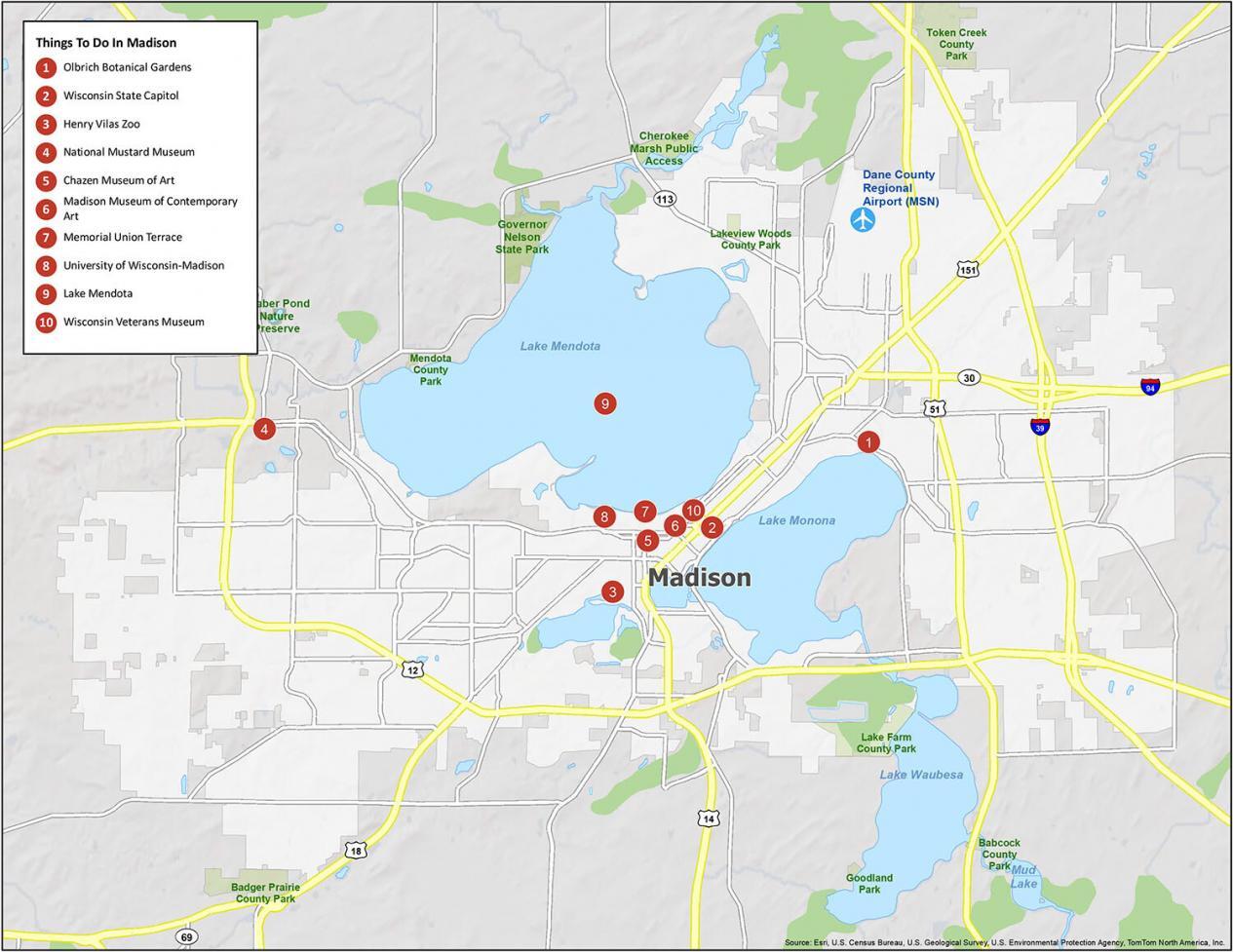 Madison, Wisconsin is best known for its lakes, cheese curds, and greenness. If you ever go there, here are our recommendations for the top 10 things to do.
Olbrich Botanical Gardens
Wisconsin State Capitol
Henry Vilas Zoo
National Mustard Museum
Chazen Museum of Art
Madison Museum of Contemporary Art
Memorial Union Terrace
University of Wisconsin-Madison
Lake Mendota
Wisconsin Veterans Museum
Madison Reference Map
Discover Madison Wisconsin with this reference map. Explore the city, and find populated areas, parks, lakes, and more using this reference map. It's perfect for planning your next vacation. With this Madison, Wisconsin map, you can now find reference information and look up what you need for Madison, Wisconsin.
Airports: Dane County Regional Airport (MSN)
Villages: Maple Bluff, McFarland, Shorewood Hills, Waunakee
Cities: Fitchburg, Madison, Middleton, Monona, Sun Prairie, Verona
Lakes: Mud Lake, Lake Mendota, Lake Monona, Lake Waubesa
Wisconsin map collection
References