New Orleans Neighborhood Map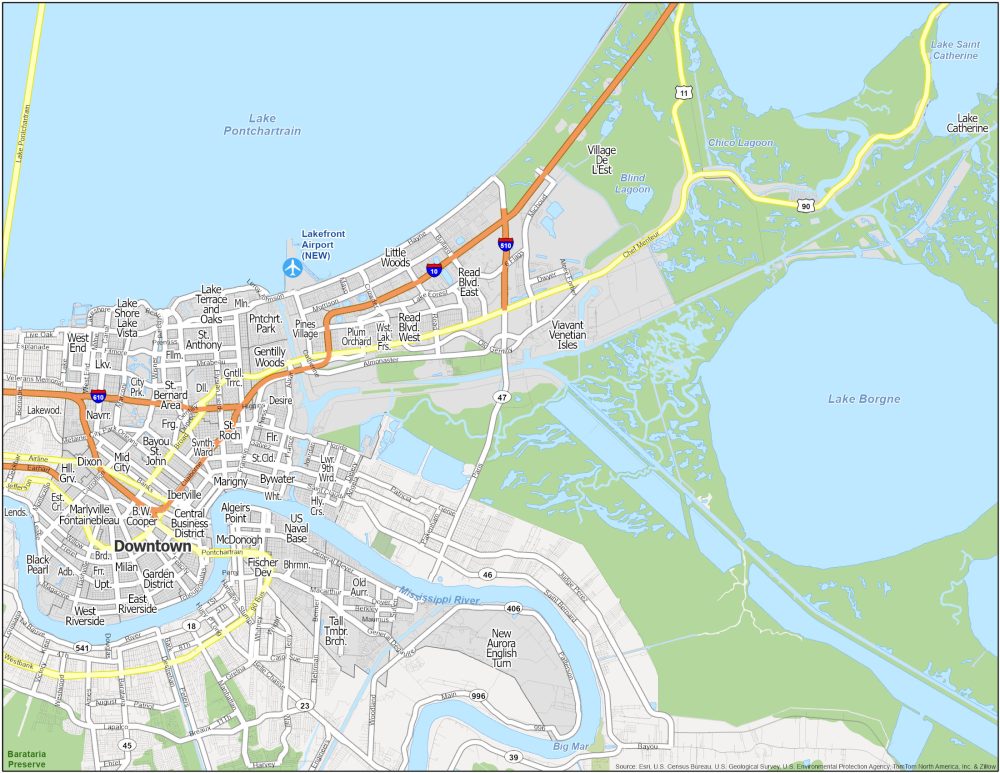 New Orleans map collection
Neighborhoods in New Orleans
Explore the communities of New Orleans through this neighborhood map, where each district reveals its unique character and allure. Immerse yourself in the lively spirit of the city, from the lively music scene in the French Quarter to the elegant antebellum architecture of the Garden District.
French Quarter
The heart and soul of New Orleans, the French Quarter, or Vieux Carré, is a historic district brimming with energy. Known for its lively music scene, bustling streets, and iconic architecture, this neighborhood is a hub for entertainment, dining, and cultural experiences.
Garden District
A picturesque and elegant neighborhood, the Garden District showcases a stunning collection of antebellum mansions and beautiful gardens. Strolling along its tree-lined streets is like stepping back in time, offering a glimpse into the city's historic past and luxurious charm.
Uptown
A residential area with a blend of historic homes and modern developments, Uptown offers a quieter side of New Orleans. It is home to prestigious universities, such as Tulane and Loyola, and features charming oak-lined streets, ideal for leisurely walks.
Warehouse District (Arts District)
This revitalized area is a hub for art, culture, and entertainment. Formerly an industrial zone, the Warehouse District now houses numerous galleries, museums, and trendy restaurants, making it a prominent destination for art enthusiasts and foodies.
Marigny
An artistic enclave, Marigny exudes a laid-back atmosphere with its colorful houses, eclectic shops, and quirky art galleries. This vibrant neighborhood is a haven for musicians, artists, and creatives, and it hosts a lively nightlife scene along Frenchmen Street.
Bywater
An up-and-coming neighborhood, Bywater boasts a hip and progressive vibe, attracting a diverse community of residents and visitors. Its street art, trendy cafes, and unique boutiques make it a trendy destination for those seeking an alternative, artsy atmosphere.
Tremé
Often referred to as the birthplace of jazz, Tremé is a historically significant neighborhood with a rich African-American heritage. Visitors can explore its cultural landmarks, jazz clubs, and experience the vibrant legacy of this influential community.
Mid-City
A diverse and family-friendly neighborhood, Mid-City is known for its beautiful City Park, which houses the New Orleans Museum of Art and the lush Botanical Garden. It offers a balance between residential tranquility and access to various recreational and cultural amenities.
Each of these popular neighborhoods contributes to the unique allure that makes New Orleans a captivating city filled with a mosaic of cultures, history, and experiences.
Louisiana map collection