Map of Oahu Island, Hawaii
Map of Oahu Island
Aloha! Let's explore the island of Oahu with this map. It features highways, roads, places of interest, and things to do. But first, get better acquainted with an interactive map of Oahu provided by Google Maps.
Oahu is Hawaii's third-largest island and is sometimes nicknamed the "Gathering Place". It's home of Pearl Harbor with Hawaii's capital city of Honolulu located in the south.
Whether you're looking for beautiful beaches, lush green forests, or a bustling city, you'll find it on this island. This detailed map of Oahu, Hawaii is perfect for the traveler in search of the perfect vacation getaway.
Jump To: Interactive Map | Printable Road Map | 10 Things to Do | Reference Map
Oahu map collection
Interactive Map of Oahu Island
The Aloha State is known for its beautiful tropical weather and clear blue waters. Whether you are looking for the best beaches, hidden hikes, or a restaurant in the city, this map is the perfect companion for your Oahu experience. From the topography to the climate, this map is the right tool to help you navigate your way around the island.
Oahu Road Map
There is a lot to see and do on Oahu, but if you don't know where to start, you may get lost on your journey. With this Oahu road map, you'll be able to find the best highways and major roads so you can better plan your route. Whether you need to know the best routes to get from point A to point B or are just looking for a scenic drive, this road map is the perfect way to find your adventure. But for a smaller scale map, take a look at our Hawaii road map for more highway information.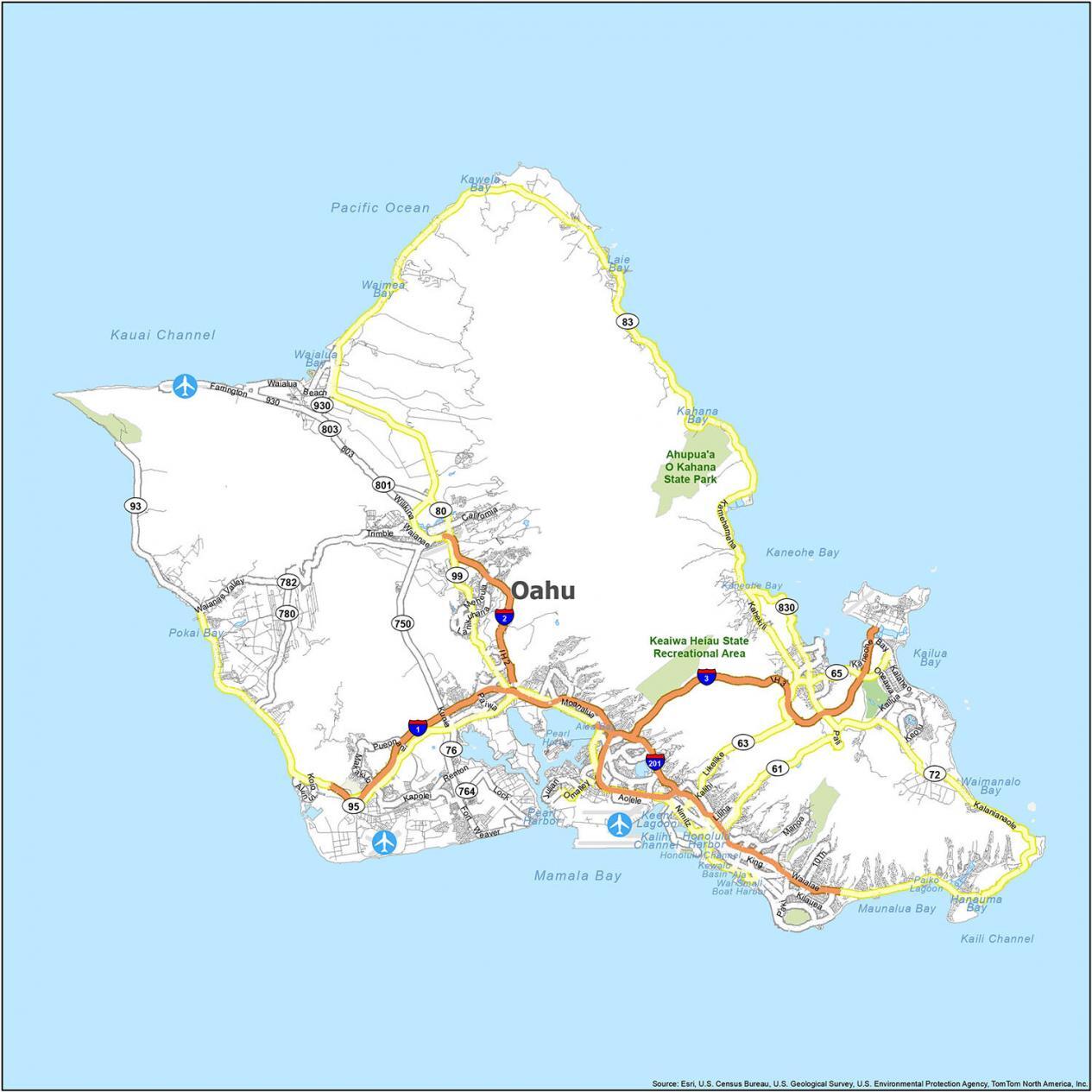 Interstate Highways: I-1, I-2, I-3, I-201
US Highways: 61, 63, 65, 72, 76, 78, 80, 83, 90, 92, 93, 98, 99, 750, 780, 782, 801, 803, 830, 930, Farrington Hwy, Joseph P Leong Hwy, Kahekili Hwy, Kalanianaole Hwy, Kamehameha Hwy, Likelike Hwy, Nimitz Hwy, Pali Hwy
Expressways/Parkways: Kapolei Pky, Meheula Pky
Major Roads: Ala Moana Blvd, Dillingham Blvd, Goodale Ave, H 201, Haleahi Rd, Halona St, Kalakaua Ave, Kalihi St, Kapiolani Blvd, Kaneohe Bay Dr, Kaukonahua Rd, Kunia Rd, Liliha St, Olomea St, Plantation Rd, Punchbowl St, School St, Terminal Access Rd, Valkenburgh St, Vineyard Blvd, Waianae Valley Rd, Wilikina Dr
10 Things To Do in Oahu
Oahu is one of the most popular travel destinations in the world. This tropical island offers a variety of activities for visitors of all ages. With this map, you can explore all the natural, cultural, and historic wonders the island has to offer. In addition, you can make the most of your time in Hawaii by visiting the top sights and hidden gems.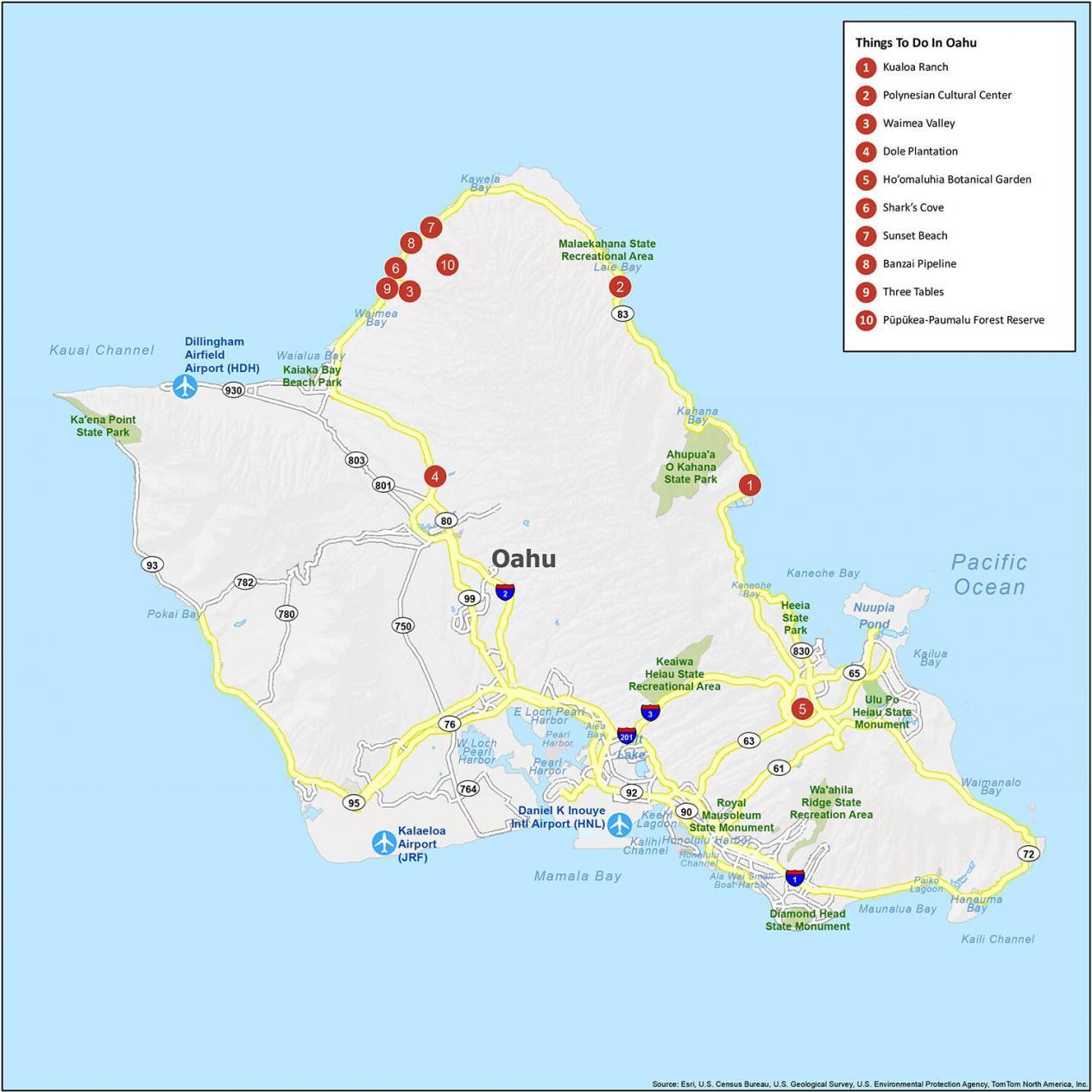 Oahu is known for its pristine sandy beaches, surf, and relaxed atmosphere. If you could only pick 10 things to do in Oahu, here is what we would recommend:
Kualoa Ranch
Polynesian Cultural Center
Waimea Valley
Dole Plantation
Ho'omaluhia Botanical Garden
Shark's Cove
Sunset Beach
Banzai Pipeline
Three Tables
Pūpūkea-Paumalu Forest Reserve
Oahu Reference Map
From the pristine North Shore to the lush east side, Oahu offers many attractions for visitors. This map allows you to get a quick view of Oahu's breathtaking bays, beautiful parks, and populated areas on the island. This map is designed for tourists and locals alike. With a detailed description of places of interest on the map, you can find everything from villages to interstate highways and more.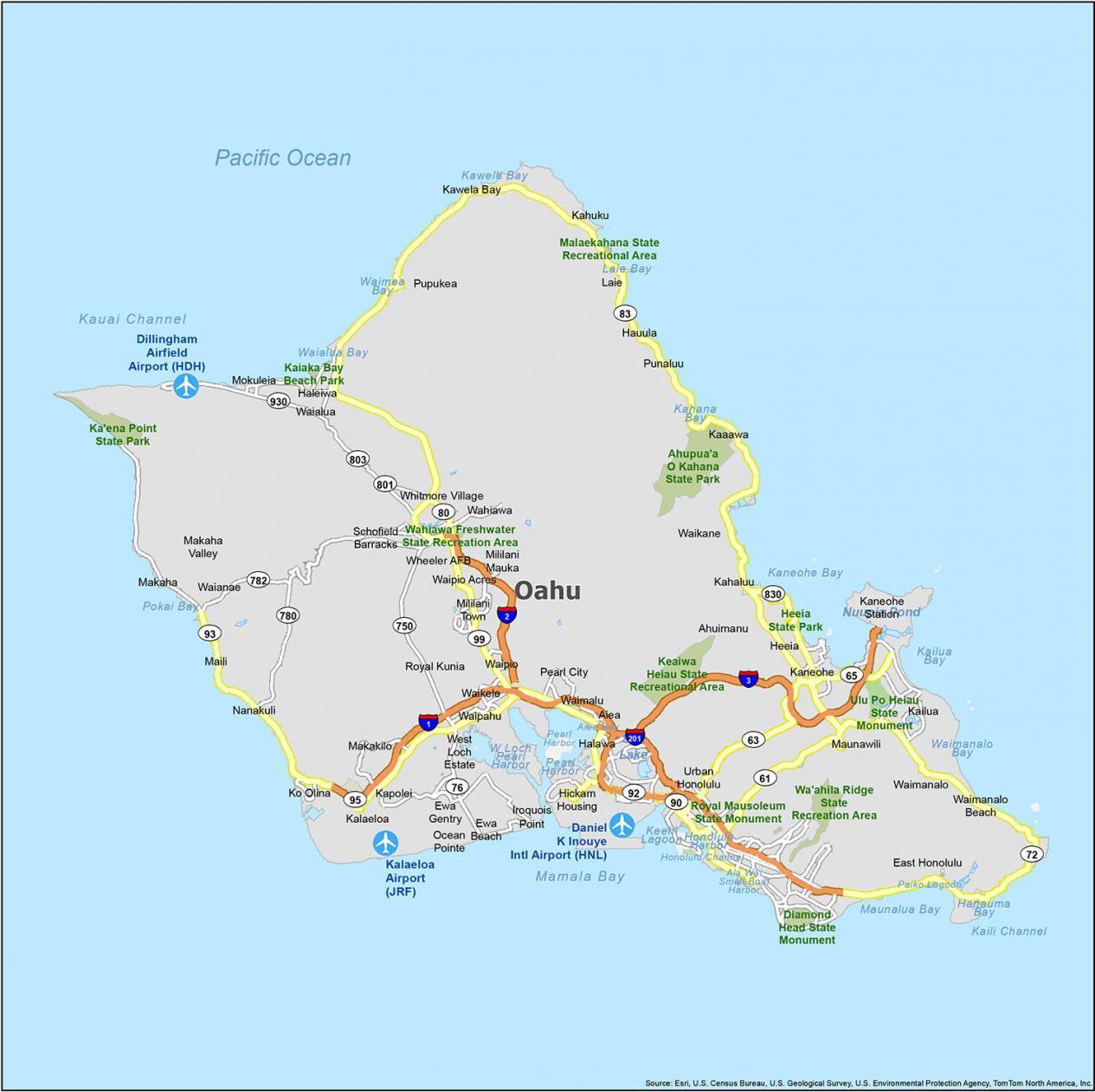 Airports: Daniel K. Inouye International Airport (HNL), Kalaeloa Airport (JRF), Dillingham Airfield Airport (HDH)
Census-designated place (CDP): Ahuimanu, Aiea, East Honolulu, Ewa Beach, Ewa Gentry, Ewa Villages, Halawa, Haleiwa, Hauula, Heeia, Hickam Housing, Iroquois Point, Kaaawa, Kahaluu, Kahuku, Kailua, Kalaeloa, Kaneohe, Kaneohe Station, Kapolei, Kawela Bay, Ko Olina, Laie, Maili, Makaha, Makaha Valley, Makakilo, Maunawili, Mililani Mauka, Mililani Town, Mokuleia, Nanakuli, Ocean Pointe, Pearl City, Punaluu, Pupukea, Royal Kunia, Schofield Barracks, Urban Honolulu, Wahiawa, Waialua, Waianae, Waikane, Waikele, Waimalu, Waimanalo, Waimanalo Beach, Waipahu, Waipio, Waipio Acres, West Loch Estate, Wheeler AFB, Whitmore Village
Hawaii map collection
References