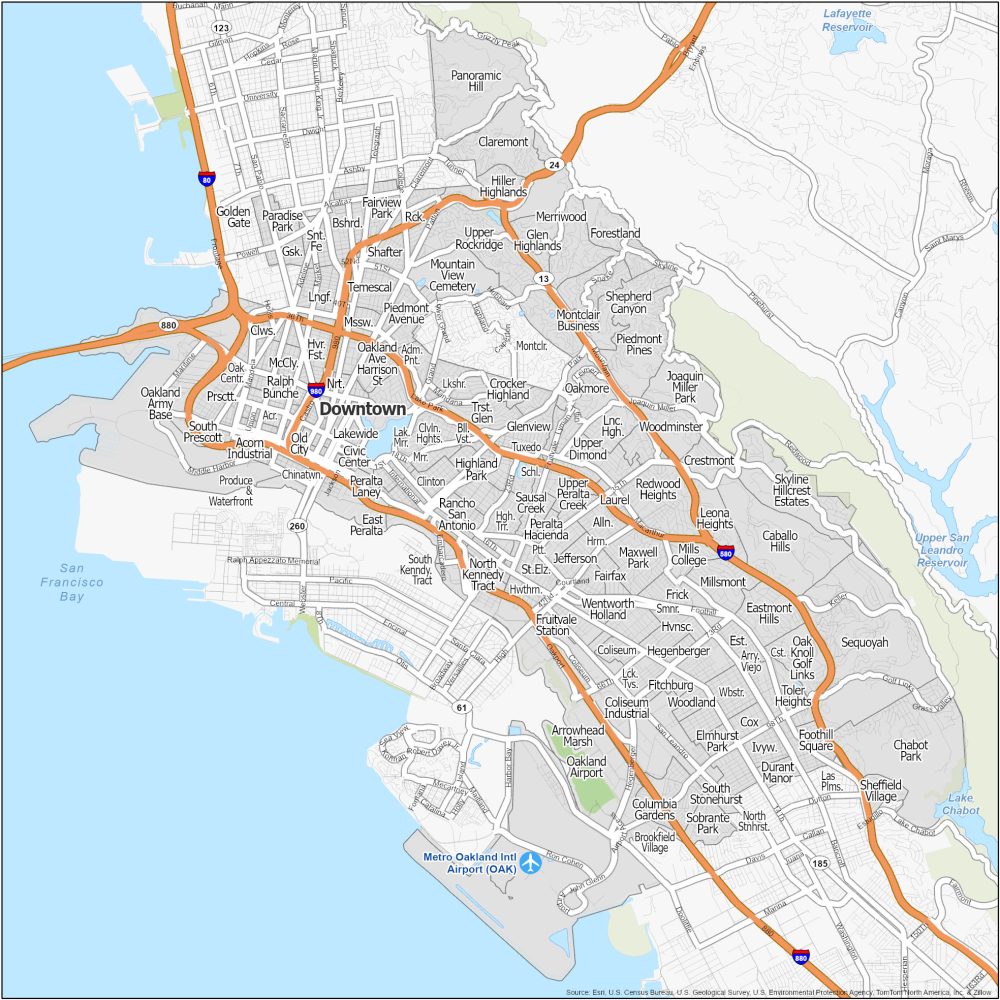 Oakland map collection
Neighborhoods in Oakland
Discover the city of Oakland through this neighborhood map. From historic landmarks to bustling community hubs, this guide will lead you to the heart of each unique area.
Downtown Oakland
The heart of the city, Downtown Oakland is a mix of skyscrapers, historic landmarks, and cultural attractions. Here, you'll find a lively atmosphere with restaurants, shops, and entertainment venues.
Chinatown
A lively and culturally rich neighborhood, Oakland's Chinatown offers a plethora of authentic Asian cuisine, vibrant markets, and colorful festivals that celebrate Chinese traditions.
Jack London Square
Nestled along the waterfront, Jack London Square is a blend of dining, entertainment, and recreational options. It's a popular spot for waterfront dining and catching live music performances.
Fruitvale
A predominantly Latino neighborhood, Fruitvale is renowned for its authentic taquerias, cultural events, and the Fruitvale Transit Village, a transportation hub that connects the community.
Montclair
Tucked into the Oakland hills, Montclair offers a serene escape from the urban bustle. With stunning views, boutique shopping, and charming cafes, it's a picturesque neighborhood to explore.
Rockridge
Known for its high-end areas, tree-lined streets and upscale boutiques, Rockridge is a stylish and affluent neighborhood. It boasts a strong sense of community and offers a diverse array of dining options.
Lake Merritt
A central jewel of Oakland, Lake Merritt is a picturesque urban lake surrounded by parks and gardens, perfect for strolling, jogging, or picnicking. The area is also home to the bustling Grand Lake Farmers Market on weekends.
Temescal
An artsy and eclectic neighborhood, Temescal is a melting pot of diverse cultures and offers a lively street scene filled with local eateries, boutiques, and art galleries.
Uptown
As the artistic and entertainment hub of Oakland, Uptown boasts a thriving nightlife scene with trendy bars, live music venues, and a diverse range of artistic experiences.
Grand Lake
Located near Lake Merritt, Grand Lake is a lively neighborhood with a mix of residential and commercial spaces. The Grand Lake Theater, Farmers Market, and diverse dining options make it a popular spot for locals and visitors alike.
These neighborhoods showcase Oakland's diversity, culture, and unique character, offering something for everyone to explore and enjoy.
California map collection