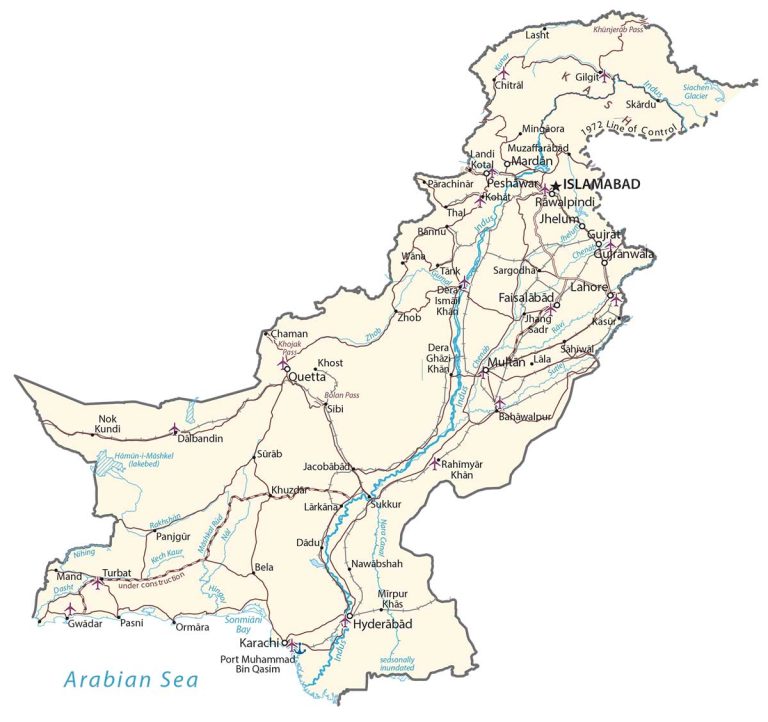 Download
This Pakistan map displays major cities, towns, roads, rivers, and provinces. Satellite imagery and an elevation map show everything from the Himalayas to the Indus River plain.
You are free to use our Pakistan map for educational and commercial uses. Attribution is required. How to attribute?
About the map
Pakistan is located in Southern Asia, along the Arabian Sea. It borders the Middle Eastern countries of Iran to the west and Afghanistan to the northwest. Additionally, it's next to India to the east and China to the northeast, which are both a part of Asia.
Pakistan is the fifth most populous country. Also, it's known for K2, which is the second-highest mountain in the world. Islamabad is the capital of Pakistan. But Karachi is the largest city.

Pakistan in Google Maps
SATELLITE IMAGERY
Pakistan Satellite Map
The geography of Pakistan is diverse, with a range of different landscapes and features. The landscape of Pakistan includes the Indus River plain in the east, the Punjab plain in the southeast, the Sindh desert in the south, the Balochistan plateau in the southwest, and the Hindu Kush and Pamir mountain ranges in the north and northwest.
PHYSICAL MAP
Pakistan Physical Map
The country of Pakistan has three major regions – Northern Highlands, the Indus River Plain, and the Balochistan Plateau. First, the northern highlands contain the Himalayas along its border with China.
At 8,610 m (28,250 ft), K2 is the highest mountain in Pakistan and the second-largest mountain in the world. The interior of Pakistan is characterized by the low-lying relief of the Punjab Plain and Indus Valley. Finally, both the Sulaiman Range and Balochistan Plateau lie in the southwestern region of Pakistan.
POLITICAL MAP
Pakistan Provincial Map
Provinces are the first-level administrative unit in Pakistan that are divided geographically and administratively. Currently, there are 4 four provinces and one federal territory. The provinces of Pakistan include Balochistan, Punjab, Sindh, and Khyber Pakhtunkhwa. Whereas the federally administered unit is the Islamabad Capital Territory.