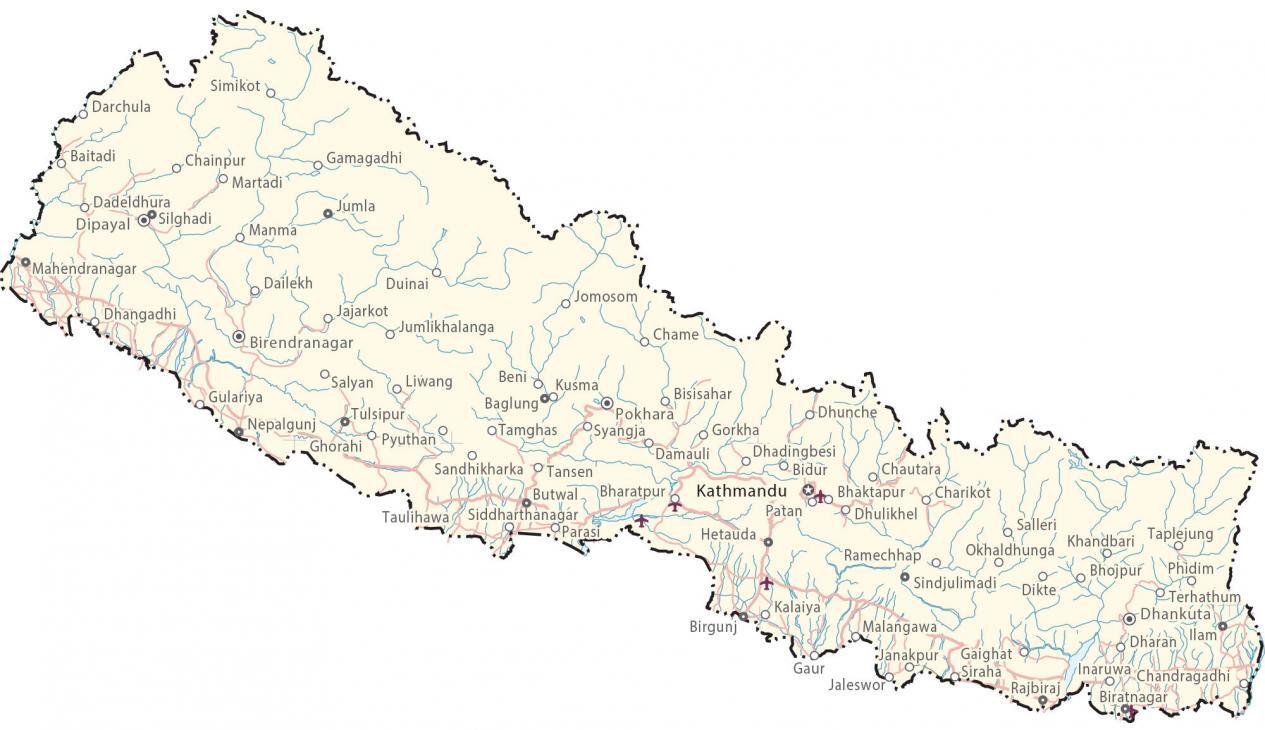 Download
This map of Nepal displays cities, roads, lakes, and rivers. Satellite imagery and an elevation contain its rugged terrain which includes the Himalayas and Mount Everest.
You are free to use our Nepal map for educational and commercial uses. Attribution is required. How to attribute?
About the map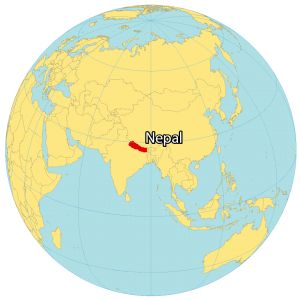 Nepal is a landlocked country in Southern Asia. It's known for being the birthplace of Buddha, the Himalayas, and being home to the tallest mountain in the world, Mount Everest.
It borders just three countries including China and Tibet to the north as well as India to the south. Also, it narrowly borders Bangladesh to the southeast by the Siliguri Corridor which separates the two countries.
Kathmandu is the capital and largest city in Nepal. But its other major cities include Pokhara, Patan, and Biratnagar. Nepal occupies an area of 147,516 square kilometers (56,956 sq mi), which is similar in size to Greece or Tajikistan.

Nepal in Google Maps
SATELLITE IMAGERY
Nepal Satellite Map
Nepal is truly a country of extremes. It's not just its larger variation in elevation, but its climate can go from tropical to polar extremes. For example, the Himal Region is a mountainous region in Nepal that has significant snowfall. Its types of landscapes vary significantly from dense jungles to snow-capped peaks. While its longest river is the Karnali River, its largest lake is Rara Lake.
PHYSICAL MAP
Nepal Elevation Map
Despite Nepal's relatively small area, the elevation has a dramatic range of variation of nearly 8,800 meters from low to high. The Himalayas dominate most of Nepal until the North Indian River Plain. In fact, Nepal possesses 8 of the tallest mountains in the world, which are all part of the Himalayas mountain range.
This includes the highest point on Earth, Mount Everest at 8,848 m (29,029 ft). Whereas its lowest point is Mukhiyapatti Musharniya at 59 meters (194 ft). Nepal's lowest-lying area occupies the south in the Terai, which lies south of the foothills of the Himalayas.