Map of San Antonio, Texas

Map of San Antonio
If you're looking for an amazing place to explore and relax, San Antonio is the perfect city for you! This San Antonio map collection can help you on your journey to "Alamo City" with a road map, reference map, and list of things to do.
The city of San Antonio is located in south-central Texas in a mostly flat and rolling hills type of terrain. The San Antonio River cuts through the city, which becomes a key part of the beloved San Antonio RiverWalk.
With its many different attractions and incredible history, it's no wonder why this city constantly sees a large influx of visitors. If you want to get started on the right foot, then explore the city with our interactive map of San Antonio, Texas.
Jump To: Interactive Map | Printable Road Map | 10 Things to Do | Reference Map
San Antonio City map collection
Interactive Map of San Antonio
Planning a trip to San Antonio? Use this interactive map to get the most out of your visit. This map is a great way to familiarize yourself with the city's layout and see where you might want to visit. You will find an abundance of attractions, restaurants, and hotels on this road map, including the iconic museum, the Alamo. Whether you're looking for great places to eat, places to shop, or places to visit, this interactive map will help you get around the city and find the best spots.
San Antonio Road Map
Save yourself the hassle of planning and all the stress of getting lost. This San Antonio road map will help you get from point A to point B by displaying interstates, highways, and major roads. Each highway is color-coded with labels so you'll be able to explore it with ease. Whether you are visiting San Antonio for business or leisure, our free printable road map will help you navigate and explore the city with little effort. But if you plan on getting out of the city, take a look at our Texas road map for more highway information.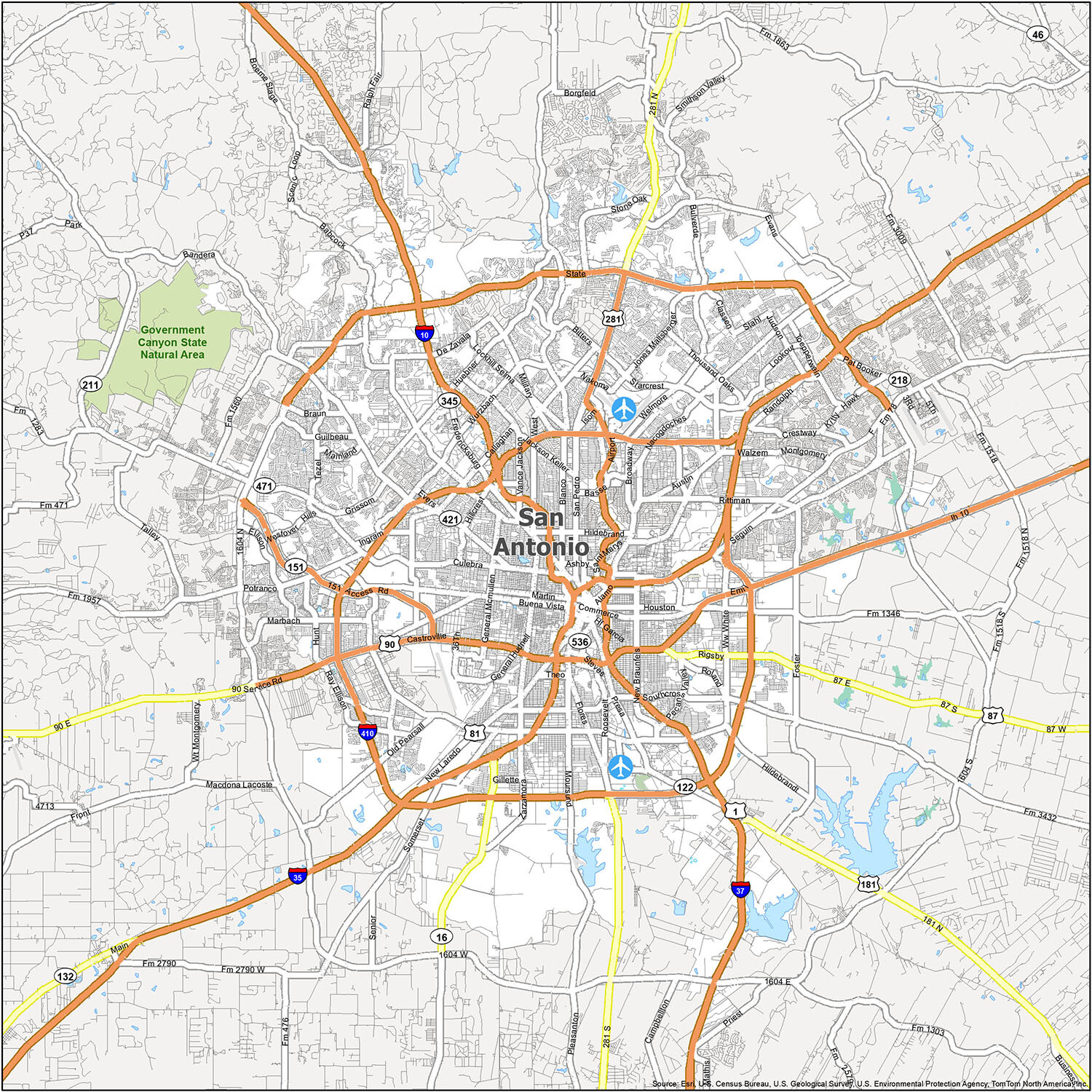 Interstate Highways: I-10, I-35, I-37, I-410
US Highways: 1, 16, 81, 87, 90, 122, 151, 181, 281, 410, 421, 422, 536, 537, Austin Hwy, Charles Anderson Loop, Harry Wurzbach Hwy, Military Hwy, New Laredo Hwy, Old US Hwy 90, State Loop
Expressways/Parkways: AT&T Center Pky, Jourdanton Fwy, Panam Expy, Stone Oak Pky, Wurzbach Pky
Major Roads: 1604 E, Airport Blvd, Alamo Plz, Alamo St, Bandera Rd, Bristlecone St, Broadway St, Culebra Rd, Durango Blvd, Guilbeau Rd, Hf Garcia Blvd, Judge H F Garcia Memorial Blvd, Losoya St, Military Dr, New Guilbeau Rd, Probandt St, Rigsby Ave, Roland Rd, Roosevelt Ave, San Pedro Ave, Steves Ave, Travis St, White Rd
10 Things To Do in San Antonio
If you're in the Lone Star state, this map is the perfect guide for a trip to San Antonio. It includes detailed information on the city's best attractions and has everything you need to plan your trip. Get a personalized itinerary and explore the city with the top 10 things to do. If you are planning a trip to San Antonio and want to know the best places to visit, plan your trip with this map. Download it and print it today.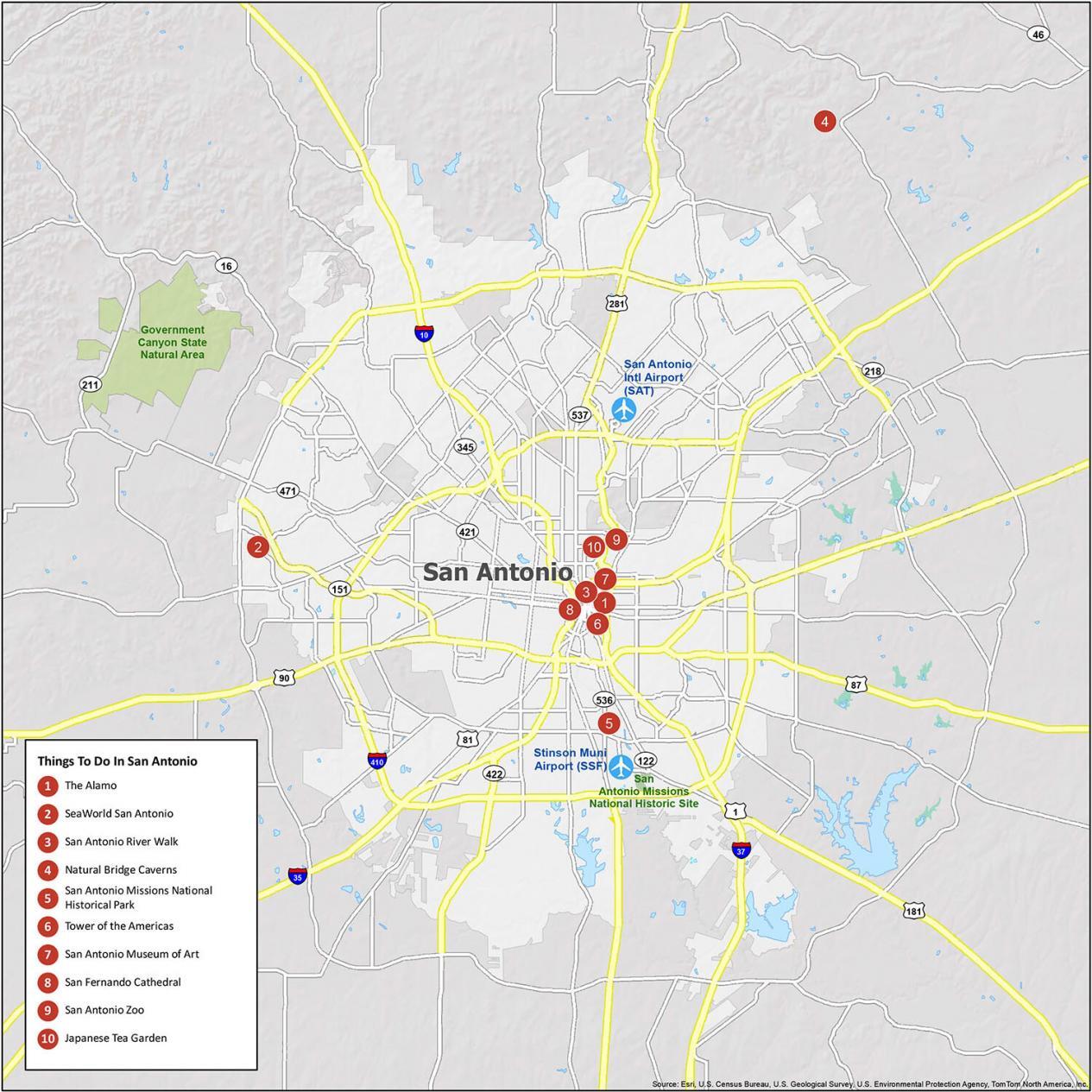 San Antonio is known for the Alamo and its rich Spanish explorer history. From SeaWorld San Antonio to the Alamo, we highly recommend these 10 things to do.
The Alamo
SeaWorld San Antonio
San Antonio River Walk
Natural Bridge Caverns
San Antonio Missions National Historical Park
Tower of the Americas
San Antonio Museum of Art
San Fernando Cathedral
San Antonio Zoo
Japanese Tea Garden
San Antonio Reference Map
This map brings together a wealth of information about the different neighborhoods, airports, districts, and natural areas that San Antonio has to offer. Our reference map also displays points of interest that will help you make the most of your trip. But if you want to sketch out your journey with this map, this is also a good way to use this map too.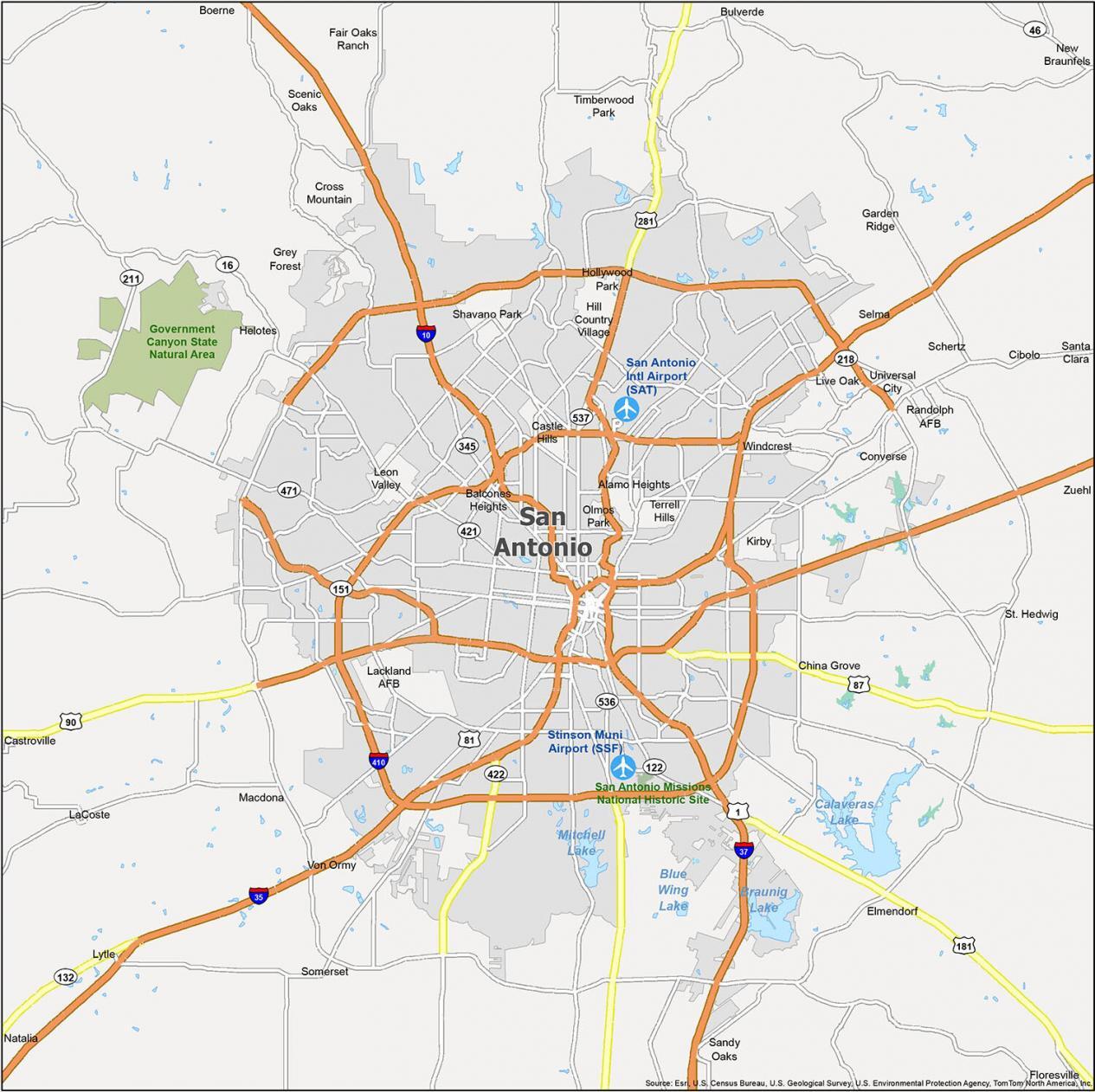 Airports: San Antonio International Airport (SAT)
Cities: Alamo Heights, Balcones Heights, Boerne, Bulverde, Castle Hills, Castroville, Cibolo, Converse, Elmendorf, Fair Oaks Ranch, Floresville, Garden Ridge, Grey Forest, Helotes, Hill Country Village, Kirby, LaCoste, Leon Valley, Live Oak, Lytle, Natalia, New Braunfels, Olmos Park, San Antonio, Sandy Oaks, Santa Clara, Schertz, Selma, Shavano Park, Somerset, Terrell Hills, Universal City, Von Ormy, Windcrest
Towns: China Grove, Hollywood Park, St. Hedwig
Census-designated place (CDP): Cross Mountain, Lackland AFB, Macdona, Randolph AFB, Scenic Oaks, Timberwood Park, Zuehl
San Antonio, Texas maps
Texas map collection
References