Map of Tacoma
If you need a map of Tacoma, download any of these from our collection. It includes a road map, interactive map, reference map, and a list of things to do.
Tacoma is the second-largest city in the state of Washington, after Seattle and Spokane. It is located in the western part of the state on the coast of Puget Sound.
Tacoma is known as "The City of Destiny", and it is home to several world-class universities, as well as museums, parks, and other attractions. With the growing urban scene and access to public transit, Tacoma is an easy city to explore.
Jump To: Interactive Map | Printable Road Map | 10 Things to Do | Reference Map
Tacoma map collection
Interactive Map of Tacoma
Find your way around the city with this interactive map that's loaded with amazing highlights from Tacoma. This map will allow you to explore every nook and cranny including parks, museums, hotels, restaurants, and more. But it's ideal because you can zoom in and out, which is a big help if you're looking for a specific location.
Tacoma Road Map
This map will help you gain a better understanding of where you are and the lay of the land. Whether you're a Tacoma native or visiting from out of town, this Tacoma road map will give you all the information you need to explore Tacoma and the surrounding region. It includes interstates, highways, and major roads so you can explore this city with ease. But if you plan on doing a road trip outside Tacoma, refer to our Washington road map for highway information outside the city.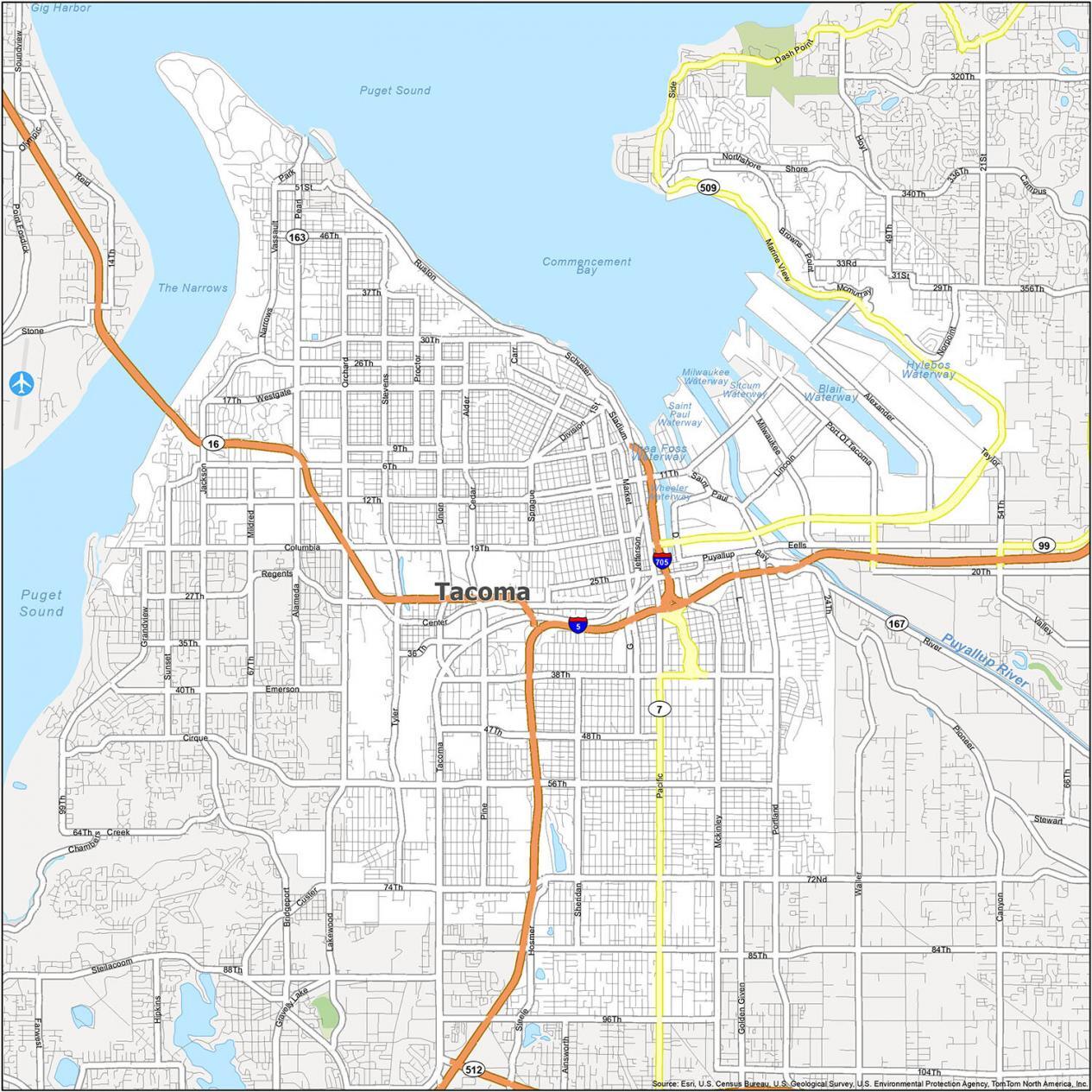 Interstate Highways: I-5, I-705
US Highways: 7, 16, 167, 509, Pacific Hwy
Parkways: Northshore Pky, Schuster Pky, Shore Pky
Major Roads: 38th St, 56th St, Browns Point Blvd, Division Ave, Grandview Dr, Jefferson Ave, Marine View Dr, McKinley Ave, Orchard St, Pacific Ave, Port Of Tacoma Rd, Pioneer Way, River Rd, Sheridan Ave, Side Dr, Sprague Ave, Stadium Way, Tacoma Way
10 Things To Do in Tacoma
Explore the hidden gems of Tacoma, Washington with the help of this map. This map includes all the major attractions that Tacoma has to offer. From Dash Point State Park to the Museum of Glass, you will be able to explore the best of Tacoma even if you are not from the area.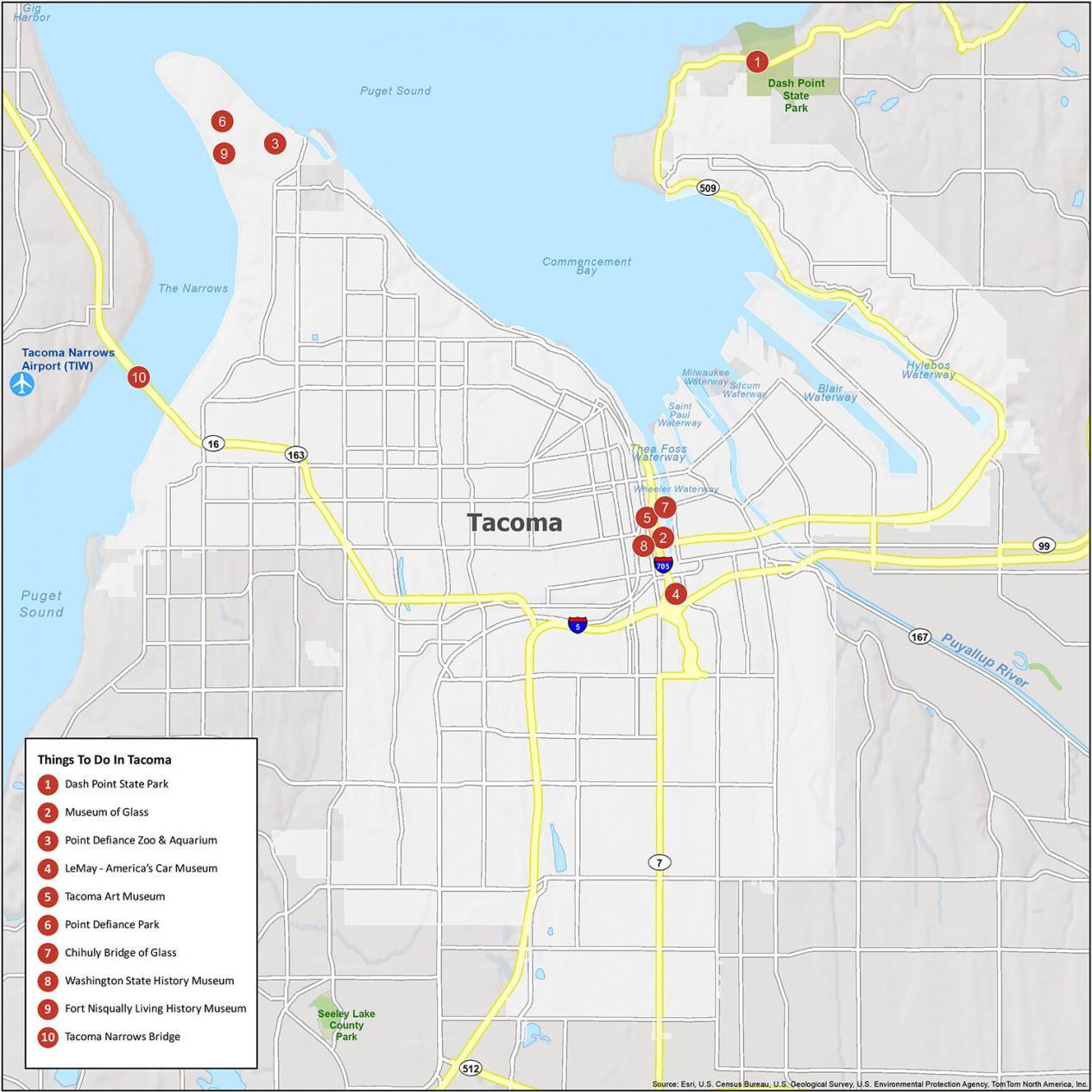 Tacoma is known for glass, railroads, and Mount Rainier. If you ever travel to Tacoma in Seattle, we recommend these 10 things to do.
Dash Point State Park
Museum of Glass
Point Defiance Zoo & Aquarium
LeMay – America's Car Museum
Tacoma Art Museum
Point Defiance Park
Chihuly Bridge of Glass
Washington State History Museum
Fort Nisqually Living History Museum
Tacoma Narrows Bridge
Tacoma Reference Map
Explore Tacoma without any second-guessing. This reference map has been designed to provide an overview of the city and a sense of what the city is like. It includes everything from nearby cities, towns, lakes, rivers, parks, and the Tacoma Narrows Airport in one handy reference map.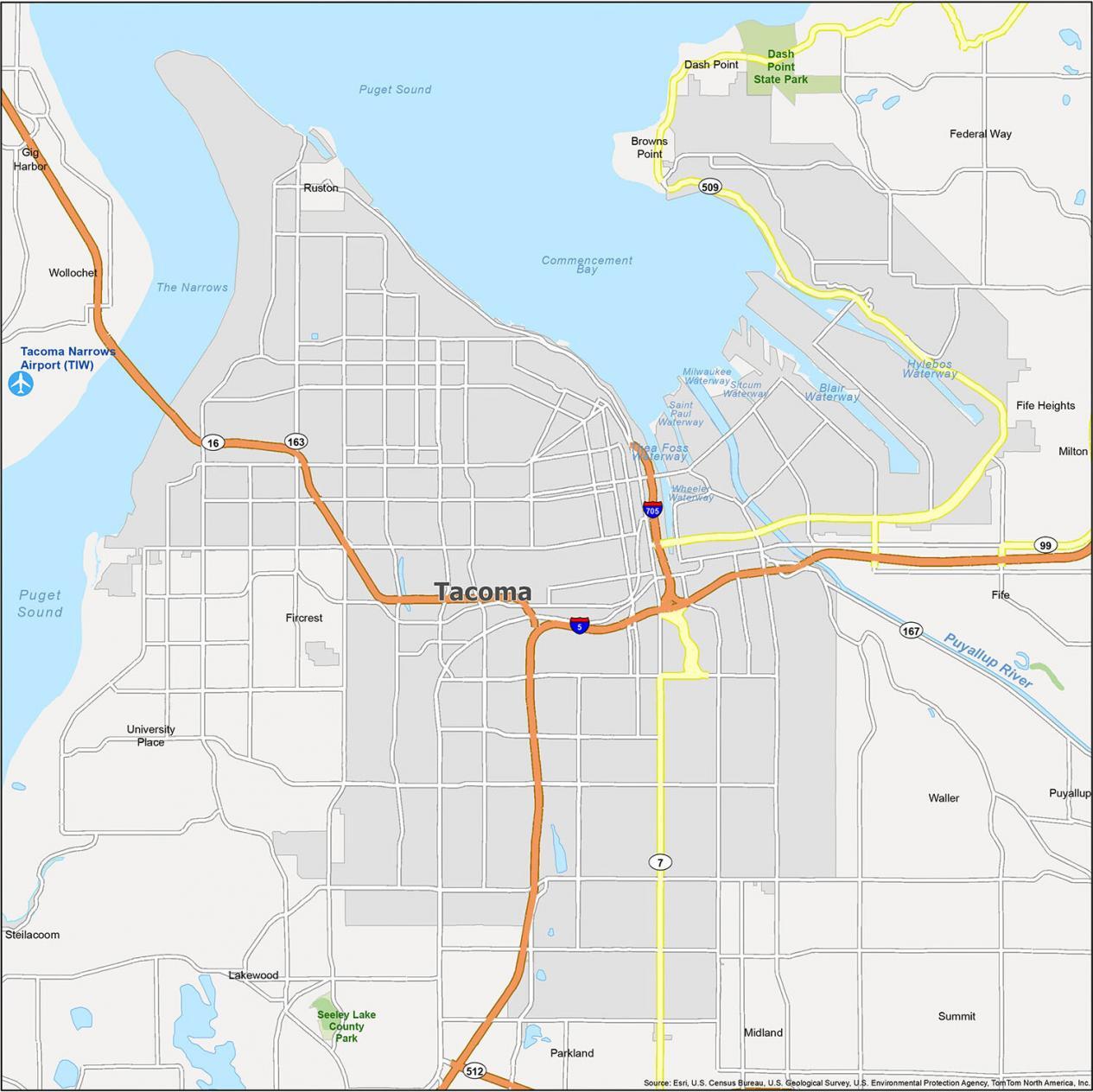 Airports: Tacoma Narrows Airport (TIW)
Cities: Federal Way, Fife, Fircrest, Gig Harbor, Lakewood, Milton, Puyallup, Tacoma, University Place
Census-designated place (CDP): Browns Point, Dash Point, Fife Heights, Maplewood, Midland, Parkland, Summit, Vashon, Waller, Wollochet
Towns: Ruston, Steilacoom
Lakes/Rivers: Blair Waterway, Commencement Bay, Hylebos Waterway, Milwaukee Waterway, Puget Sound, Puyallup River, The Narrows, Saint Paul Waterway, Sitcum Waterway, Thea Foss Waterway, Wheeler Waterway
Parks/Recreation: Dash Point State Park, Seeley Lake County Park
Washington map collection