Tunisia Map – Cities and Roads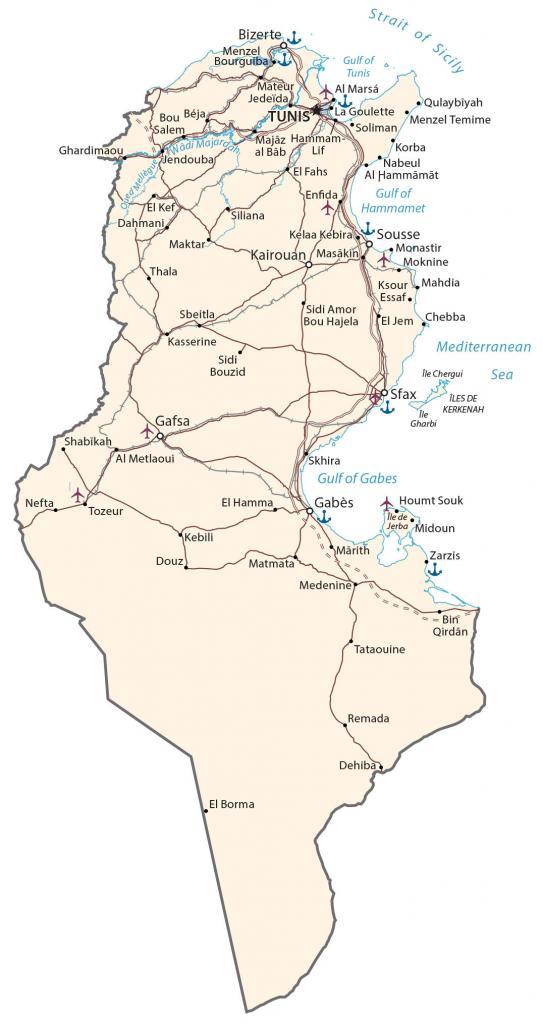 Download
This Tunisia map displays major cities, towns, roads, and rivers. It includes key features such as the Sahara Desert, the Atlas Mountains, and the Mediterranean coastline.
You are free to use our Tunisia map for educational and commercial uses. Attribution is required. How to attribute?
About the map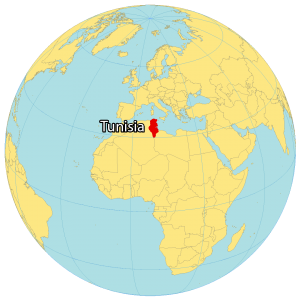 Tunisia is a country in Northern Africa, next to the Mediterranean Sea. Additionally, it contains Africa's northernmost point at Cape Angela. Tunis is the capital and largest city of Tunisia. Other major cities are Sfax, Sousse, and Kairouan.
Tunisia borders just two countries. While Algeria is situated to the west, Libya is located to the east. Tunisia is known for its historical ruins, mosques, Mediterranean coastline beaches, Atlas Mountains, and the Sahara Desert.

Tunisia in Google Maps
SATELLITE IMAGERY
Tunisia Satellite Map
Tunisia occupies an area of 163,610 square kilometers (63,170 sq mi). In comparison, it's smaller than Senegal but larger than Malawi. The country lies between 30° and 38°N latitudes so its climate is hot. Although the Sahara Desert is a dry central plain, its climate varies because of its large north-south extent.
Tunisia's coastline is 1,148 kilometers (713 mi) long across the Mediterranean Sea. While the Medjerda River is the longest in Tunisia at 450 kilometers (280 mi), Chott el Jerid is the largest salt lake in Tunisia.
PHYSICAL MAP
Tunisia Physical Map
Tunisia had a diverse mix of terrain including plains, deserts, low rolling hills, and mountains. The largest desert in the world, the Sahara, extends into the southern part of Tunisia and covers the region in sandy dunes.
Whereas northwestern Tunisia contains the Aures Mountains, which are an extension of the Atlas Mountains. At 1,544 meters (5,066 ft), Mount Ash-Sha'nabi (Jebel ech Chambi) is the highest peak in Tunisia.
POLITICAL MAP
Tunisia Governorates Map
Governorates are the first-level administrative units in Tunisia that are divided geographically and administratively. Currently, there are 24 governorates in Tunisia. Then, its second-level administrative unit is districts.