Map of Morocco – Cities and Roads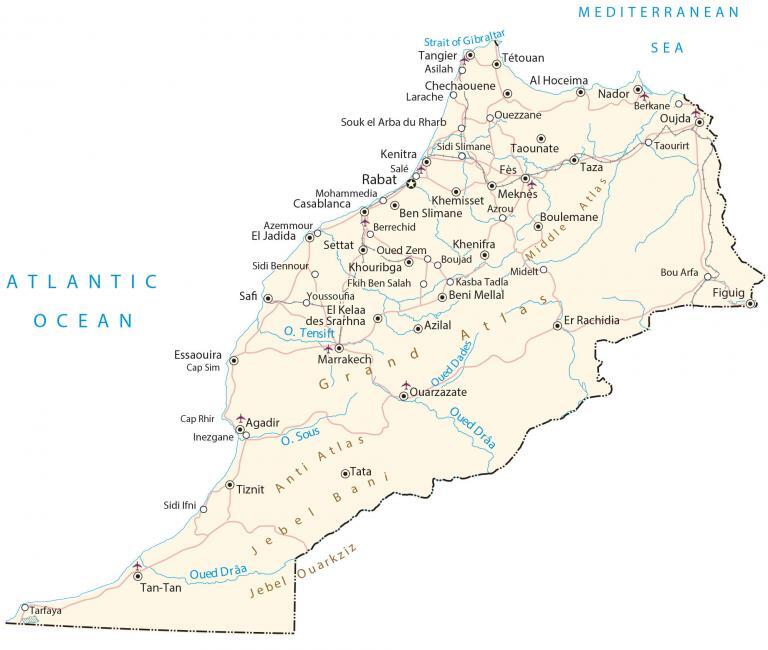 Download
This map of Morocco contains satellite imagery, elevation, physical features, and regions. It contains cities, rivers, lakes, highways, parks, mines, elevation points, and archaeological sites.
You are free to use our Morocco map for educational and commercial uses. Attribution is required. How to attribute?
About the map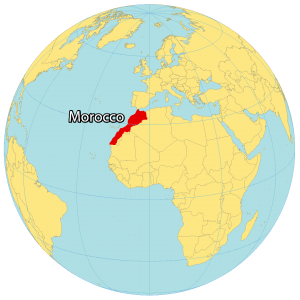 Morocco is located in Northwestern Africa. It borders Algeria to the east, as well as the disputed territory of Western Sahara to the south. Also, it's a short distance of 13 kilometers that separates Morocco from Spain to the north by the Strait of Gibraltar.
To the west, it shares a coastline with the North Atlantic Ocean that extends for 2380 kilometers (1480 mi). Whereas its coastline with the Mediterranean Sea to its north is approximately 820 kilometers (510 mi). Morocco's capital city is Rabat but the largest city is Casablanca.

Morocco in Google Maps
IMAGERY
Morocco Satellite Map
Some of the key land features are the Moroccan Desert, coastal beaches, and the Rif. First, the Sahara Desert is the largest arid desert in the world. It all starts in Morocco with a mix of rock and sand. A second prominent feature is its azure coasts filled with beaches and diversity. But in the north, there is a fertile coastal plain near the Mediterranean Sea.
This includes the cultural region of the Rif, which was historically occupied by Spain. Overall, Morocco has an area of 446,550 square kilometers (172,410 sq mi), not including the disputed area of Western Sahara to the southeast. This makes the country similar in size to Sweden or the state of California.
PHYSICAL
Morocco Physical Map
The most prominent mountain range in Morocco is the Atlas Mountains. Not only is this mountain chain part of Morocco, but it extends 2,500 km into both Algeria and Tunisia. One of its key features is its snow-capped peaks, which are known for their ski slopes.
Mount Toubkal is situated within the High Atlas mountain range in Central Morocco. At 4,165 meters (13,665 ft), it's the highest peak on the mainland. Whereas its lowest point is Sebkhat Tah at 55 meters (180 ft) below sea level).
ADMINISTRATIVE
Morocco Regions Map
Regions are the first-level administrative unit in Morocco. Currently, there are 12 provinces within Morocco. Additionally, there is 1 region entirely within the disputed territory of Western Sahara and two that are partially within. Next, regions can be subdivided into provinces/prefectures.