Egypt Map – Cities and Roads

Download
This map of Egypt contains major cities, roads, rivers, and lakes. It features an elevation map and satellite imagery showing the topography of the Nile River and its vast number of deserts.
You are free to use our Egypt map for educational and commercial uses. Attribution is required. How to attribute?
About the map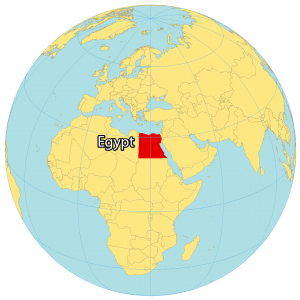 Egypt is a country located in northeastern Africa along the Mediterranean and the Red Sea. It borders Libya to the west, Sudan to the south, as well as Israel and the Gaza Strip (Palestine) to the east. Cairo is the capital and largest city of Egypt with the largest metropolitan area in the Middle East.
Egypt has a rich history as one of the world's earliest and greatest civilizations. For example, the Great Pyramids of Giza and the Great Sphinx are absolute marvels and world-renowned monuments. Also, Egyptians first used hieroglyphics and pioneered developments in agriculture and human settlements.

Egypt in Google Maps
IMAGERY
Egypt Satellite Map
Egypt occupies an area of 1,010,408 square kilometers (390,121 sq mi), which is the 12th largest in Africa. This makes the country's total area slightly smaller than Mauritania and larger than Tanzania.
The longest river in the world, the Nile River, flows northward through Egypt for about 750 miles (1,200 km). When it terminates at the Mediterranean Sea, it spreads out and forms the triangular-shaped Nile Delta. This area is home to 40% of its population (around 95 million people) and its fertile land is completely covered with farming and agriculture.
HILLSHADE
Egypt Elevation Map
Egypt is characterized by its vast swaths of deserts throughout the country like the Great Sand Sea and the largest hot desert in the world, the Sahara Desert. But the country also has several low-lying mountains and of course the Nile River and Delta.
In the southern region, the landscape contains low mountains from the Gilf Kebir Plateau. Further east, the terrain becomes more mountainous. Whereas Northern Egypt has wide valleys near the Nile and desert to the east and west. At 2,629 m (8,625 ft) in height, Mount Catherine is Egypt's highest peak.