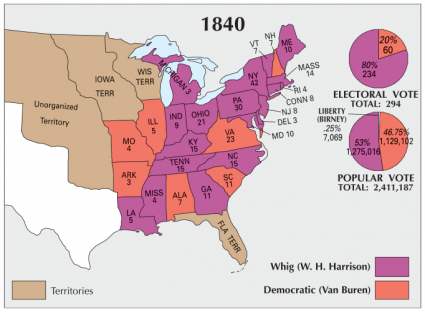 During Martin Van Buren's tenure as president, the economy was struggling. As a result, his popularity plummeted along with his vice-president.
As a tale of the times, the Whig Party gained some serious steam. It was William Henry Harrison, who led this party to victory with 234 electoral votes.
But he died only 31 days in office from pneumonia. Due to his death, vice president, John Tyler, took his place by default.

« PREVIOUS
1836 Election Map

NEXT »
1844 Election Map
William Henry Harrison
Ninth president of the United States
Vice President: John Tyler
Total Electoral Votes: 234
Electoral Vote: 80%
Political Party: Whig Party

1840 Election Timeline
1828: Andrew Jackson
1832: Andrew Jackson
1836: Martin Van Buren
1840: William Henry Harrison
1844: James Polk
1848: Zachary Taylor
1852: Franklin Pierce
1856: James Buchanan

US Election Map Collection