Zachary Taylor vs Lewis Cass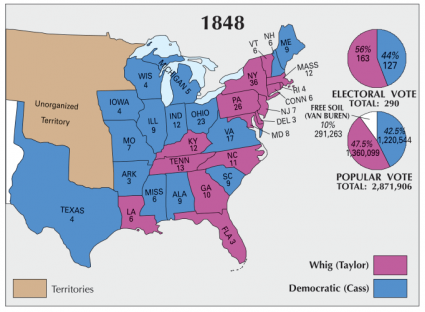 James Polk decided to not run for president again because he accomplished most of what he wanted to do in office.
The newly formed states of Florida, Texas, Iowa and Wisconsin could vote in this election.
In 1848, Zachary Taylor from the Whig Party became the 12th president of America. While he won with only 163 electoral votes, his main opponent Lewis Cass had 127.

« PREVIOUS
1844 Election Map

NEXT »
1852 Election Map
Zachary Taylor
Twelfth president of the United States
Vice President: Millard Fillmore
Total Electoral Votes: 163
Electoral Vote: 56%
Political Party: Whig Party

1848 Election Timeline
1836: Martin Van Buren
1840: William Henry Harrison
1844: James Polk
1848: Zachary Taylor

1852: Franklin Pierce
1856: James Buchanan
1860: Abraham Lincoln
1864: Abraham Lincoln

US Election Map Collection