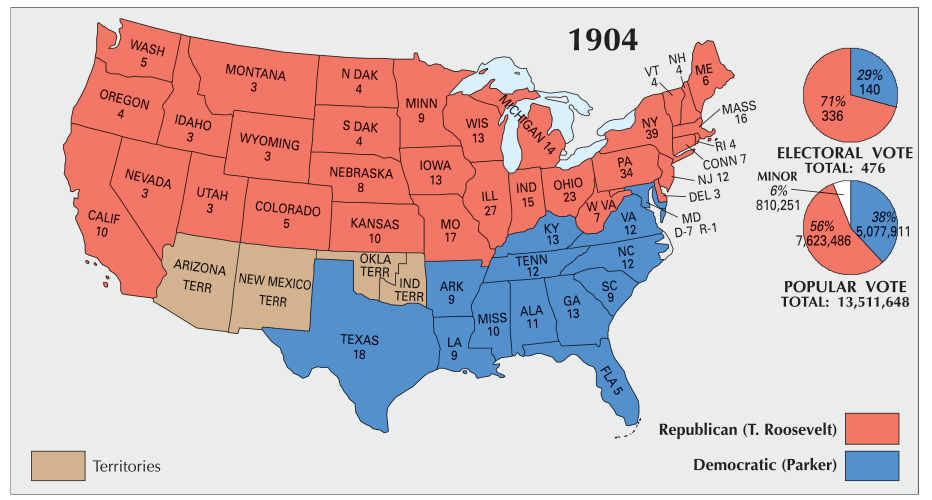 Election of 1904 Summary
After McKinley's assassination, Theodore Roosevelt filled in the shoes of the president. From here on out, the government created the Secret Service, a task force dedicated to protecting the president.
Theodore Roosevelt was a conservationist, naturalist, and was extremely popular in the country. The Democrats nominated Alton Parker, who actually agreed with most issues.
The 1904 US election turned out to be a landslide victory for Theodore Roosevelt. Overall, he earned 334 electoral votes compared to just 140 from Parker.

« PREVIOUS
1900 Election Map

NEXT »
1908 Election Map
Theodore Roosevelt
Twenty-sixth president of the United States
Vice President: Charles W. Fairbanks
Total Electoral Votes: 334
Electoral Vote: 71%
Political Party: Republican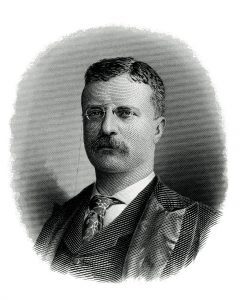 1904 Election Timeline
1892: Grover Cleveland
1896: William McKinley
1900: William McKinley
1904: Theodore Roosevelt

1908: William Taft
1912: Woodrow Wilson
1916: Woodrow Wilson
1920: Warren Harding

US Election Map Collection