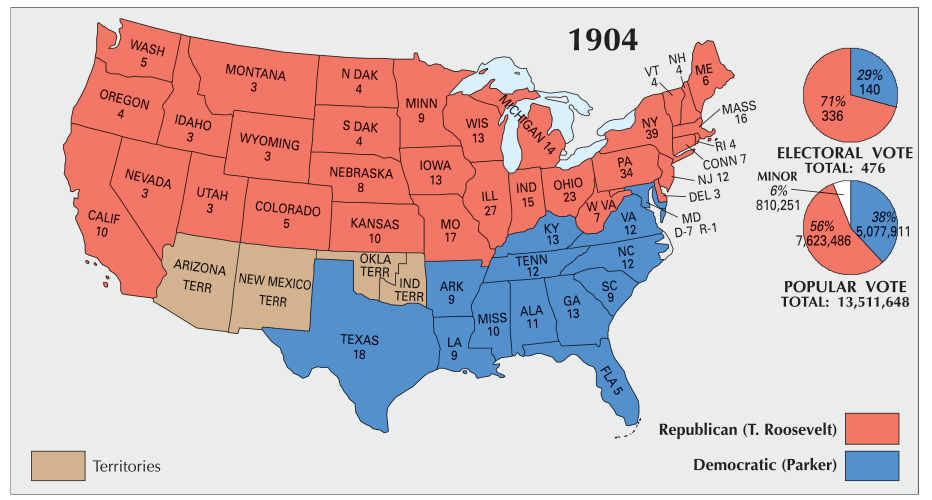 Download
You are free to use our US election maps for educational and commercial uses. Attribution is required. How to attribute?
Election of 1904 Summary
After McKinley's assassination, Theodore Roosevelt filled in the shoes of the president. From here on out, the government created the Secret Service, a task force dedicated to protecting the president.
Theodore Roosevelt was a conservationist, naturalist, and was extremely popular in the country. The Democrats nominated Alton Parker, who actually agreed with most issues.
The 1904 US election turned out to be a landslide victory for Theodore Roosevelt. Overall, he earned 334 electoral votes compared to just 140 from Parker.

« PREVIOUS
1900 Election Map

NEXT »
1908 Election Map
Theodore Roosevelt
Twenty-sixth president of the United States
Vice President: Charles W. Fairbanks
Total Electoral Votes: 334
Electoral Vote: 71%
Political Party: Republican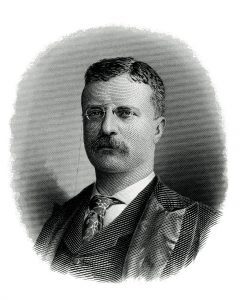 1904 Election Timeline
1892: Grover Cleveland
1896: William McKinley
1900: William McKinley
1904: Theodore Roosevelt

1908: William Taft
1912: Woodrow Wilson
1916: Woodrow Wilson
1920: Warren Harding

US Election Map Collection