Virginia Lakes and Rivers Map
About the map
In this map, you will find major rivers, reservoirs, and lakes of Virginia. In general, rivers in Virginia flow into the Atlantic Ocean and the Gulf of Mexico.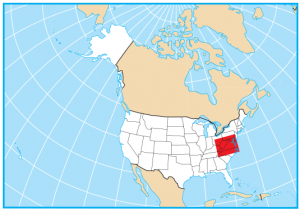 The Chesapeake Bay is the largest inlet in the eastern United States, stretching up to 35 miles wide. Some of the largest lakes in Virginia are Kerr Lake, Smith Mountain Lake, and Lake Gaston. Roanoke River, James River, and New River are the three longest rivers in Virginia. The Potomac River flows into the Chesapeake Bay and separates it from Maryland.
Virginia is known for its scenic rivers, lakes, and coastline. If you're looking for some outdoor activities, some options are Elizabeth River, Sunset Dolphin Kayak Tours at Chesapeake Bay, and much more! Virginia also has a wide variety of fishing opportunities, from fishing in the Chesapeake Bay and Virginia Beach to fly fishing in one of its panoramic rivers.
Virginia map collection
You are free to use our lakes and rivers map of Virginia for educational and commercial uses. Attribution is required. How to attribute?
Virginia lakes, rivers and reservoirs
Lakes and reservoirs
John H Kerr Reservoir
Roanoke Reservoir
Smith Mountain Lake
South Holston Lake
Bluestone Lake
Lake Chesdin
Back Bay
Chesapeake Bay
Atlantic Ocean
Dismal Swamp
Rivers and streams
James River
Clinch River
Roanoke River
Rappahannock River
Shenandoah River
North Anna River
York River
New River
Appomattox River
Holston River
Mattaponi River
Pamunkey River
Meherrin River
Nottoway River
Potomac River
Rapidan River
Rivanna River
Maury River
Blackwater River
Jackson River
Powell River
Craig Creek
Cowpasture River
Dan River
Smith River
Anna River
References