Map of Dallas
If you're looking for a Dallas Texas map, then you've come to the right place. We have a big collection below for the Texas city nicknamed "Big D". But don't let the Lone Star State's size fool you – Texas is a large, diverse state with a lot to offer. And Dallas is no exception.
Dallas is a city with a lot of history and interesting attractions. It's the third most populous city in Texas with over 1.3 million (after Houston and San Antonio).
From being able to explore some of the best museums in the country, to the great outdoors, there's a little bit of everything for everyone. Jump to any of the sections below to find which printable map of the Dallas area you are looking for.
Jump To: Interactive Map | Printable Road Map | 10 Things to Do | Reference Map
Dallas map collection
Interactive Map of Dallas
Find the best Dallas attractions and restaurants with this detailed map of the city. With this interactive map, you can explore Dallas Texas like never before. You will be able to see where attractions are, where the best restaurants are to eat, and see which neighborhoods you should explore. While you're here, make sure not to miss out on the many local attractions. From the Dallas Arboretum to the Dallas Zoo, you're sure to enjoy your stay.
Dallas Road Map
Explore all Dallas has to offer. This map is designed to show you the interstates, highways, and major roads in Dallas, Texas. You can use this Dallas road map to plan your trip to Dallas when you come on vacation, or just explore this beautiful city. If you're looking for a fun weekend getaway or a relaxing vacation, Dallas is a great choice. It's also just a short distance to Fort Worth, Texas, just 30 miles (50 km) to the west via I-30 W.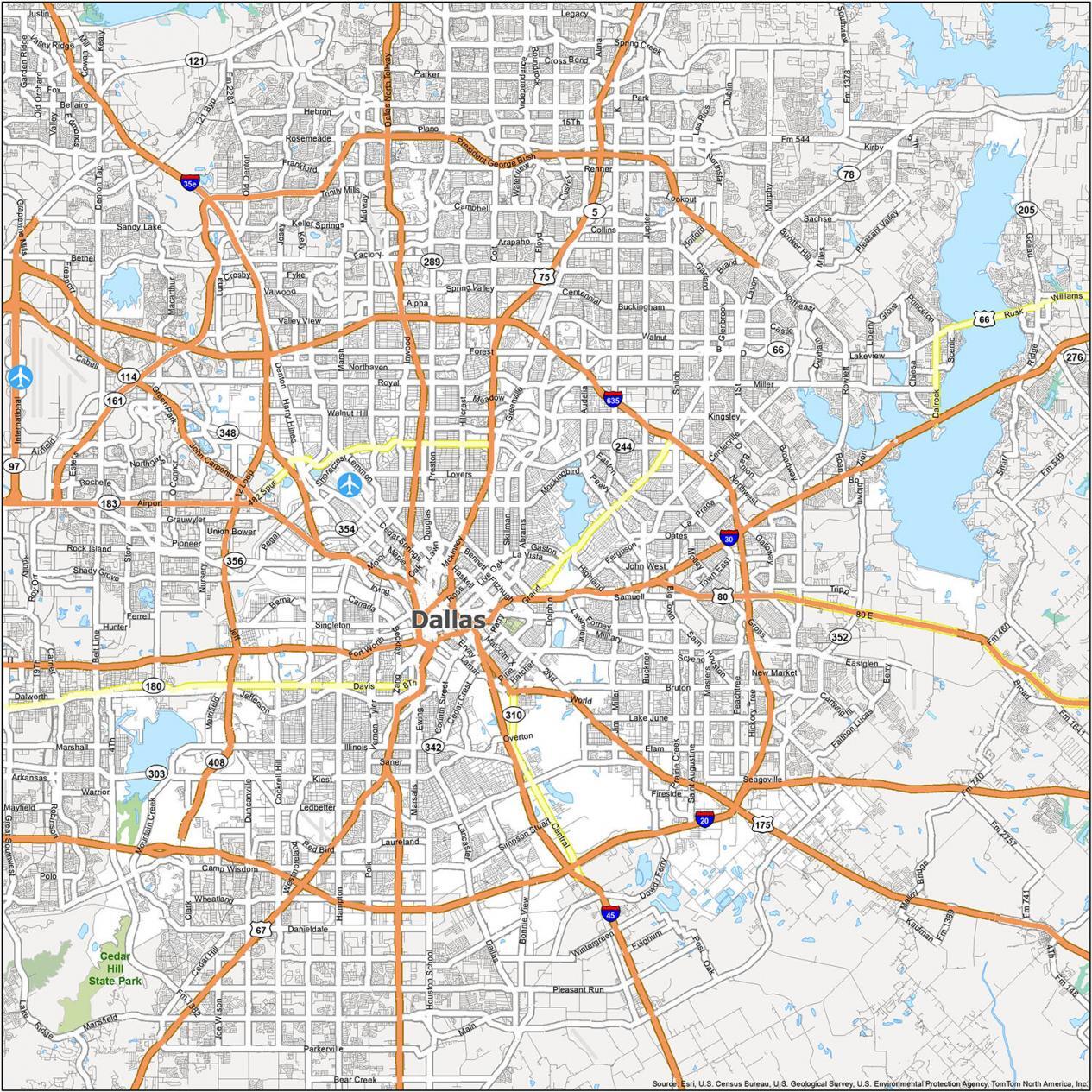 Interstate Highways: I-20, I-30, I-35E, I-45, I-635
US Highways: 66, 67, 75, 78, 80, 175, 180, 183, 205, 244, 289, 303, 310, 342, 348, 352, 354, 356, 408, Loop 12, 482 Spur
Parkways/Expressways: Central Expy, Dallas North Tollway, Good Latimer Expy, Lakeview Pky, Northwest Hwy, Pearl Expy, Pioneer Pky, President George Bush Turnpike, R L Thornton Fwy, Stemmons Fwy, Woodall Rodgers Fwy
Major Roads: 1st Ave, 2nd Ave, 8th St, Akard St, Buckner Blvd, Canton St, Cedar Springs Rd, Commerce St, Corinth St, Corinth Street Rd, Dallas Ave, Davis St, Edna Ln, Elm St, Exposition Ave, Fort Worth Ave, Garland Rd, Grand Ave, Greenville Ave, Griffin St, Harry Hines Blvd, Haskell Ave, Houston St, Industrial Blvd, Irving Blvd, Kiest Blvd, Lakeside Dr, Lancaster Rd, Ledbetter Dr, Lovers Ln, Main St, Market Center Blvd, Market St, Parry Ave, Plymouth Rd, Preston Rd, Reunion Blvd, Robert B Cullum Blvd, Rowlett Rd, Scyene Rd, Simpson Stuart Rd, Stonewall St, Storey Ln, Turtle Creek Blvd, Walton Walker Blvd, Young St, Zang Blvd
10 Things To Do in Dallas
We know that to have the best time, you'll need to find the best things to do. That's why we've curated a list of the top attractions on this map of Dallas to help you find your way around. While Dallas is known for its high-profile sports teams (Cowboys, Rangers, Stars, and Mavericks), the city is also home to a diverse array of museums and cultural attractions. From museums and parks to sports arenas and concert venues, there are plenty of amazing places to visit within the Lone Star State's borders of Dallas. With this map, you can explore Dallas and find no end of fun things to do.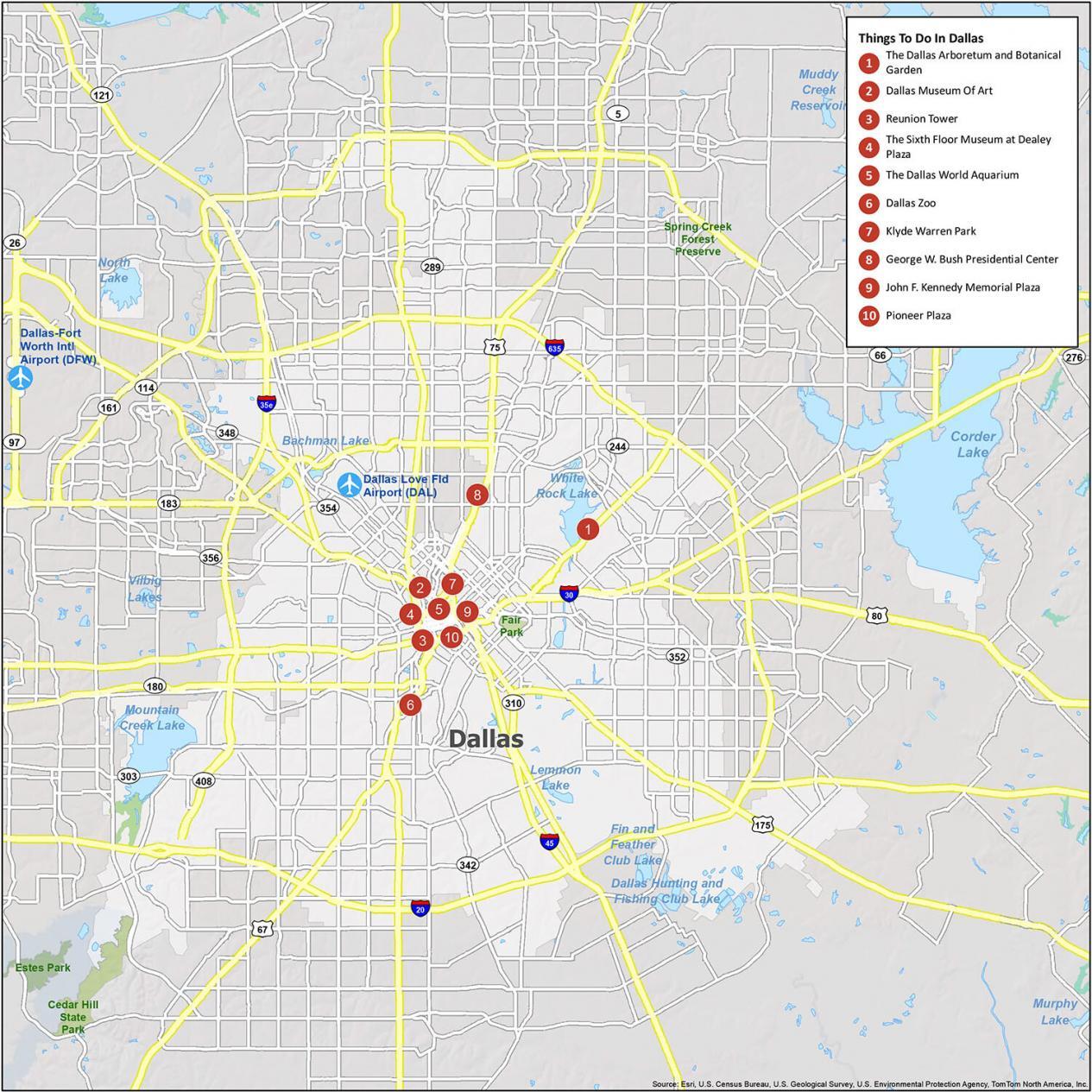 Dallas, Texas is filled with wonderful sites to see. If you are planning on traveling to Dallas, here are our top 10 travel recommendations for visiting Dallas, Texas.
The Dallas Arboretum and Botanical Garden
Dallas Museum Of Art
Reunion Tower
The Sixth Floor Museum at Dealey Plaza
The Dallas World Aquarium
Dallas Zoo
Klyde Warren Park
George W. Bush Presidential Center
John F. Kennedy Memorial Plaza
Pioneer Plaza
Dallas Reference Map
Get around Dallas and the surrounding area with this reference map. This map of Dallas Texas is the perfect way to plan the next trip you can print off and mark up what you want to see. The map is an ideal way to find places to visit, see the layout of the city, and see what lies on the outskirts of the city. Although Dallas is a city situated in the northeastern corner of the state of Texas, you can also use our road map of Texas to learn more about the Lone Star state.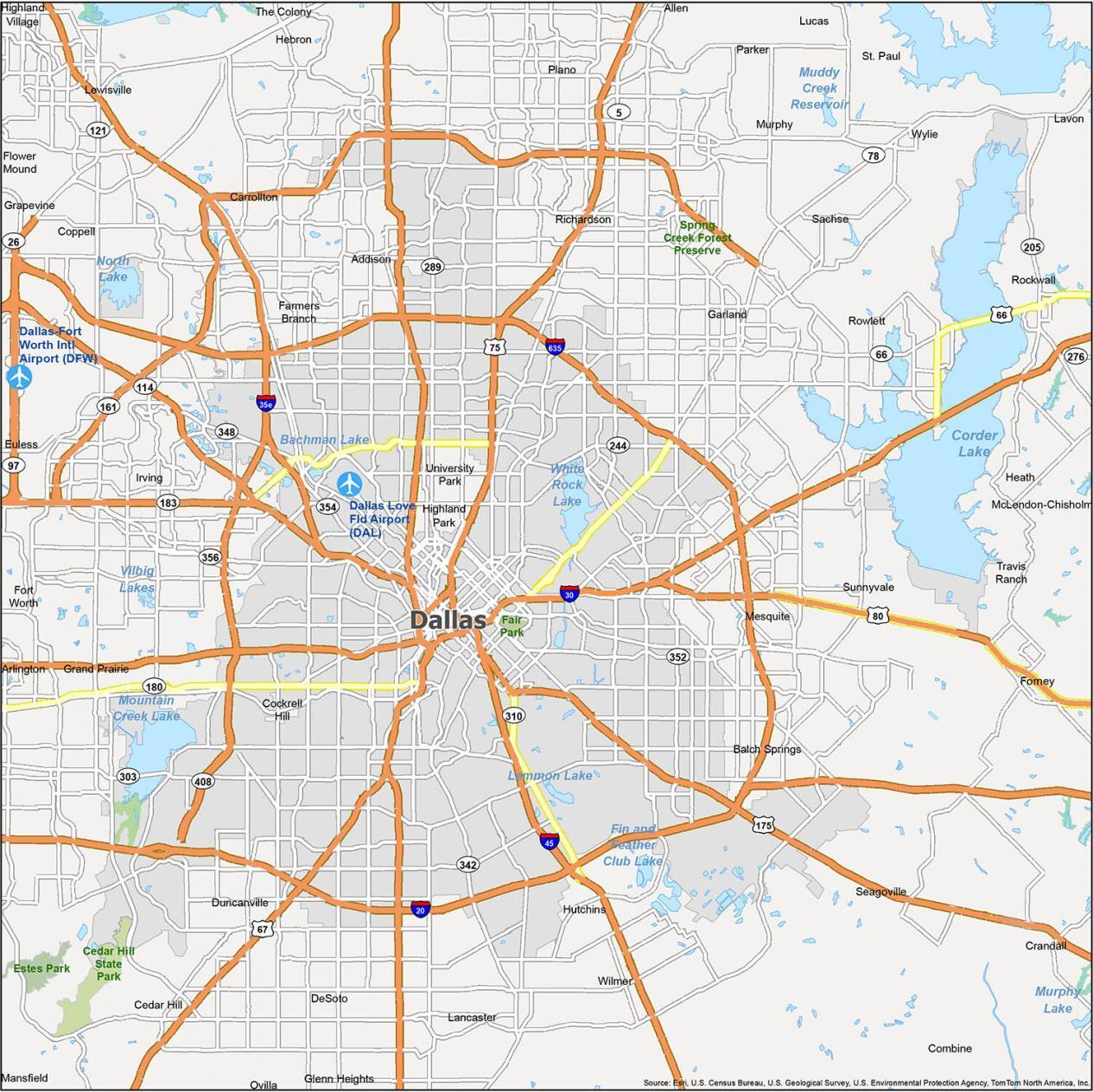 Airport: Dallas/Fort Worth International Airport (DFW)
Cities: Allen, Arlington, Balch Springs, Carrollton, Cedar Hill, Cockrell Hill, Combine, Coppell, Crandall, Dallas, DeSoto, Duncanville, Euless, Farmers Branch, Ferris, Forney, Fort Worth, Garland, Glenn Heights, Grand Prairie, Grapevine, Heath, Highland Village, Hutchins, Irving, Lancaster, Lavon, Lewisville, Lucas, Mansfield, McLendon-Chisholm, Mesquite, Murphy, Ovilla, Parker, Plano, Richardson, Rockwall, Rowlett, Sachse, Seagoville, The Colony, University Park, Wilmer, Wylie
Towns: Addison, Flower Mound, Hebron, Highland Park, St. Paul, Sunnyvale
Census-designated place (CDP): Travis Ranch
Dallas map collection
Texas map collection
References