Eswatini Map – Cities and Roads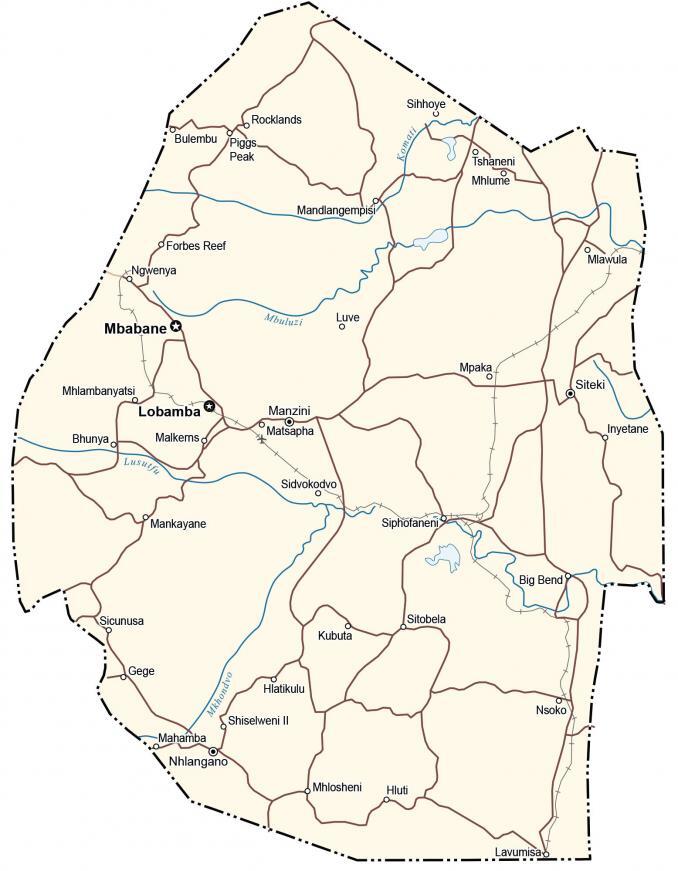 Download
This Eswatini map (formerly Swaziland) contains major cities, roads, rivers, and lakes. Satellite imagery and an elevation map display the topography like the Drakensberg Mountains and Lebombo Valley.
You are free to use our Eswatini map for educational and commercial uses. Attribution is required. How to attribute?
About the map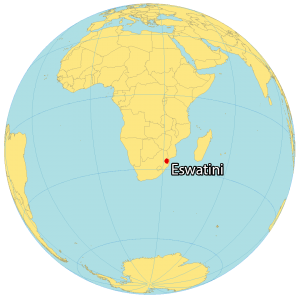 Eswatini is a tiny, landlocked country located in Southern Africa. It borders two other countries. Mozambique is to the east and South Africa wraps around Eswatini from the north to the southeast. Eswatini is a bit different because it has two capital cities.
First, Mbabane serves as the executive capital. But Lobamba, just 15 kilometers away, is the royal and legislative capital of Eswatini. It was formerly known as Swaziland. But in 2018, the official name was changed, which means "place of the Swazi" in the Swazi language.

Eswatini in Google Maps
IMAGERY
Eswatini Satellite Map
Eswatini occupies an area of 17,364 square kilometers (6,704 sq mi). Only the Gambia is smaller than Eswatini of all the mainland African countries. If you include all the island nations, it's the seventh smallest in Africa.
The interior of Eswatini is the Lebombo Valley with most of the savanna, forests, and farming. Half of the population works in agriculture. Despite its small area, Eswatini is a large producer of sugar in Africa. Also, it's home to many national parks and reserves.
HILLSHADE
Eswatini Elevation Map
The terrain consists of mostly mountains and hills. For example, the Lebombo Mountains lie in the east. Whereas the Drakensberg Mountains span most of the west with the Lebombo Valley within the interior.
But its highest peak, Emlembe, is in the north. At 1,862 m (6,109 ft), it's part of the Drakensberg. Because of its mountains and valleys, Eswatini is filled with waterfalls. Its longest river is the Usutu River. Komati River dam fills the Maguga Reservoir.