Map of Namibia – Cities and Roads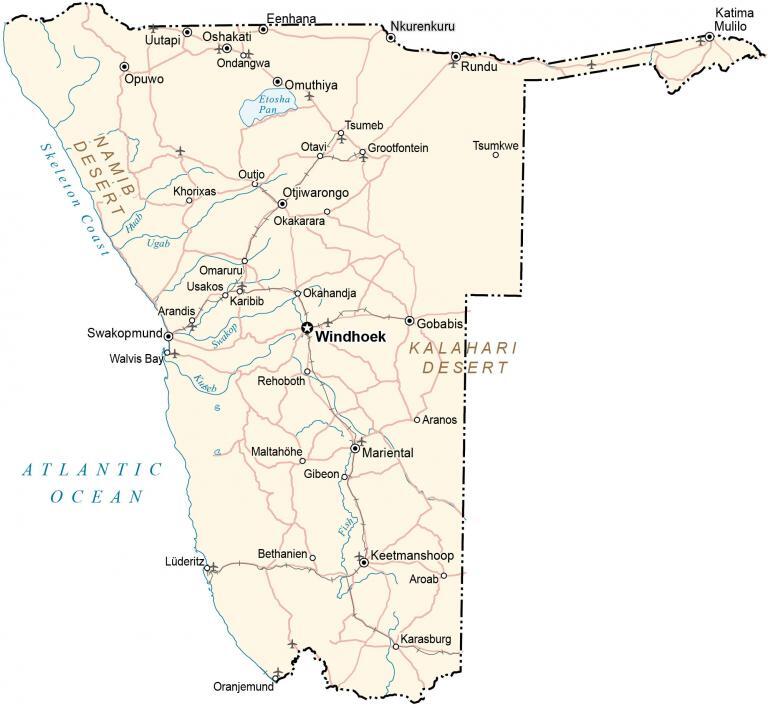 Download
This map of Namibia contains cities, towns, roads, lakes, and rivers. Satellite imagery and an elevation map shows topographic features like the Skeleton Coast and Central Plateau.
You are free to use our Namibia map for educational and commercial uses. Attribution is required. How to attribute?
About the map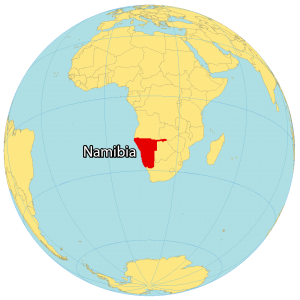 Namibia is an African country located in Southeastern Africa. It's an incredibly unique country with a wide range of landscapes like its vast deserts, granite mountains, and Skeleton Coast.
It borders 5 other countries including Angola to the north, Zambia to the northeast, Zimbabwe to the east, Botswana to the east, and South Africa to the south. Additionally, it shares a 1,572-kilometer (977 mi) coastline along the South Atlantic Ocean.
One of its most notable features is the panhandle-shaped Caprivi Strip in the northeast. Windhoek is the capital and largest city of Namibia. Other major cities include Rundu, Walvis Bay, and Oshakati.

Namibia in Google Maps
IMAGERY
Namibia Satellite Map
Namibia occupies an area of 825,615 square kilometers (318,772 sq mi) which makes it close to the size of Mozambique or Venezuela. Altogether, it's one of the largest countries in Africa. But it's also the second least densely populated country in the world. The country's landscape is diverse with deserts, salt pans, and the Skeleton Coast.
In fact, the Namib Desert along the west coast has some of the tallest sand dunes in the world. Its other major desert is the Kalahari Desert next to Botswana to the east. It's estimated that nearly 20% of Namibia is protected, including its national parks and reserves.
HILLSHADE
Namibia Elevation Map
One key feature of northwest Namibia is the Skeleton Coast, which some describe as the "End of the Earth". This region has the highest sand dunes in the world over 100 meters (328 ft) in height and nothing is man-made about them.
It has 3 sets of mountain ranges including the Auas Mountains to the east, the Huns to the south, and the Naukluft Mountains in the central. The Central Plateau lies in the central region and runs from north to south. As part of the Central Plateau, it contains the Königstein (Brandberg Mountain). At 2,606 meters (8,550 ft) above sea level, this is the highest peak in Namibia.