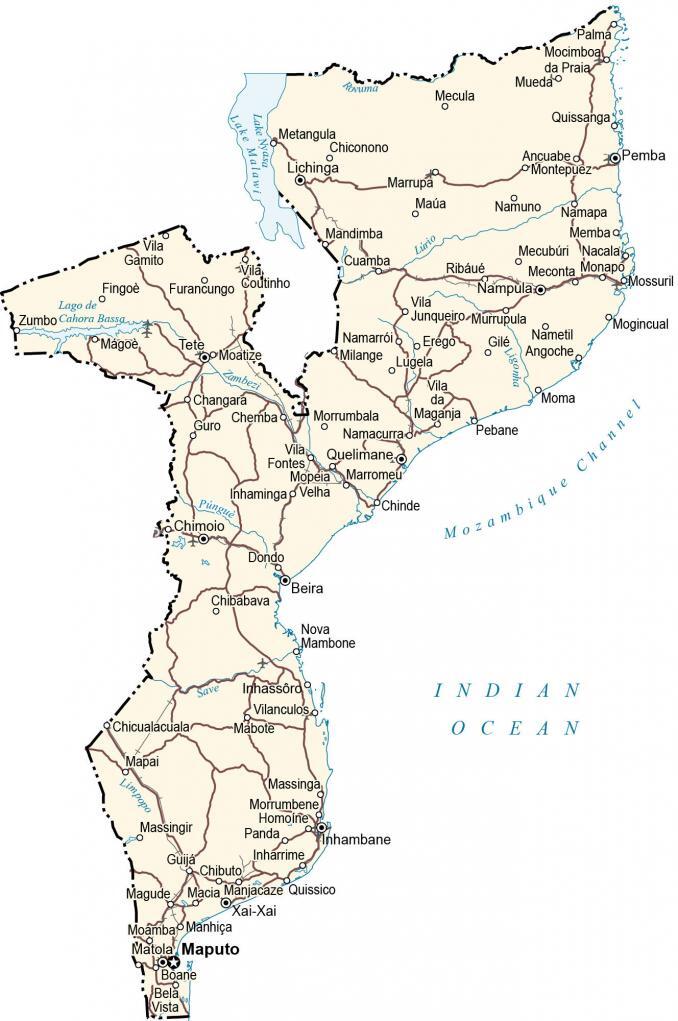 Download
This map of Mozambique contains cities, lakes, rivers, and roads. Satellite imagery and an elevation map display the Zambezi River, Mozambique Plateau, and Angolan Highlands.
Mozambique map collection
You are free to use our Mozambique map for educational and commercial uses. Attribution is required. How to attribute?
About the map
Mozambique is located in southern Africa, known for its coastline beaches, natural wildlife, and natural heritage. It borders six countries including Tanzania and Malawi to the north, Zambia to the northwest, Zimbabwe to the west, as well as Eswatini and South Africa to the southwest.
No other country in Africa has a longer coastline with the Indian Ocean than Mozambique, which is estimated to be 2,300 kilometers (1,430 mi) in length. Along this coast, the Mozambique Channel separates it from Madagascar about 425 kilometers (264 mi) in distance. The capital and largest city of Mozambique is Maputo (formerly Lourenço Marques).

Mozambique in Google Maps
SATELLITE IMAGERY
Mozambique Satellite Map
Mozambique occupies an area of 801,590 square kilometers (309,500 sq mi) which makes it close to the size of Turkey or Namibia. It lies between 11°S to 27°S latitudes with an elongated shape in the north-south direction. Because of its location in the southern hemisphere and its coastal influence, the climate is mostly tropical.
Its longest river is the Zambezi River. Its path through Mozambique is within Lake Cahora Bassa, where it eventually drains into the Indian Ocean. The country also shares the African Great Lake of Lake Nyasa (Lake Malawi) in the central-northern region with Malawi and Tanzania.
PHYSICAL MAP
Mozambique Elevation Map
The Zambezi River splits Mozambique into two distinct regions. First, the north is characterized by its rugged terrain with the Mozambique Plateau and Angolan Highlands. Secondly, south of the Zambezi River contains its lowland Mozambique Plains mixed with the Lebombo Mountains in the far south.
At 2,436 meters (7,992 feet), Mount Binga, part of the Chimoio Highlands, is the country's highest peak. Whereas its lowest point is the Indian Ocean at sea level.