Download
This map of the Gambia contains cities, towns, highways, and the Gambia River. Satellite imagery and a physical map show the topography. It includes an administrative map with the districts of the Gambia.
The Gambia map collection
About the map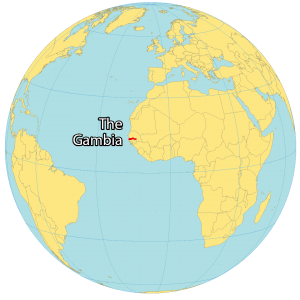 The Gambia is the smallest country in mainland Africa and is situated in Western Africa, surrounded completely by Senegal. It's known for having an extremely unique boundary, which was set mostly by a 20 to 30-mile buffer along the Gambia River.
Also unique to the country is that they formally include "The" in their country name. The only other country that does the same is The Bahamas. The Gambia is completely surrounded geographically by the country of Senegal with approximately 80 kilometers (50 miles) of coastline with the North Atlantic Ocean.

The Gambia in Google Maps
You are free to use our map of the Gambia for educational and commercial uses. Attribution is required. How to attribute?
SATELLITE IMAGERY
The Gambia Satellite Map
At 10,689 square kilometers (4,127 sq mi), The Gambia is the smallest country in the continent of Africa. In fact, it's less than half the size of Delaware. One-tenth of the country is water, mostly from the Gambia River.
Despite its small size, it's home to unique wildlife including rare birds, hippos, and hyenas. All settlements in The Gambia are scattered along the Gambia River. For example, the capital of Gambia (Banjul) is situated right at the mouth of the Gambia River. But the largest cities are Serekunda and Brikama.
PHYSICAL MAP
The Gambia Physical Map
The terrain is mostly floodplain defined by the banks of the Gambia River. It has no mountains and its hills are low in altitude. At only 53 m (173 ft) above sea level, Red Rock is the highest point in the Gambia.
Other low-lying hills in the country are Mamayungebi Hill, Konkoba Hill, Alligator Rock, and Kasang Hill. Its territory includes Bijol Islands, a small uninhabited island group in the Atlantic Ocean.
POLITICAL MAP
The Gambia Regions Map
Regions serve as the first-level administrative unit in the Gambia. Currently, there are 5 regions and 1 capital city in The Gambia. The regions include the West Coast, North Bank, Lower River, Central River, and Upper River Regions. Its capital city is the Greater Banjul district in the west.