Download
This map of Guatemala features cities, lakes, rivers, railroads, and highways. It includes satellite imagery and an elevation map to view the topography of Guatemala.
You are free to use our Guatemala map for educational and commercial uses. Attribution is required. How to attribute?
About the map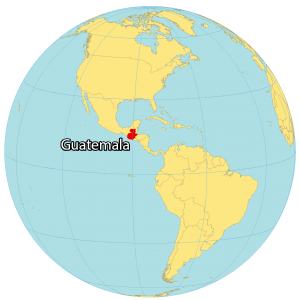 Guatemala is located in Central America along the Gulf of Honduras and the North Pacific Ocean. Guatemala is home to ancient Mayan ruins, numerous volcanoes, and dense rainforests. In comparison to other Central American nations, it has a strong indigenous culture, especially of Mayan descent.
It borders 4 other countries including Mexico to the northwest, Belize to the north, as well as El Salvador and Honduras to the southeast. Guatemala City is the capital and largest city. It's not only the most populous urban area in Guatemala but also in all of Central America.

Guatemala in Google Maps
SATELLITE IMAGERY
Guatemala Satellite Map
Guatemala is a mix of heavy rainforests, two major mountain chains, and a low-lying coastal region. Also, it has small patches of desert and sand dunes with hills and valleys. In total, Guatemala occupies an area of 108,889 square kilometers (42,042 sq mi).
This makes it slightly smaller than Honduras. While Lake Izabal is the largest lake in Guatemala, Motagua is its longest river. According to the FAO, forests cover about 34% of Guatemala. Its rainforests are characterized as high in biodiversity and high in rainfall.
PHYSICAL MAP
Guatemala Physical Map
The country can be divided into three separate regions because of its two east-west mountain chains. First, the Pacific coast is south of the mountains. Secondly, the Petén region consists of limestone plateaus north of the mountainous section. Finally, the highlands are the physical mountainous regions, where most major cities are located.
Specifically, the Sierra Madre Mountains are situated in the central-south region. Whereas, the Cuchumatanes Mountains stretch east-west within the interior. At 4,203 m (13,789 ft), its highest peak is a large stratovolcano, Volcán Tajumulco.