Map of Panama – Cities and Roads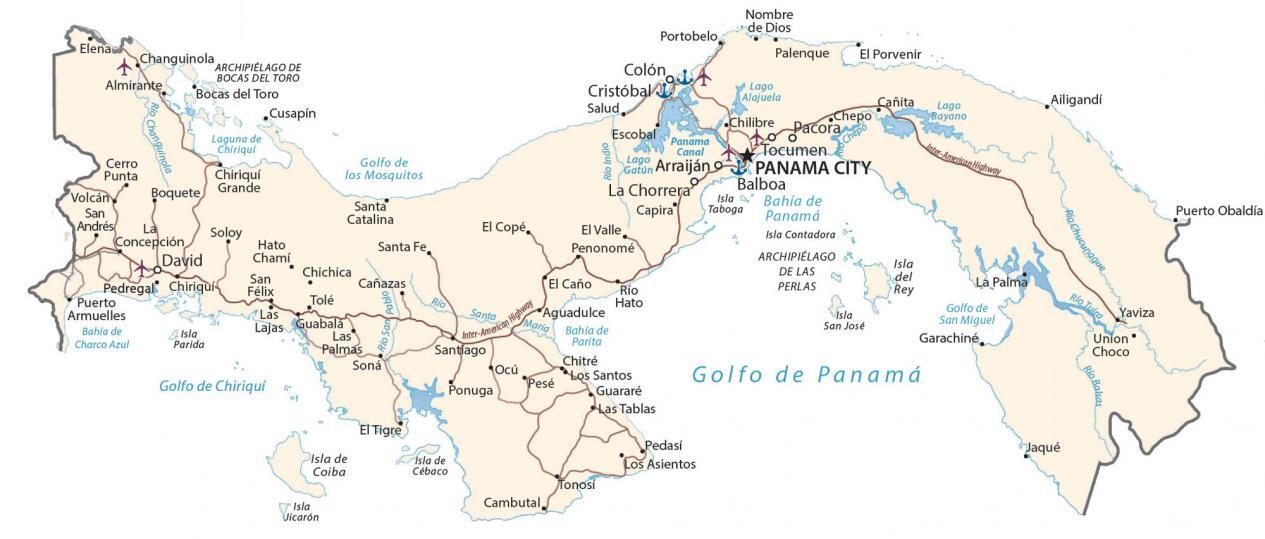 Download
This map of Panama displays major cities, towns, roads, and rivers. It includes key features such as the Central Cordillera, the Panama Canal, as well as its numerous islands and gulfs.
About the map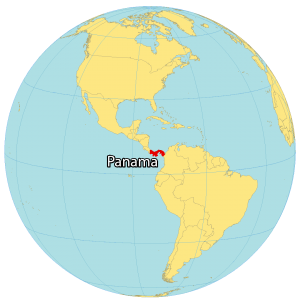 Panama is located along the North Pacific Ocean in Central America. It borders just 2 other countries including Colombia to the south, and Costa Rica to the north.
Panama is home to the Panama Canal – a strategic shortcut for shipping to the Caribbean Sea. Otherwise, you'd have to go completely around from the Atlantic and the Pacific Ocean.
Additionally, Panama is a transcontinental country because it's at the boundary between both North America and South America. Panama City is the capital and largest city. But its other major cities are San Miguelito, Juan Diaz, and David.

Panama in Google Maps
You are free to use our Panama map for educational and commercial uses. Attribution is required. How to attribute?
IMAGERY
Panama Satellite Map
Altogether, Panama occupies an area of 75,417 square kilometers (29,119 sq mi). In comparison, it's larger than Costa Rica but smaller than Cuba or Guatemala. Also, it includes several islands in the Gulf of Panama, Mosquito Gulf, and the Gulf of Chiriquí. Within the Gulf of Panama, the Pearl Islands consist of Isla del Rey, San Jose Island, and several others.
The main islands in the Gulf of Chiriquíare are Coiba, Cébaco, and Jicaron. The shape of Panama is like the letter "S" on its side. The country lies between 7°N and 10°N latitude with a tropical climate. Tropical rainforests, volcanoes, mountains, and a system of nearly 500 rivers dominate the landscape in Panama.
PHYSICAL
Panama Physical Map
The terrain in Panama consists of rugged mountains, with a steep interior. But the coastal regions mostly transition to plains and rolling hills. The Central Cordillera (Tabasará Mountains) lies in the west and contains Volcan Baru.
At 3,474 meters (11,398 ft) in height, it's the highest point in Panama. Whereas to the east, both the Darien and Sapo mountains extend to their border with Colombia. Finally, further north is the San Blas Range near its boundary with the Caribbean Sea.
ADMINISTRATION
Panama Provincial Map
Provinces are the first-level administrative unit in Panama that are divided geographically and administratively. Currently, there are 10 provinces in Panama. Additionally, there are 3 indigenous comarcas, which are similar to provinces.
Provinces in Panama are divided into districts, which are the second-level administrative unit. Finally, districts can also be subdivided into sections called corregimientos, which receive periodic updates based on census reports.