Map of Nicaragua – Cities and Roads

Download
This map of Nicaragua shows its major cities, roads, and rivers. Also, it includes satellite imagery and an elevation map to view all of its lakes, volcanoes, and mountainous terrain.
You are free to use our Nicaragua map for educational and commercial uses. Attribution is required. How to attribute?
About the map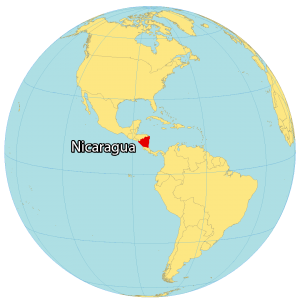 Nicaragua is known as the land of lakes and volcanoes. Because not only is home to the two largest freshwater lakes in Central America, but it also has 19 active volcanoes in the country. Nicaragua is a Central American country located between the Pacific Ocean and the Caribbean Sea.
It borders just 2 countries including Honduras to the north and Costa Rica to the south. Managua is not only the capital, but it's also the third-largest city in Central America. Other major cities in Nicaragua are León, Tipitapa, and Masaya.

Nicaragua in Google Maps
IMAGERY
Nicaragua Satellite Map
Nicaragua occupies an area of 130,375 square kilometers (50,338 sq mi), which makes it the largest country in Central America. In comparison, its size is larger than Honduras but smaller than Suriname. The country is known for its volcanoes, lakes, and beaches.
For example, Momotombo is a stratovolcano on the shores of Lake Managua, just north of the capital Managua. Nicaragua is also home to the two largest freshwater lakes in Central America – Lake Managua and Lake Nicaragua. At 750 km (470 mi) long, the Coco River (Rio Coco) is the longest river in Nicaragua. It lies between 11°N to 15°N latitude along the coast so it has a tropical climate.
HILLSHADE
Nicaragua Elevation Map
The terrain of Nicaragua is mostly coastal plains along the Pacific Ocean and the Caribbean Sea. Then, it transitions to an interior chain of mountains, which is the Cordillera Isabella. Its east coast forms part of the Mosquito Coast with Honduras to the north.
Whereas its west coast contains the Pacific Lowlands. Overall, its three regions are the Pacific Lowlands, Central Highlands, and the Caribbean Lowlands. At 2,103 meters (6,900 ft), Mogotón Peak is the highest point in Nicaragua. Whereas its lowest point is the Pacific Ocean at sea level.