Download
This map of Mexico contains major cities, roads, islands, lakes, and rivers. An elevation map and satellite imagery highlight its Central Plateau (Mexican Altiplano) to its desert and rainforests.
You are free to use our Mexico map for educational and commercial uses. Attribution is required. How to attribute?
About the map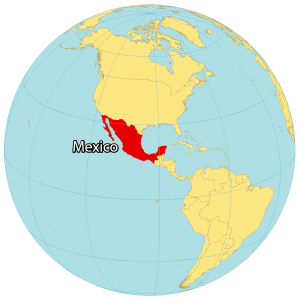 Mexico is located in North America, along the Pacific Ocean and the Gulf of Mexico. Altogether, it borders 3 countries including Belize and Guatemala to the southeast. Also, it borders California, Arizona, New Mexico, and Texas with the United States to the north.
Over 128 million people live in Mexico and it's the 10th most populous country. In fact, Mexico City is bigger in size and population compared to New York City. The country is known for its Aztec people, festivals like the Day of the Dead, and the largest population of Spanish speakers in the world.

Mexico in Google Maps
IMAGERY
Mexico Satellite Map
Mexico occupies an area of 1,972,550 square kilometers (761,610 sq mi), which makes it the 13th largest in the world. To the northwest, the Baja Peninsula is an elongated extension and is separated by the Gulf of California. It includes several islands like Revillagigedo Islands, Guadeloupe Island, and Socorro Island.
Overall, Mexico has a tropical climate and is home to two main desert regions – the Sonoran Desert and the Chihuahuan Desert. Then, it transitions to dense rainforests to the southeast. While the longest river is the Rio Grande, Mexico's largest lake is Lake Chapala.
PHYSICAL
Mexico Physical Map
The terrain in Mexico is a mix of rugged mountains, low coastal plains, deep canyons, and high plateaus. While the Sierra Madre Occidental Mountains lie in the west, the Sierra Madre Oriental is situated to the east. Between the two mountain chains, the Central Plateau (Mexican Altiplano) spans from the United States to the central region of Mexico.
The highest point in Mexico is Pico de Orizaba, which is the highest volcanic summit in North America at 5,636 meters (18,491 ft) in height. The lowest point is Laguna Salada at 10 meters below sea level. Also, the world's smallest volcano (Cuexcomate) is in Mexico.
ADMINISTRATION
Mexico States Map
States are the first-level administrative unit in Mexico that are divided geographically and administratively. Currently, there are 31 states within Mexico. Additionally, there is the capital city of Mexico City, which is its own federal entity. Next, Mexico divides states into municipalities, which are the second-level administration unit. But the capital of Mexico City contains boroughs, instead of municipalities.
Northern America
Central America