Map of Luxembourg – Places and Roads
This map of Luxembourg displays its populated places, rivers, and highways. A satellite and elevation map shows topographic features to see its forests, hills, and built-up areas.
You are free to use our Luxembourg map for educational and commercial uses. Attribution is required. How to attribute?
About the map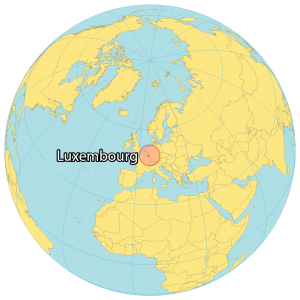 Luxembourg is a small, landlocked country in Western Europe. It borders 3 other countries including Belgium to the northwest, Germany to the northeast, and France to the south.
Luxembourg is one of the smallest countries in Europe. In fact, it's less than the size of Rhode Island with an area of 2,586 square kilometers (999 sq mi).
Luxembourg City is the capital and largest city, situated at the intersection of the Alzette and Petrusse rivers. With a population of just over 600,000, Luxembourg is one of the smallest and wealthiest countries in the European Union.

Luxembourg in Google Maps
IMAGERY
Luxembourg Satellite Map
Luxembourg is typically divided into two separate regions. First, the Oesling region makes up the northern one-third of the country and is recognized for its low mountains from the Ardennes. Secondly, the Gutland region encompasses the southern two-thirds and is known for being more densely populated than the south. Overall, approximately 34% of Luxembourg is covered in forests such as in the Mullerthal region. Some of the longest rivers in Luxembourg include the Moselle, Sûre, and Alzette.
HILLSHADE
Luxembourg Elevation Map
The terrain in Luxembourg is gentle rolling uplands and mountains in the north. Although many consider Buurgplaatz as the highest point in Luxembourg, Kneiff Hill is even higher at 560 meters in height. Kneiff Hill is located in the Ardennes, within the community of Troisvierges, in northern Luxembourg. Buurgplaatz is just 1 meter shy at 559 meters of being the highest peak in Luxembourg.
ADMINISTRATION
Luxembourg Cantons Map
There are 12 cantons in Luxembourg, which are divided administratively and geographically. Cantons are subdivisions of the three main districts of Luxembourg. First, the Diekirch District contains the cantons of Diekirch, Clervaux, Redange, Vianden, and Wiltz. Secondly, the Grevenmacher District consists of Grevenmacher, Echternach, and Remich cantons. Finally, the Luxembourg District holds the cantons of Luxembourg, Capellen, Esch-Sur-Alzette, and Mersch.