Download
Kenya map collection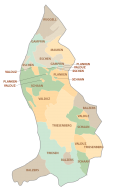 About the Map
This map of Liechtenstein displays municipalities, villages, rivers, and satellite imagery. Liechtenstein is a small Central European country located between Switzerland and Austria.
It's Europe's fourth-smallest country, with an area of just 160 square kilometers. This is slightly smaller than Washington DC and smaller than Andorra and Malta.
Liechtenstein is known for its alpine terrain, medieval castles, and friendly German-speaking people. The population of Liechtenstein is just 38,750 people, making it one of the least populous in all of Europe.
Capital city
Vaduz
Municipalities and populated places
Malbun
Steg
Balzers
Eschen
Gamprin
Mauren
Planken
Ruggell
Schaan
Schellenberg
Triesenberg
Triesen
Lakes, rivers and water features
Rhine River
Esche
Valünerbach
Valorschbach
Samina
Other features
Major Highways and Roads
Grauspitz (Highest Peak)
European Route E43
Western Europe