Minneapolis Neighborhood Map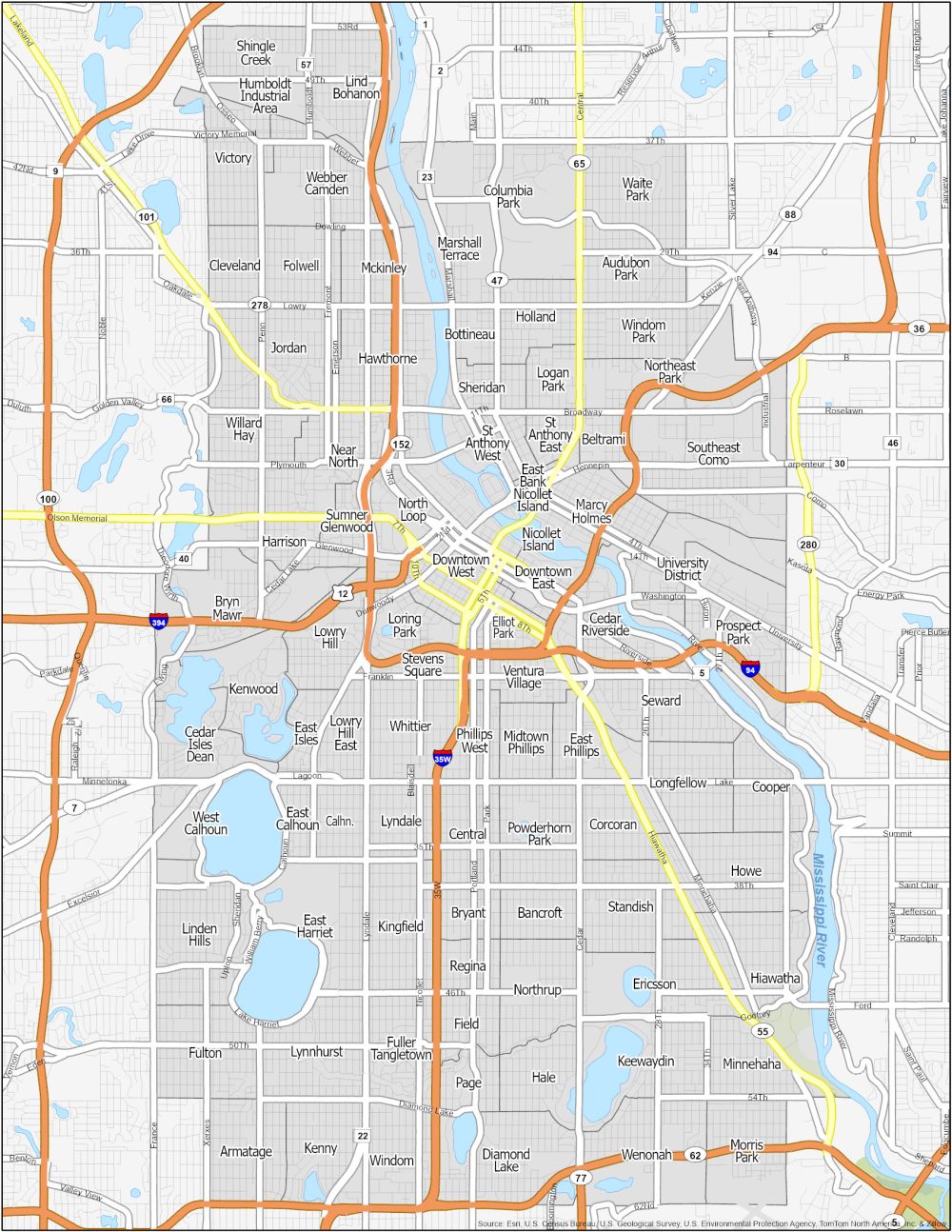 Minneapolis map collection
Neighborhoods in Minneapolis
Discover the diverse neighborhoods of Minneapolis through this neighborhood map. Uncover the trendy art scene in the Northeast Arts District or immerse yourself in the historic charm of Lowry Hill's picturesque residential streets and iconic architecture with this Minneapolis neighborhood map in hand.
Downtown Minneapolis
As the city's bustling central business district, Downtown Minneapolis is a hub of commerce, entertainment, and culture. Skyscrapers dominate the skyline, housing major corporations and upscale condos, while a plethora of restaurants, bars, theaters, and sports venues make it a lively destination for locals and tourists.
Uptown
Known for its trendy and eclectic atmosphere, Uptown is a favorite among young professionals and artists. The neighborhood offers an array of chic boutiques, art galleries, coffee shops, and a diverse dining scene. It's also dotted with beautiful lakes and parks, making it an ideal spot for outdoor enthusiasts.
Loring Park
Nestled in the heart of Minneapolis, Loring Park is a serene oasis amidst the city's hustle and bustle. The neighborhood is named after its picturesque park, offering walking trails, ponds, and sculptures. Its streets are dotted with historic brownstones and high-rise condos, attracting families and young professionals seeking a peaceful urban retreat.
Longfellow
Named after the famous poet Henry Wadsworth Longfellow, this neighborhood exudes a laid-back charm with its leafy streets and historic homes. Longfellow fosters a strong sense of community, hosting farmers' markets and local events. The area is also home to Minnehaha Falls, a stunning waterfall and park that adds to its natural allure.
Northeast Arts District
Embracing creativity and diversity, the Northeast Arts District is a haven for artists and artisans. This neighborhood is adorned with colorful murals, contemporary art galleries, and craft breweries, attracting a crowd and those seeking a taste of Minneapolis' thriving art scene.
North Loop
A former industrial area, North Loop has transformed into a chic and upscale neighborhood. Its historic warehouses have been repurposed into stylish lofts, boutique shops, and upscale restaurants. With its modern flair and proximity to the Mississippi River, North Loop has become a sought-after address for urban dwellers.
Powderhorn Park
A diverse and culturally rich neighborhood, Powderhorn Park is known for its sense of community and inclusivity. The centerpiece of the neighborhood is the eponymous park, offering recreational activities, music festivals, and community gatherings. Its affordable housing options and friendly atmosphere make it popular among families and artists.
Whittier
Known for its diverse population and cultural attractions, Whittier is a melting pot of different ethnicities and artistic expressions. The neighborhood is home to the Minneapolis Institute of Art and the Children's Theatre Company, enriching the area with creativity and educational opportunities. Its affordable housing options and thriving international food scene make it a popular choice for young professionals and students.
These neighborhoods offer a glimpse into the various facets of Minneapolis, each contributing to the "Twin City".