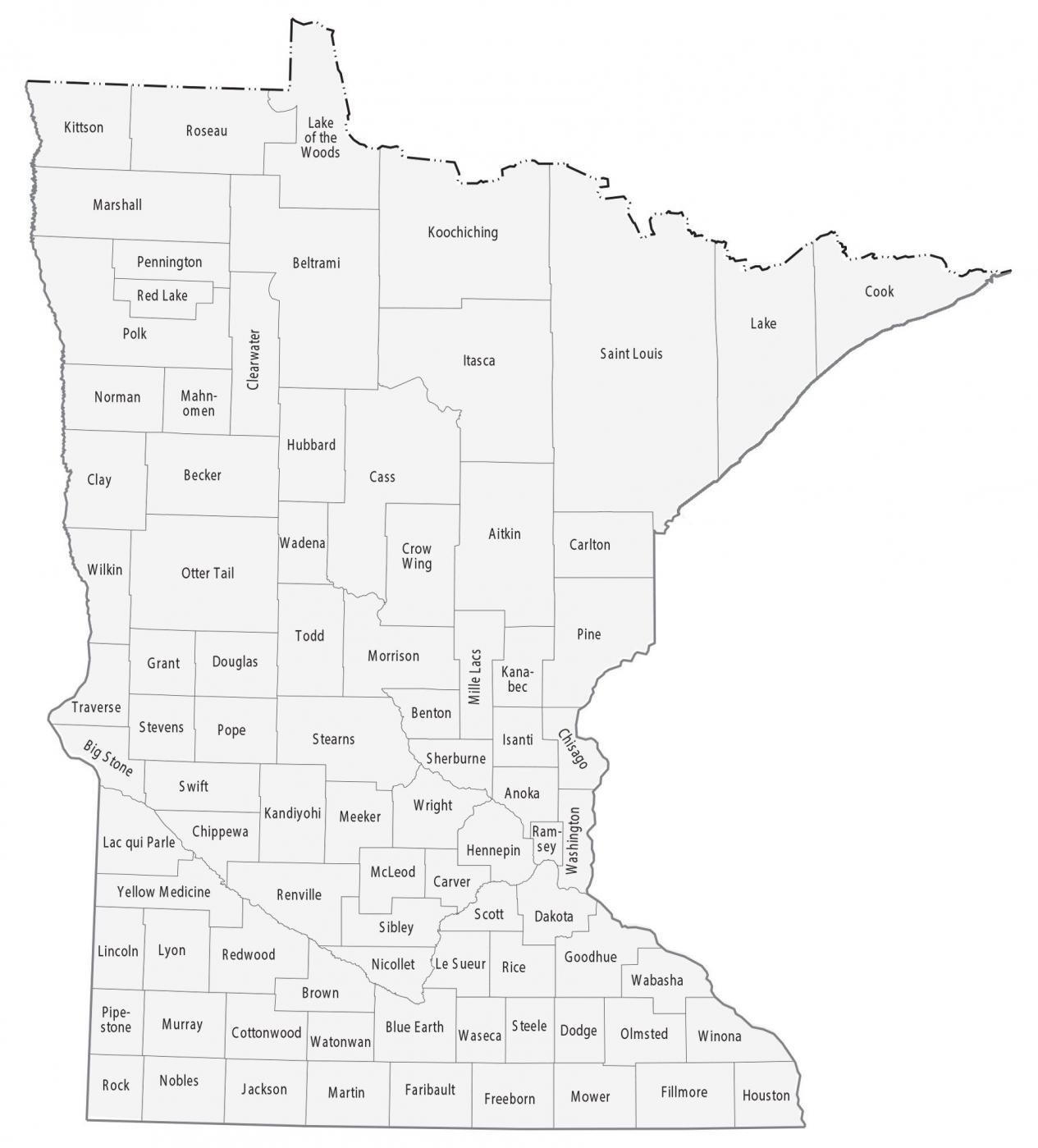 About the map
This Minnesota county map displays its 87 counties. Minnesota ranks 14th for the number of counties with just one less than Ohio. It borders North Dakota, South Dakota, Iowa, Wisconsin, and Lake Superior in the north of the United States.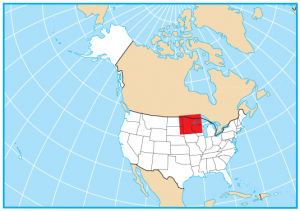 By far, the county with the highest population in Minnesota is Hennepin County, holding the largest city in Minneapolis. In fact, its population of over 1.25 million people means it's the 33rd most populated county in all of the United States. The next most populous is Ramsey County with the capital city of Saint Paul, Minnesota. But the county with the smallest population goes to Traverse County, with just over 3000 residents.
For size, Saint Louis County more than doubles the second-largest county with an area of about 6800 square miles. This is followed by Koochiching, Beltrami, and Itasca County. But the smallest county in Minnesota is Ramsey County in the east of the state. It occupies an area of just 169.7 square miles.
Minnesota map collection
You are free to use our county map of Minnesota for educational and commercial uses. Attribution is required. How to attribute?
Minnesota county list
| County Name | Population (2020 est) | County Map | Area (sq mi) | Locator Map | FIPS Code |
| --- | --- | --- | --- | --- | --- |
| Aitkin County | 15,848 | Aitkin County Map | 1995.3 | Aitkin County Map | 27001 |
| Anoka County | 359,921 | Anoka County Map | 445.5 | Anoka County Map | 27003 |
| Becker County | 34,456 | Becker County Map | 1445.1 | Becker County Map | 27005 |
| Beltrami County | 47,442 | Beltrami County Map | 3055.6 | Beltrami County Map | 27007 |
| Benton County | 40,958 | Benton County Map | 413 | Benton County Map | 27009 |
| Big Stone County | 4,923 | Big Stone County Map | 527.4 | Big Stone County Map | 27011 |
| Blue Earth County | 68,241 | Blue Earth County Map | 765.6 | Blue Earth County Map | 27013 |
| Brown County | 24,846 | Brown County Map | 620.7 | Brown County Map | 27015 |
| Carlton County | 35,769 | Carlton County Map | 875.2 | Carlton County Map | 27017 |
| Carver County | 106,565 | Carver County Map | 376.2 | Carver County Map | 27019 |
| Cass County | 29,928 | Cass County Map | 2414.1 | Cass County Map | 27021 |
| Chippewa County | 11,758 | Chippewa County Map | 587.4 | Chippewa County Map | 27023 |
| Chisago County | 56,794 | Chisago County Map | 442.4 | Chisago County Map | 27025 |
| Clay County | 64,690 | Clay County Map | 1053 | Clay County Map | 27027 |
| Clearwater County | 9,017 | Clearwater County Map | 1029.8 | Clearwater County Map | 27029 |
| Cook County | 5,417 | Cook County Map | 1606 | Cook County Map | 27031 |
| Cottonwood County | 11,242 | Cottonwood County Map | 648.9 | Cottonwood County Map | 27033 |
| Crow Wing County | 65,644 | Crow Wing County Map | 1156.5 | Crow Wing County Map | 27035 |
| Dakota County | 431,807 | Dakota County Map | 586.1 | Dakota County Map | 27037 |
| Dodge County | 20,987 | Dodge County Map | 439.7 | Dodge County Map | 27039 |
| Douglas County | 38,328 | Douglas County Map | 720 | Douglas County Map | 27041 |
| Faribault County | 13,601 | Faribault County Map | 721.9 | Faribault County Map | 27043 |
| Fillmore County | 21,135 | Fillmore County Map | 862 | Fillmore County Map | 27045 |
| Freeborn County | 30,364 | Freeborn County Map | 722.4 | Freeborn County Map | 27047 |
| Goodhue County | 46,318 | Goodhue County Map | 780.4 | Goodhue County Map | 27049 |
| Grant County | 6,026 | Grant County Map | 575.3 | Grant County Map | 27051 |
| Hennepin County | 1,268,408 | Hennepin County Map | 607 | Hennepin County Map | 27053 |
| Houston County | 18,632 | Houston County Map | 568.8 | Houston County Map | 27055 |
| Hubbard County | 21,783 | Hubbard County Map | 999.4 | Hubbard County Map | 27057 |
| Isanti County | 41,429 | Isanti County Map | 451.8 | Isanti County Map | 27059 |
| Itasca County | 45,268 | Itasca County Map | 2927.7 | Itasca County Map | 27061 |
| Jackson County | 9,768 | Jackson County Map | 719.3 | Jackson County Map | 27063 |
| Kanabec County | 16,416 | Kanabec County Map | 533.4 | Kanabec County Map | 27065 |
| Kandiyohi County | 43,130 | Kandiyohi County Map | 862 | Kandiyohi County Map | 27067 |
| Kittson County | 4,214 | Kittson County Map | 1103.9 | Kittson County Map | 27069 |
| Koochiching County | 12,059 | Koochiching County Map | 3156 | Koochiching County Map | 27071 |
| Lac qui Parle County | 6,527 | Lac qui Parle County Map | 778.2 | Lac qui Parle County Map | 27073 |
| Lake County | 10,639 | Lake County Map | 2288.3 | Lake County Map | 27075 |
| Lake of the Woods County | 3,754 | Lake of the Woods County Map | 1780.1 | Lake of the Woods County Map | 27077 |
| Le Sueur County | 28,741 | Le Sueur County Map | 473.8 | Le Sueur County Map | 27079 |
| Lincoln County | 5,568 | Lincoln County Map | 548.5 | Lincoln County Map | 27081 |
| Lyon County | 25,271 | Lyon County Map | 721.5 | Lyon County Map | 27083 |
| Mahnomen County | 5,473 | Mahnomen County Map | 583 | Mahnomen County Map | 27087 |
| Marshall County | 9,321 | Marshall County Map | 1812.8 | Marshall County Map | 27089 |
| Martin County | 19,484 | Martin County Map | 729.5 | Martin County Map | 27091 |
| McLeod County | 35,710 | McLeod County Map | 505.7 | McLeod County Map | 27085 |
| Meeker County | 23,341 | Meeker County Map | 645.1 | Meeker County Map | 27093 |
| Mille Lacs County | 26,146 | Mille Lacs County Map | 681.7 | Mille Lacs County Map | 27095 |
| Morrison County | 33,187 | Morrison County Map | 1153.3 | Morrison County Map | 27097 |
| Mower County | 40,150 | Mower County Map | 711.5 | Mower County Map | 27099 |
| Murray County | 8,155 | Murray County Map | 719.4 | Murray County Map | 27101 |
| Nicollet County | 34,482 | Nicollet County Map | 465.9 | Nicollet County Map | 27103 |
| Nobles County | 21,400 | Nobles County Map | 722.3 | Nobles County Map | 27105 |
| Norman County | 6,338 | Norman County Map | 876.8 | Norman County Map | 27107 |
| Olmsted County | 159,298 | Olmsted County Map | 654.5 | Olmsted County Map | 27109 |
| Otter Tail County | 58,741 | Otter Tail County Map | 2224.5 | Otter Tail County Map | 27111 |
| Pennington County | 13,874 | Pennington County Map | 618.3 | Pennington County Map | 27113 |
| Pine County | 29,359 | Pine County Map | 1434.6 | Pine County Map | 27115 |
| Pipestone County | 9,121 | Pipestone County Map | 466.1 | Pipestone County Map | 27117 |
| Polk County | 30,900 | Polk County Map | 1997.8 | Polk County Map | 27119 |
| Pope County | 11,277 | Pope County Map | 717.3 | Pope County Map | 27121 |
| Ramsey County | 547,903 | Ramsey County Map | 169.7 | Ramsey County Map | 27123 |
| Red Lake County | 4,046 | Red Lake County Map | 432.5 | Red Lake County Map | 27125 |
| Redwood County | 15,079 | Redwood County Map | 884.1 | Redwood County Map | 27127 |
| Renville County | 14,403 | Renville County Map | 983.8 | Renville County Map | 27129 |
| Rice County | 67,084 | Rice County Map | 515.9 | Rice County Map | 27131 |
| Rock County | 9,301 | Rock County Map | 482.7 | Rock County Map | 27133 |
| Roseau County | 15,117 | Roseau County Map | 1677.8 | Roseau County Map | 27135 |
| Saint Louis County | 198,538 | Saint Louis County Map | 6734.9 | Saint Louis County Map | 27137 |
| Scott County | 150,689 | Scott County Map | 368.3 | Scott County Map | 27139 |
| Sherburne County | 98,811 | Sherburne County Map | 450.9 | Sherburne County Map | 27141 |
| Sibley County | 14,715 | Sibley County Map | 600.1 | Sibley County Map | 27143 |
| Stearns County | 162,038 | Stearns County Map | 1389.7 | Stearns County Map | 27145 |
| Steele County | 36,596 | Steele County Map | 432.4 | Steele County Map | 27147 |
| Stevens County | 9,765 | Stevens County Map | 575.2 | Stevens County Map | 27149 |
| Swift County | 9,176 | Swift County Map | 752.2 | Swift County Map | 27151 |
| Todd County | 24,732 | Todd County Map | 979.4 | Todd County Map | 27153 |
| Traverse County | 3,218 | Traverse County Map | 584.9 | Traverse County Map | 27155 |
| Wabasha County | 21,642 | Wabasha County Map | 549.9 | Wabasha County Map | 27157 |
| Wadena County | 13,807 | Wadena County Map | 543.1 | Wadena County Map | 27159 |
| Waseca County | 18,550 | Waseca County Map | 432.9 | Waseca County Map | 27161 |
| Washington County | 265,476 | Washington County Map | 423.8 | Washington County Map | 27163 |
| Watonwan County | 10,792 | Watonwan County Map | 439.9 | Watonwan County Map | 27165 |
| Wilkin County | 6,161 | Wilkin County Map | 750.9 | Wilkin County Map | 27167 |
| Winona County | 50,485 | Winona County Map | 641.6 | Winona County Map | 27169 |
| Wright County | 140,249 | Wright County Map | 714.7 | Wright County Map | 27171 |
| Yellow Medicine County | 9,580 | Yellow Medicine County Map | 763.4 | Yellow Medicine County Map | 27173 |
References