Map of Minneapolis, Minnesota

Map of Minneapolis
Check out this Minneapolis map with roads, places of interest, and a list of things to do. Using this interactive map, you can adventure Minneapolis, which forms the Twin Cities with St. Paul, Minnesota.
Minneapolis, nicknamed the "City of Lakes" is the most populous city in the state of Minnesota with 430,000 people. Split by the Mississippi River, Minneapolis is located in the eastern region of the state of Minnesota, near the border of Wisconsin.
If you're looking for a place that offers a unique combination of culture, nature, and urban living, you should consider making a trip to Minneapolis. Plus, the Mall of America is located in Bloomington, Minnesota – just south of the city.
Jump To: Interactive Map | Printable Road Map | 10 Things to Do | Reference Map
Minneapolis map collection
Interactive Map of Minneapolis
Minneapolis has a strong cultural scene, with several fine museums and plenty of events. Plus, it has many high-office buildings in the downtown area with a vibrant nightlife. But it's also a great place to explore the nearby countryside, with hiking trails and great places to explore like one of its 10,000 lakes. This interactive map gives you a good overview of the city and its major attractions, allowing you to plan your day accordingly.
Minneapolis Road Map
Minneapolis is a great city to visit and explore but can be tough to navigate without a map. This Minneapolis road map is the perfect way to get oriented and locate your way around a new city. It includes interstates, highways, and major roads so you can help find your way around the city. Those who are interested in exploring the city can use our Minneapolis road map as a free resource. But for any travel outside the city, check out this Minnesota road map with interstates and highway information.
Interstate Highways: I-94, I-35W, I-394
US Highways: 2, 5, 9, 12, 17, 22, 23, 33, 35, 38, 40, 47, 52, 55, 57, 62, 65, 66, 77, 88, 101, 121, 136, 152, 153, 280, 394, Olson Memorial Hwy
Causeway/Parkways: Calhoun Pky, Cedar Lake Pky, Ford Pky, Lake Harriet Pky, Minnehaha Pky, River Pky, Saint Anthony Pky, Theodore Wirth Pky, Webber Pky, William Berry Pky
Major Roads: 3rd St, 4th St, 5th Ave, 7th St, 8th St, 10th St, 44th Ave, Broadway St, Brooklyn Blvd, Cedar Ave, Central Ave, Hennepin Ave, Hiawatha Ave, Lyndale Ave, Minnehaha Ave, New Brighton Blvd, Osseo Rd, University Ave, Washington Ave
10 Things To Do in Minneapolis
The best way to get to know a city is by exploring it. Luckily, Minneapolis offers something for everyone from outdoor activities throughout the year to its many art and music festivals. Although Minneapolis is an exciting place to live, work, and play, it's also a diverse city with plenty of culture and local food eateries. Plus, Minneapolis is home to the Mall of America, which is one of the largest shopping malls in the world. Get out and explore Minneapolis with this list of things to do.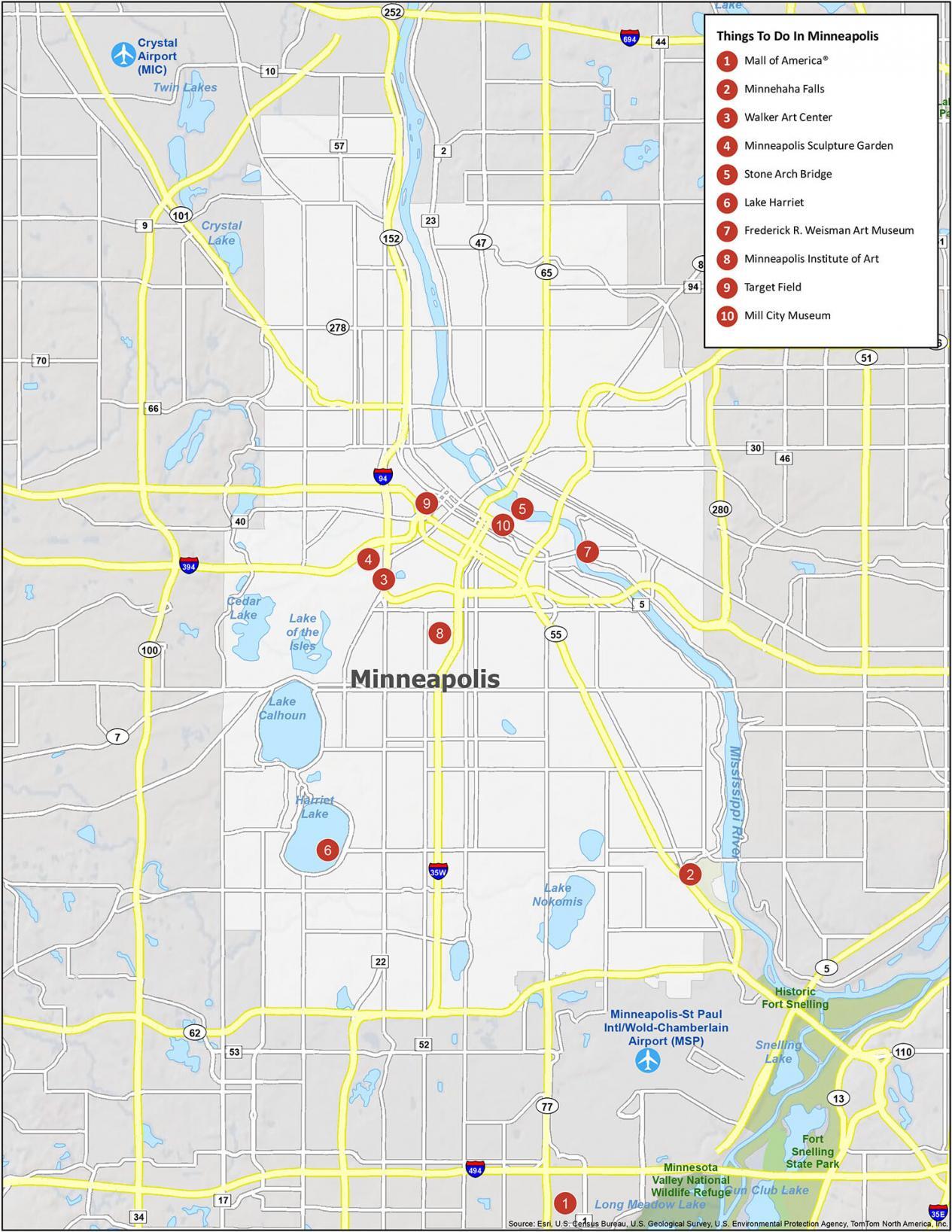 Minneapolis is the most populated city in Minnesota and is known for its high-rise buildings. Four prominent lakes are located within the city including Cedar Lake, Lake Calhoun, Harriet Lake, and Lake of the Isles. If you ever go there, here are our recommendations for the top 10 things to do.
Mall of America®
Minnehaha Falls
Walker Art Center
Minneapolis Sculpture Garden
Stone Arch Bridge
Lake Harriet
Frederick R. Weisman Art Museum
Minneapolis Institute of Art
Target Field
Mill City Museum
Minneapolis Reference Map
The combination of natural beauty, parks, trails, and the city's robust art and music scenes make Minneapolis one of the most walkable cities in America. Even during its cold winters, it has an extensive skywalk system so you can walk indoors to avoid the snow. Minneapolis is one of the most fascinating cities in the world. From the North Loop to downtown, explore the city with this helpful reference map.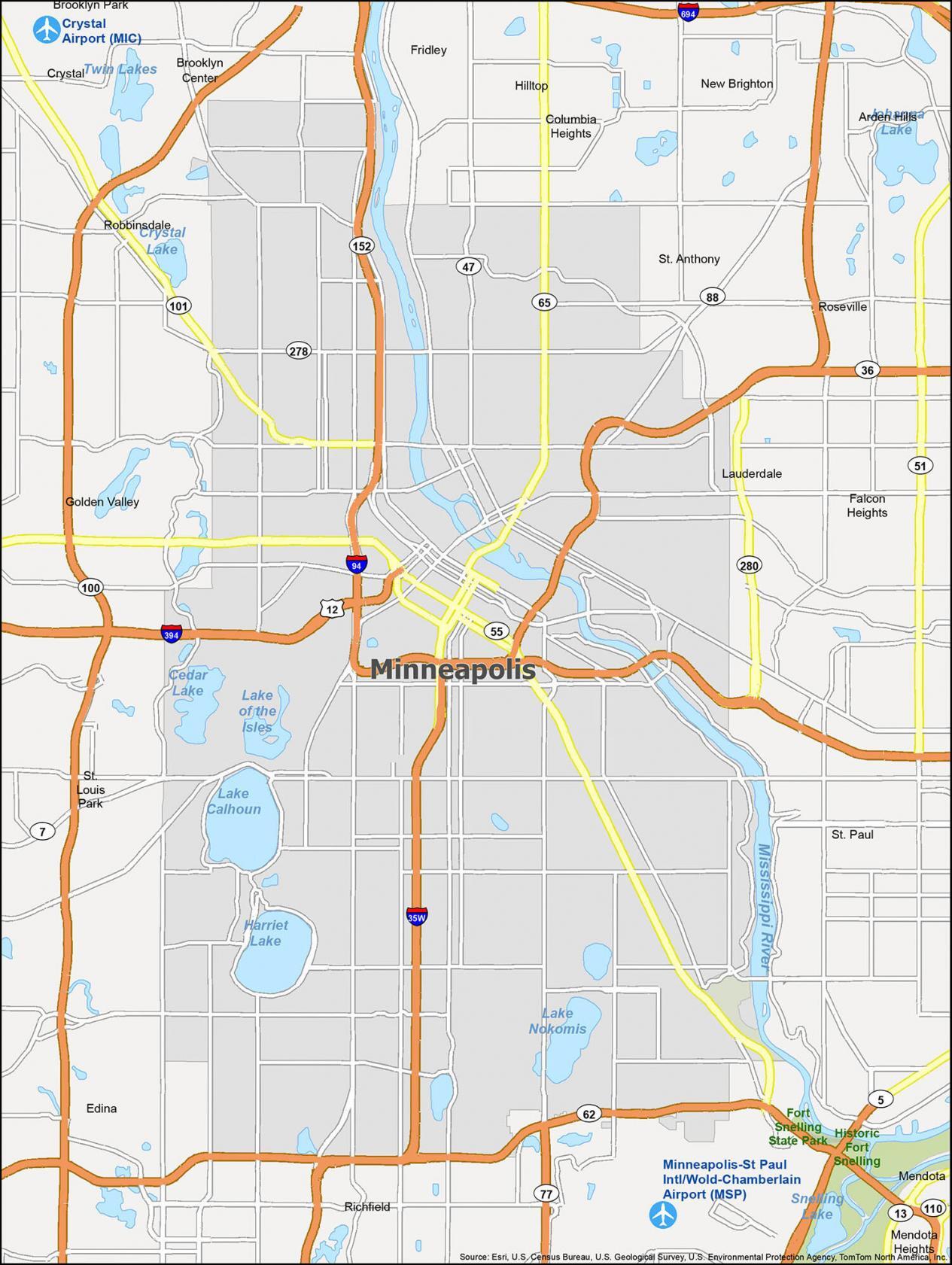 Airports: Minneapolis−Saint Paul International Airport (MSP)
Cities: Arden Hills, Bloomington, Brooklyn Center, Brooklyn Park, Columbia Heights, Crystal, Eagan, Edina, Falcon Heights, Fridley, Golden Valley, Hilltop, Hopkins, Lauderdale, Lilydale, Mendota, Mendota Heights, Minneapolis, New Brighton, New Hope, Richfield, Robbinsdale, Roseville, Shoreview, St. Anthony, St. Louis Park, St. Paul
Lakes/Rivers: Cedar Lake, Harriet Lake, Lake Calhoun, Lake of the Isles, Lake Nokomis, Mississippi River
Minneapolis, Minnesota maps
Minnesota map collection
References