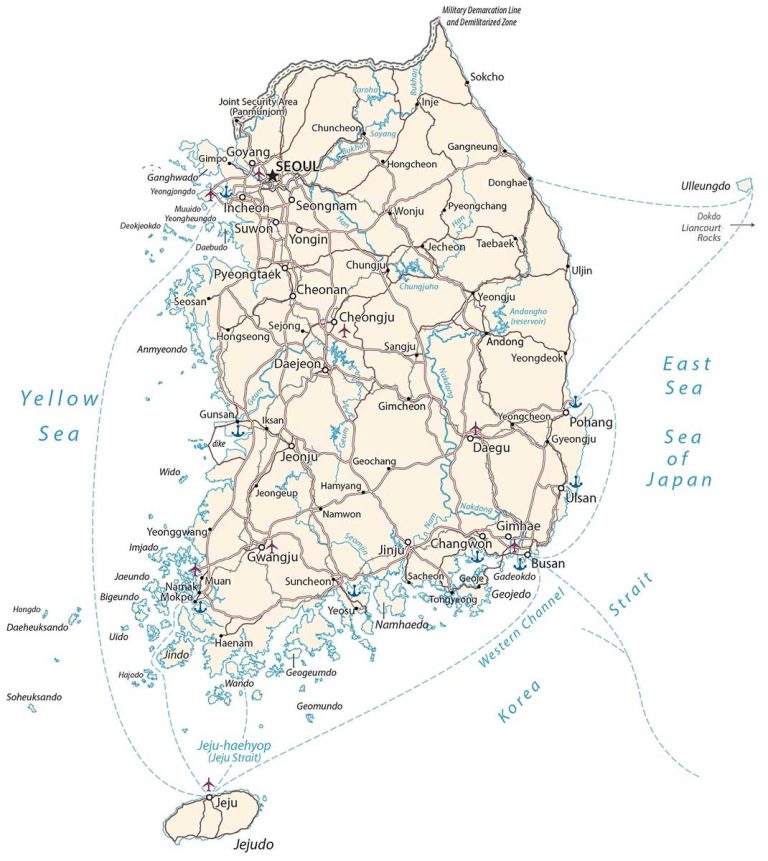 Download
This map of South Korea (Republic of Korea – ROK) displays major cities, towns, highways, roads, rivers, lakes, and islands. From Jejudo Island to the DMZ, it includes a reference map, satellite imagery, physical map, and provincial map.
You are free to use our South Korea map for educational and commercial uses. Attribution is required. How to attribute?
About the map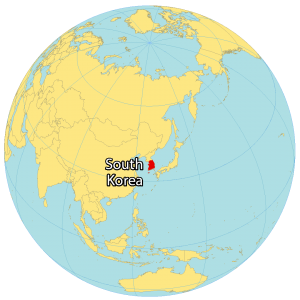 South Korea is located in Eastern Asia, occupying the southern half of the Korean Peninsula. It borders North Korea (Democratic People's Republic of Korea) to the north by a 250-kilometer-long Demilitarized Zone (DMZ) at the 38th parallel.
Also, it's near Kyushu, Japan separated by the Korea Strait at a distance of 200 kilometers (124 mi) away. South Korea is situated between the East Sea (Sea of Japan) to the east and the Yellow Sea to the west.
South Korea has a population of 51 million people, making it the 28th most populous country in the world. The capital and largest city is Seoul, with a population of 10 million people. Other major cities include Busan, Incheon, Daegu, and Daejeon.

South Korea in Google Maps
IMAGERY
South Korea Satellite Map
South Korea occupies a total area of 100,363 square kilometers (38,750 sq mi), which is slightly smaller in size compared to North Korea. Along the southwest coast of South Korea, there are thousands of small uninhabited islands. This includes the Dokdo/Liancourt Rocks, which is a group of disputed islands claimed by both Japan and South Korea.
The types of land use are a mix of alpine, forest, mountains, valleys, farmland, and freshwater. The country lies between 34°N and 38°N so its climate is mostly continental and oceanic with four distinct seasons.
PHYSICAL
South Korea Physical Map
The South Korean mainland is mostly mountains interspersed with sharp valleys. The remainder of it is wide coastal plains, specifically in the southwest. For example, the Sobaek Mountains to the south and the Taebaek Mountains to the east close to the East Sea (Sea of Japan).
But its highest peak is not on mainland of South Korea. Instead, it's a shield volcano located on Jejudo Island to the south of the Korean Peninsula. At 1,947 m (6,388 ft) in height, Mount Hallasan is the highest peak in South Korea.
ADMINISTRATION
South Korea Provincial Map
Provinces are the first-level administrative units in South Korea. Currently, there are 9 provinces in South Korea. But there are also 6 metropolitan cities and 1 special city. Its 9 provinces are North Chungcheong, South Chungcheong, Gangwon, Gyeonggi, North Gyeongsang, South Gyeongsang, North Jeolla, South Jeolla, and Jeju Special Self-Governing Province.