Download
South Korea map collection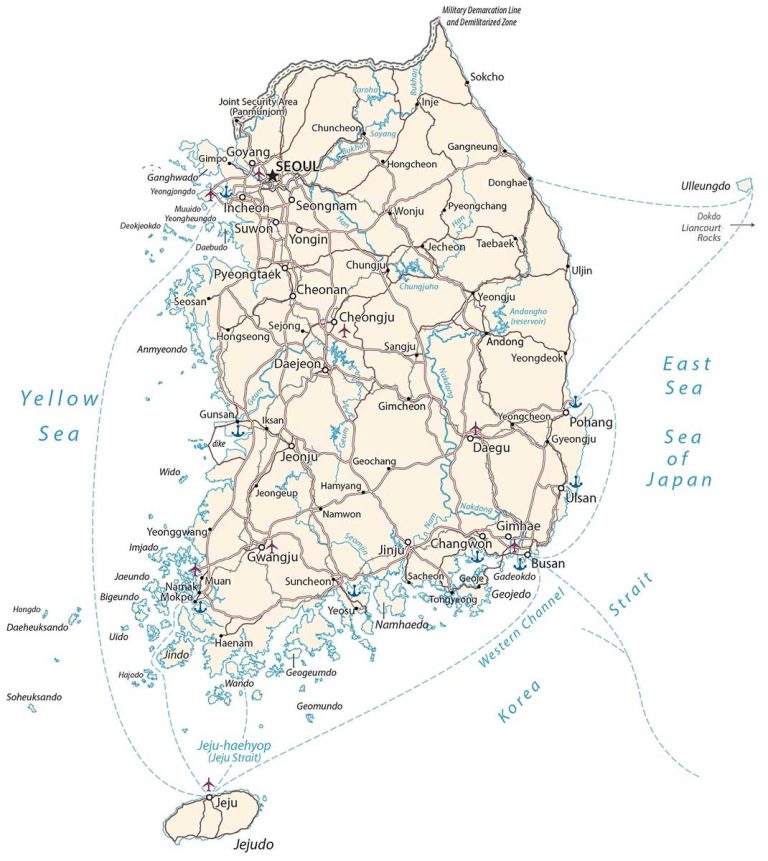 About South Korea
South Korea is located in eastern Asia, occupying the southern half of the Korean Peninsula. It borders North Korea in the north, and Japan across the Korea Strait. South Korea is also situated between the East Sea/Sea of Japan in the east and the Yellow Sea in the west.
The South Korean mainland is mostly mountains. The remainder of it is wide coastal plains, specifically in the southwest. The island of Jejudo in the south of the Korean Peninsula is also part of South Korea. This is where you can find its highest peak, Hallasan, standing 1,950 meters high.
Off the southwest coast of South Korea, there are thousands of small uninhabited islands. This includes the Dokdo/Liancourt Rocks dispute, which is a territorial group of islands claimed by both Japan and South Korea.
Capital city
Seoul
Major cities
Busan
Changwon
Cheonan
Cheongju
Daegu
Daejeon
Gimhae
Goyang
Gwangju
Incheon
Jeju
Jeonju
Jinju
Pohang
Pyeongtaek
Seongnam
Suwon
Ulsan
Yongin
Cities, towns and villages
Andong
Chuncheon
Chungju
Donghae
Gangneung
Geochang
Geoje
Gimcheon
Gimpo
Gyeongju
Haenam
Hamyang
Hongcheon
Hongseong
Iksan Gunsan
Inje
Jecheon
Jeongeup
Mokpo
Muan
Namak
Namwon
Pyeongchang
Sacheon
Sangju
Sejong
Seosan
Sokcho
Suncheon
Taebaek
Tongyeong
Uljin
Wonju
Yeongcheon
Yeongdeok
Yeonggwang
Yeongju
Yeosu
Lakes, rivers and creeks
Andongho reservoir
Bukhan
Chungjuho
Geum
Han
Jeju-haehyop (Jeju Strait)
Korea Strait
Nakdong
Nam
Paroho
East Sea/Sea of Japan
Seomjin
Soyang
Western Channel
Yellow Sea
Islands
Anmyeondo
Bigeundo
Daebudo
Daeheuksando
Deokjeokdo
Gadeokdo
Ganghwado
Geogeumdo
Geojedo
Geomundo
Hajodo
Hongdo
Imjado
Jaeundo
Jejudo
Jindo
Dokdo/Liancourt Rocks
Muuido
Namhaedo
Soheuksando
Uido
Ulleungdo
Wando
Wido
Yeongheungdo
Yeongjongdo
Where is South Korea?
Eastern Asia