Map of Taiwan – Cities and Roads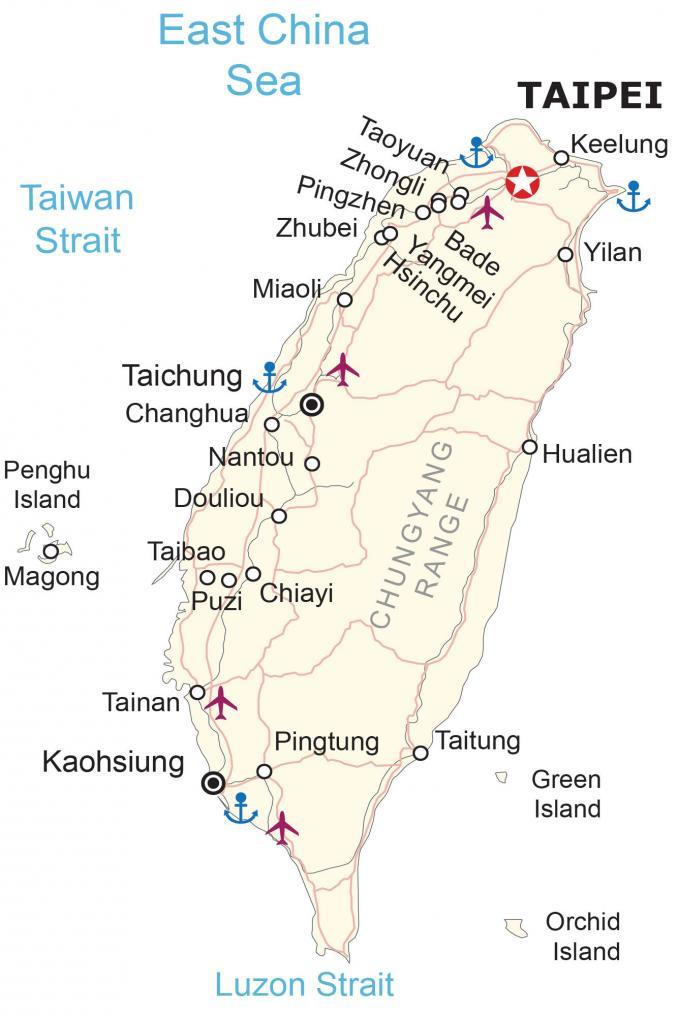 Download
This Taiwan map collection contains a reference map, satellite imagery, and an elevation map. It includes cities, towns, roads, highways, lakes, rivers, and mountains like the Central Mountain Range.
About the map
Taiwan, officially the Republic of China (ROC), is an island country in East Asia and within the South China Sea. It's located near China to the northwest, Hong Kong to the southwest, the Philippines to the south, and Japan to the northeast.
Taiwan is nicknamed the "Heart of Asia" because of its central position in Asia. Its capital city is Taipei. Even though mountains cover about two-thirds of its eastern region, Taiwan is still one of the most densely populated countries in the world.
However, the birth rate in Taiwan is one of the lowest in the world today. The capital of Taiwan is Taipei. But its largest city is New Taipei. These two cities combined with Keelung form the most concentrated area in the north of Taiwan.

Taiwan in Google Maps
You are free to use our Taiwan map for educational and commercial uses. Attribution is required. How to attribute?
IMAGERY
Taiwan Satellite Map
The island of Taiwan is shaped roughly like a leaf. Overall, it stretches 394 kilometers (245 miles) in the north-south direction compared to 144 kilometers (89.5 miles) wide. If you drive around the perimeter of the island, it would take only about 8 hours. Altogether, Taiwan occupies an area of 36,197 square kilometers (13,976 sq mi).
In comparison, it's similar in size to Guinea-Bissau or the state of Maryland. One of its major environmental issues is its air pollution and quality. While the Zhuoshui is the longest river, Taiwan's largest natural lake is Sun Moon Lake. The Taiwan Strait separates Taiwan from continental Asia to Taiwan with the Philippine Sea to the southeast and Luzon Strait to the south.
HILLSHADE
Taiwan Elevation Map
Mountains cover about two-thirds of the eastern region of Taiwan. Whereas the western side consists of plains and the majority of its major cities and settlements.  Because Taiwan is situated on the Ring of Fire, there are an estimated 1,000+ earthquakes that occur in Taiwan every year.
The Central Mountain Range (Chungyang Mountains) is the major mountain range that runs from north to south in the east. At 3,952 m (12,966 ft), Jade Mountain (Yushan) is the highest peak in Taiwan. Its elevation makes it the 4th highest out of any island in the world.
ADMINISTRATIVE
Taiwan Counties Map
There are 11 counties and 3 cities in Taiwan, which are divided administratively and geographically. The cities are Hsinchu City, Keelung City, and Chiayi City. Whereas its counties include Taoyuan, Hsinchu, Miaoli, Changhua, Yunlin, Chiayi, Pingtung, Taitung, Hualien, Yilan, Penghu, and Nantou. Additionally, there are six special municipalities – Kaohsiung City, New Taipei City, Taichung City, Tainan City, Taipei City, and Taoyuan City.