Download
This map of Hong Kong shows populated places, roads, islands, and districts. Satellite imagery displays the metropolitan area and the various national parks of Hong Kong.
You are free to use our Hong Kong map for educational and commercial uses. Attribution is required. How to attribute?
About the map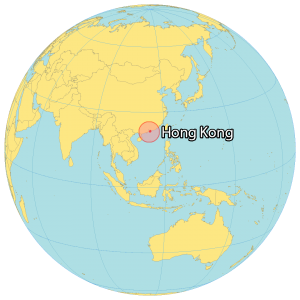 Hong Kong is recognized as a "Special Administrative Region of the People's Republic of China". It's located on the south coast bordered by China in the north and near Macau to the east. Hong Kong is 2,755 square kilometers (1,064 sq mi) in area, about one-quarter the size of Rhode Island.
Hong Kong is home to over 7.5 million people. But it's also known for being a center of business with more skyscrapers than even New York City. But it also has one of the highest costs of living because of its high rental cost. They call Hong Kong a "kaleidoscope of life" because of its influences from Eastern and Western cultures.

Hong Kong in Google Maps
IMAGERY
Hong Kong Satellite Map
If you look at Hong Kong's skyline, it's reputed as one of the most beautiful in the world. Despite the large metropolitan development compared to the area, there are 24 national parks in Hong Kong. Altogether, forests cover about 23.8% of Hong Kong's total land area.
While nature and business are plentiful in Hong Kong, agriculture production is almost zero as Hong Kong imports most products from mainland China. The High Island Reservoir, located in the Sai Kung Country Park to the east, is the largest reservoir in Hong Kong.
ADMINISTRATION
Hong Kong Districts Map
Afghanistan is completely landlocked with various There are 18 political districts in Hong Kong that are divided administratively and geographically. It's also divided into 3 regions that consist of (1) Hong Kong Island (HK), (2) Kowloon (KLN), and (3) New Territories (NT).