Map of St. Paul
If you need a map of St. Paul Minnesota, download any of these from our collection. It includes a road map, interactive map, and a list of things to do.
St. Paul is part of the Twin Cities and is the capital of Minnesota. As one of the oldest cities in the state, St Paul is filled with historical buildings and architecture.
If you're looking for a place to get lost in the shuffle, look no further than the Twin Cities. With its mix of cultures and attractions, St Paul Minnesota is sure to have something for you.
Jump To: Interactive Map | Printable Road Map | 10 Things to Do | Reference Map
St. Paul map collection
Interactive Map of St. Paul
In the Twin Cities, there are so many things to see and do! From the hustle and bustle of downtown to the preserved beauty of rural villages, it has something for everyone. One of the main features is how the Mississippi River cuts through the city. No other city has more shoreline of this river than St Paul, Minnesota.
St. Paul Road Map
The Twin Cities is a great place to spend an afternoon or an entire week. But how can you best plan your day through the streets of St. Paul? We've put together a St. Paul road map of the city that will help you make the most of your stay. It includes interstate routes, highways, and major roads so you'll never get lost. But if you want to leave the city, then make sure to download our Minnesota road map with highway information.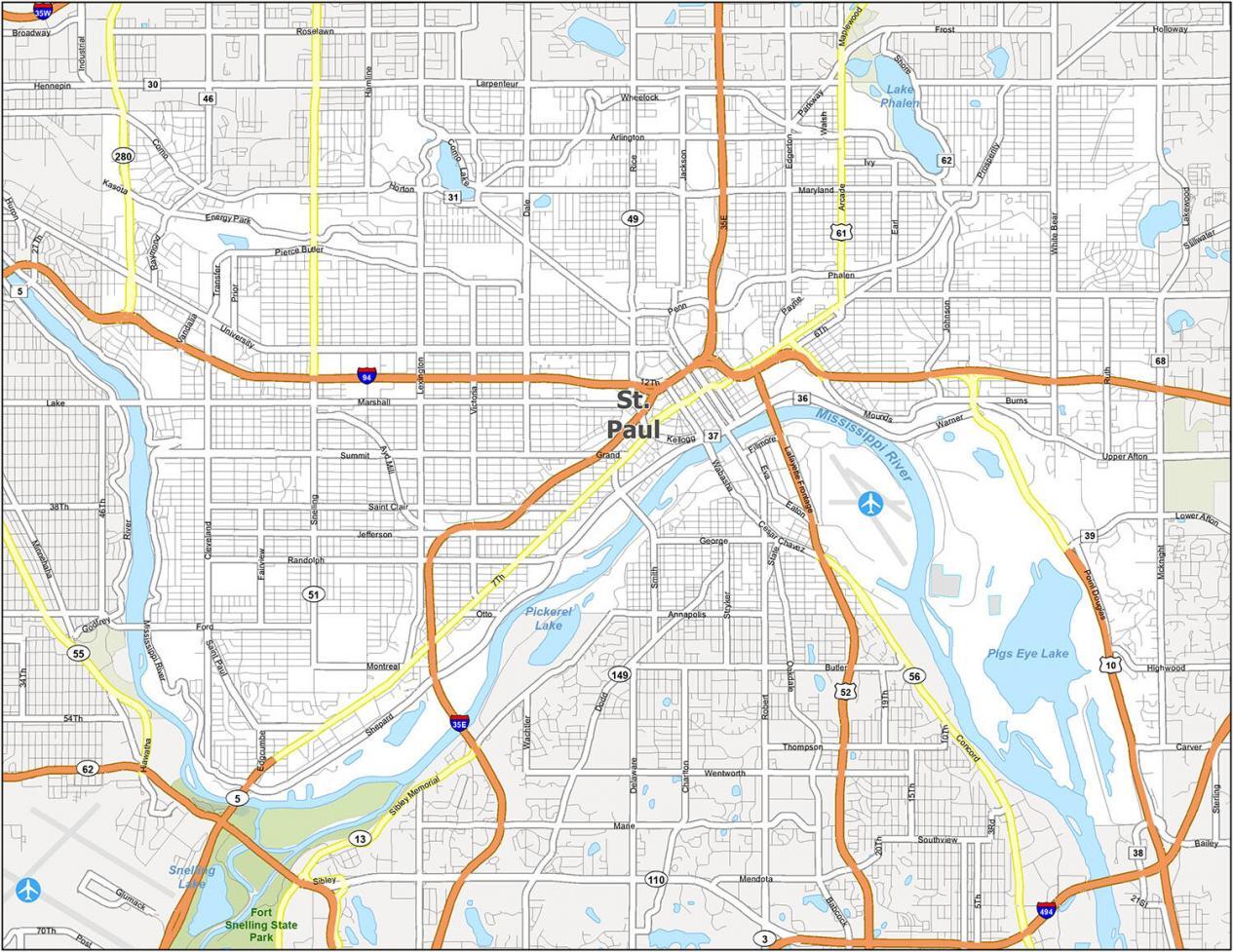 Interstate Highways: I-94, I-35W, I-394
10 Things To Do in St. Paul
From the Minnesota State Capitol to Fort Snelling State Park, this list of 10 things to do will help you prioritize your stay in St. Paul. Not only does this map outline all the major tourist attractions, but it will help you navigate around the city. Get out and explore the city with this map of attractions.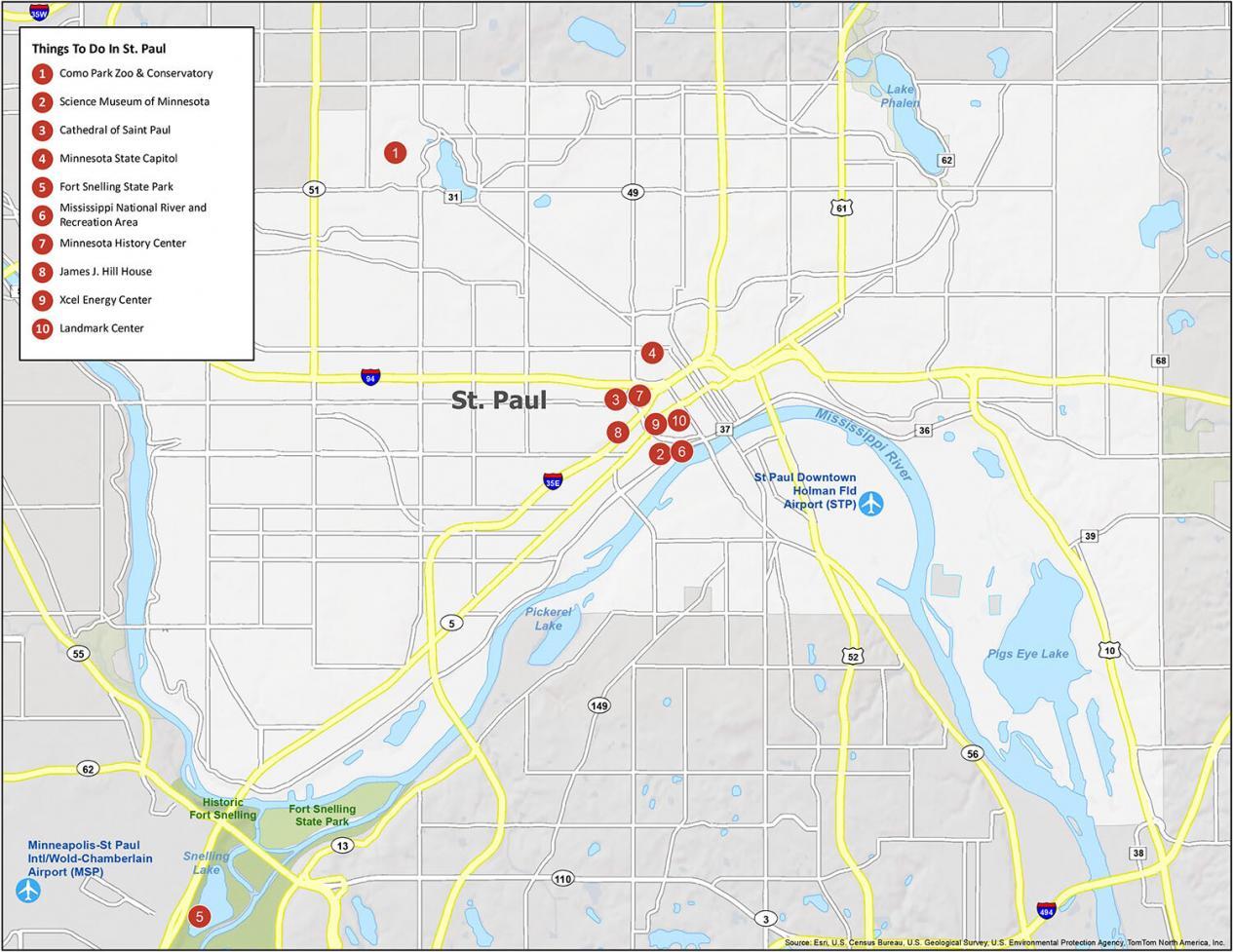 St. Paul is part of the Twin Cities and is the capital of Minnesota. If you ever travel to St. Paul, we recommend these 10 things to do.
Como Park Zoo & Conservatory
Science Museum of Minnesota
Cathedral of Saint Paul
Minnesota State Capitol
Fort Snelling State Park
Mississippi National River and Recreation Area
Minnesota History Center
James J. Hill House
Xcel Energy Center
Landmark Center
St. Paul Reference Map
This St. Paul reference map includes everything from nearby cities, towns, and census districts. It also includes lakes, rivers, parks, and the Minneapolis−Saint Paul International Airport. If you're looking to live in a place that has a lot of history, St Paul, Minnesota is the place to go.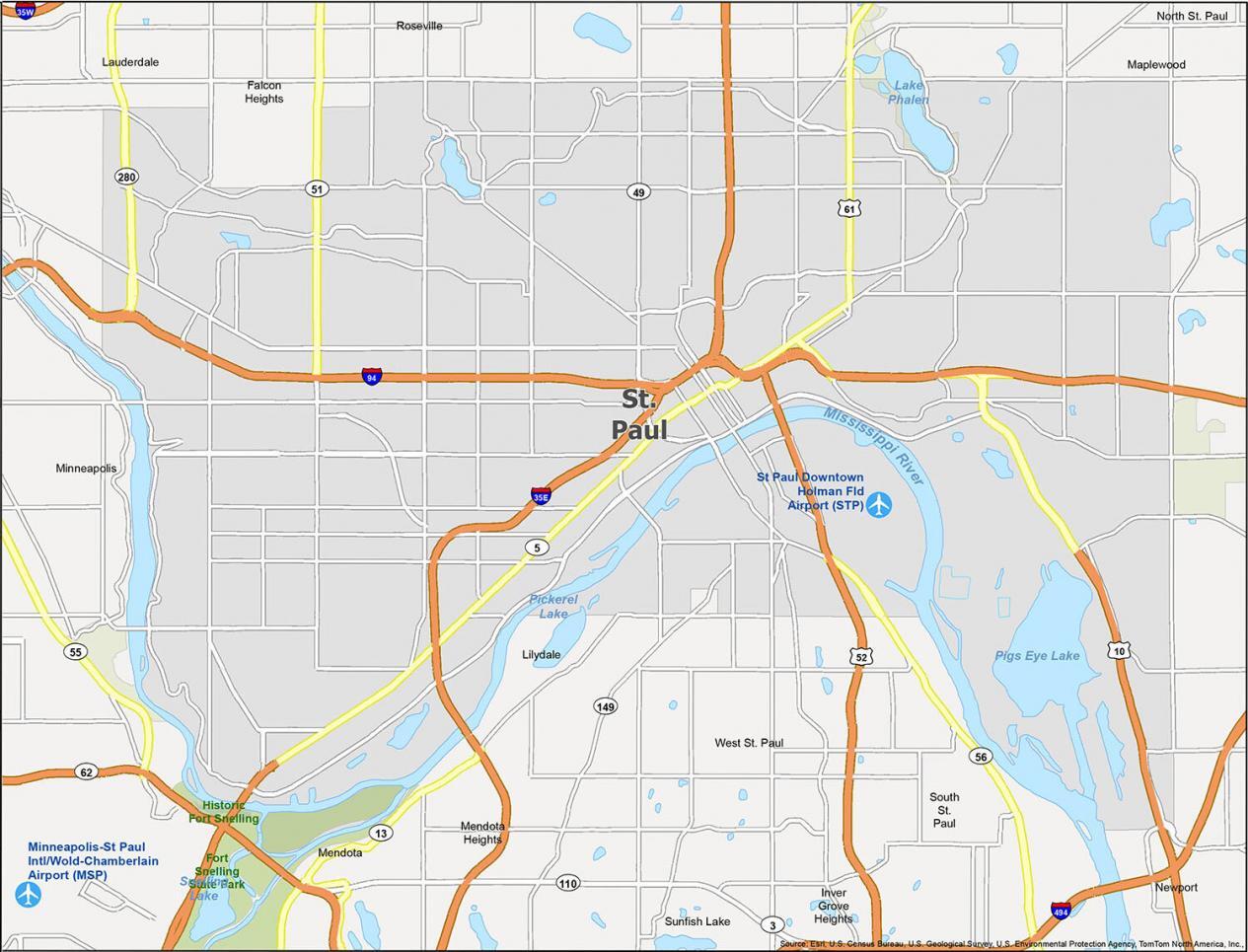 Airports: Minneapolis−Saint Paul International/World Chamberlain Airport (MSP), St Paul Downtown Holman Field Airport (STP)
Cities: Falcon Heights, Inver Grove Heights, Lauderdale, Lilydale, Maplewood, Mendota, Mendota Heights, Minneapolis, Newport, North St. Paul, Roseville, South St. Paul, St. Paul, Sunfish Lake, West St. Paul
Lakes/Rivers: Lake Phalen, Mississippi River, Pickerel Lake, Pigs Eye Lake, Snelling Lake
Parks/Recreation: Fort Snelling State Park, Historic Fort Snelling
Minnesota map collection
References