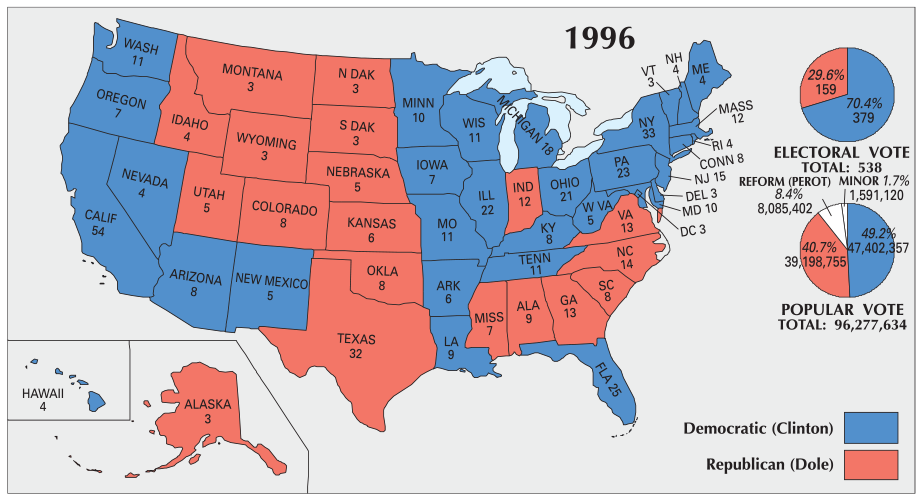 Election of 1996 Summary
In the 1996 election, Bill Clinton went for re-election for the Democratic party. He found himself up against Bob Dole, who was attacked mostly for his age and being out of touch with the present time.
Ross Perot was back for his second election and created the brand new Reform party. But he couldn't participate in live television debates, so he believed this really hurt his chances of winning the election.
When the votes were counted, Bill Clinton remained president until his impeachment. He won by a significant margin of 379 electoral votes compared to just 159 from Bob Dole.
Bill Clinton
Forty-second president of the United States (second term)
Vice President: Al Gore
Total Electoral Votes: 379
Electoral Vote: 70.4%
Political Party: Democratic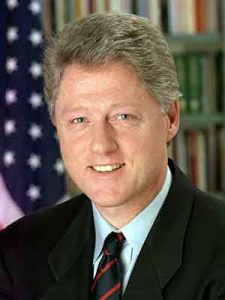 1996 Election Timeline
1984: Ronald Reagan
1988: George H.W. Bush
1992: Bill Clinton
1996: Bill Clinton
2000: George W. Bush
2004: George W. Bush
2008: Barack Obama
2012: Barack Obama

You are free to use our US election maps for educational and commercial uses. Attribution is required. How to attribute?
US election map collection