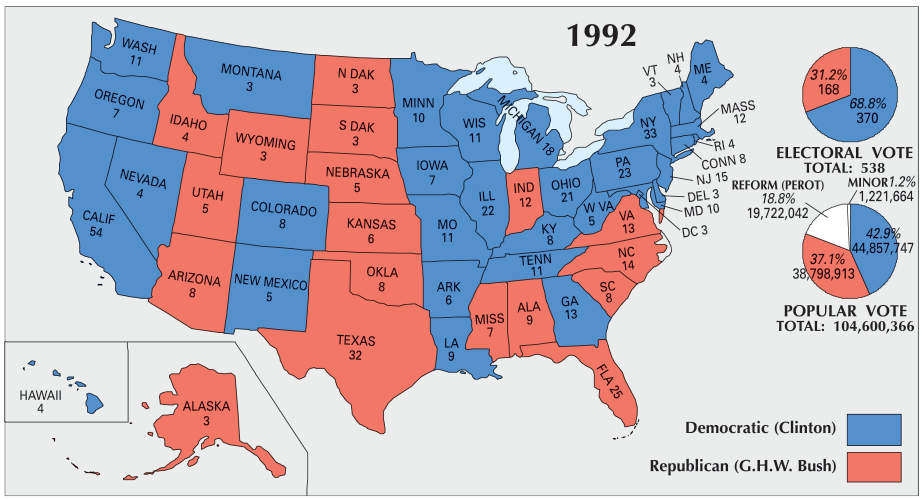 Election of 1992 Summary
The US election in 1992 was a legitimate three-way race. It involved Republican George H.W. Bush, Democrat Bill Clinton, and independent candidate Ross Perot.
As George H.W. Bush wrapped up his first term, he was still relatively favored. Despite saying he wouldn't raise taxes, he did exactly that. And Bill Clinton's character was already in question and his past was already starting to haunt him.
Early in his campaign, billionaire Ross Perot gained steam. But he flip-flopped by suspending his run for president for a bit. Later, he returned quite possibly losing some of his voters in the process.
During the election, it was a tight race. But Bill Clinton won with 370 electoral votes and became the 42nd president of the United States. George H.W. Bush finished second with 168 electoral votes. Finally, Ross Perot couldn't get any electoral votes. But he still had 18.9% of the popular vote.
Bill Clinton
Forty-second President of the United States
Vice President: Al Gore
Total Electoral Votes: 370
Electoral Vote: 68.8%
Political Party: Democratic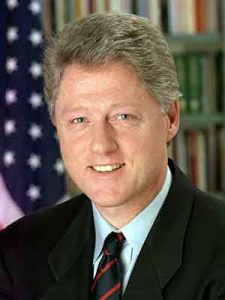 1992 Election Timeline
1980: Ronald Reagan
1984: Ronald Reagan
1988: George H.W. Bush
1992: Bill Clinton
1996: Bill Clinton
2000: George W. Bush
2004: Barack Obama
2008: Barack Obama

You are free to use our US election maps for educational and commercial uses. Attribution is required. How to attribute?
US election map collection