Election of 2004 Summary
September 11, 2001, marked the day when the United States was under attack by the terrorist group Al Qaeda. They hijacked two planes and deliberately crashed them into the World Trade Center and Pentagon buildings.
Coming into this election, George W. Bush declared a war on terror and sent troops to Afghanistan and Iraq. John Kerry was chosen for the Democratic party. But the country was attacked and they felt comfortable with George W. Bush as their current leader.
In the election of 2004, George W. Bush won re-election with 286 electoral votes. This compares to John Kerry who received 251 electoral votes.
George W. Bush
Forty-third President of the United States
Vice President: Dick Cheney
Total Electoral Votes: 286
Electoral Vote: 53.2%
Political Party: Republican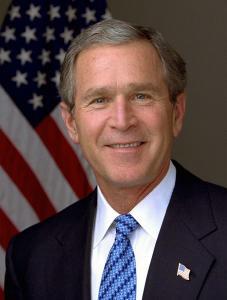 2004 Election Timeline
1988: George H.W. Bush
1992: Bill Clinton
1996: Bill Clinton
2000: George W. Bush
2004: George W. Bush
2008: Barack Obama
2012: Barack Obama
2016: Donald Trump

You are free to use our US election maps for educational and commercial uses. Attribution is required. How to attribute?
US election map collection