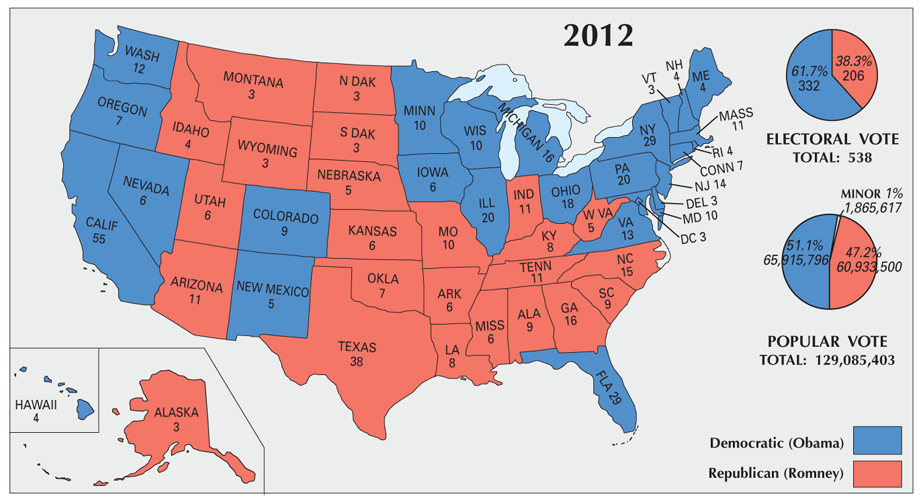 Download
You are free to use our US election maps for educational and commercial uses. Attribution is required. How to attribute?
Election of 2012 Map
During his term as president, Barack Obama helped the economy recover after Bush left a sour taste from the housing market bubble. The Federal Reserve took a leading role with bailouts and reinvestment.
By 2012, the economy was already in recovery and Barack Obama's approval jumped. He also implemented better health services through Obamacare. As a result, he represented the Democrats for a second-term attempt as president.
For the Republicans, Mitt Romney got the nod and mostly attacked Obamacare in his campaign. In the 57th presidential election, Barack Obama was elected and began serving his second term. While Obama gained 332 electoral votes, Romney received just 206.
« PREVIOUS
2008 Election Map

NEXT »
2016 Election Map
Barack Obama
Forty-forth president of the United States (second term)
Vice President: Joe Biden
Total Electoral Votes: 332
Electoral Vote: 61.7%
Political Party: Democratic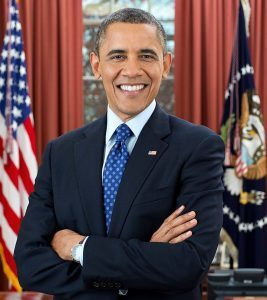 2012 Election Timeline
1988: George H.W. Bush
1992: Bill Clinton
1996: Bill Clinton
2000: George W. Bush

2004: George W. Bush
2008: Barack Obama
2012: Barack Obama
2016: Donald Trump

US Election Map Collection