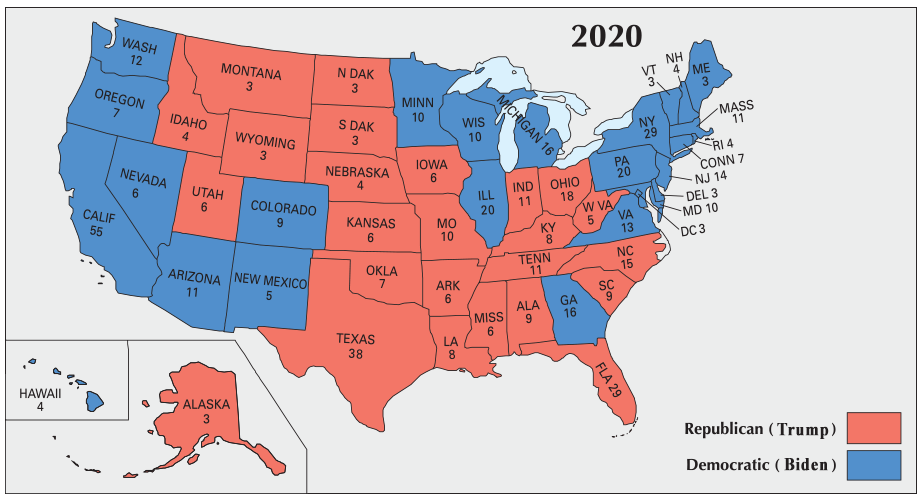 Election of 2020 Summary
The 59th presidential election in history took place on November 3, 2020. It was a time when the Covid-19 pandemic shook the world putting entire countries into lockdown. Businesses shut down as the state of the economy was in a downward spiral. At the same time, "Black Lives Matter" protests marched across the country in a stand against police brutality after the murder of George Floyd.
Despite the US having 4% of the world's population, 20% of all deaths in the world occurred in the United States. Needless to say, the country was particularly hit hard by the virus. Many blamed President Donald Trump for his inaction and downplay of the virus. As a result of all this turmoil, this election had a record number of early voters either by mail or in person.
Despite being one of the most unpopular presidents in history and being impeached twice, Republicans loyally stood by Trump. For the Democratic party, it looked like it would be Bernie Sanders as the front runner. But it turned out to be Joe Biden who was in his seventies, who stepped up to run against Donald Trump. Throughout his campaign, Biden gained a lot of momentum. Eventually, he chose Kamala Harris as his running mate.
The country was divided with Donald Trump adding gasoline to the fire. But he still had large followings as the election results were not a total landslide by any means. After America counted the votes Joe Biden won and became the 46th president in American history.
He gained 306 electoral votes and 51.3% of the popular vote. Kamala Harris became the first black female Vice President and Joe Biden became the oldest president in the history of the United States. Voter turnout was the highest since the presidential election of 1900.
Joe Biden
Forty-sixth president of the United States
Vice President: Kamala Harris
Total Electoral Votes: 306
Electoral Vote: 51.3%
Political Party: Democratic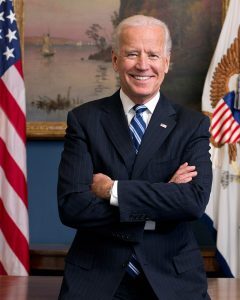 2020 Election Timeline
1992: Bill Clinton
1996: Bill Clinton
2000: George W. Bush
2004: George W. Bush
2008: Barack Obama
2012: Barack Obama
2016: Donald Trump
2020: Joe Biden

You are free to use our US election maps for educational and commercial uses. Attribution is required. How to attribute?
US election map collection